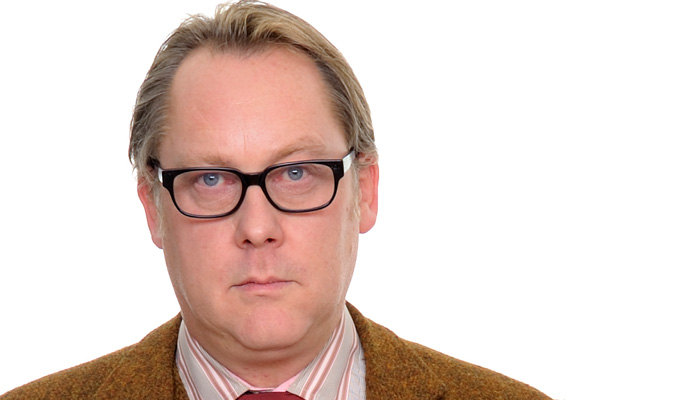 Vic Reeves on his favourite classic movies
Vic Reeves is to take over vintage movie channel Talking Pictures TV for a day, to screen some of his favourite films.
Between the films, the comic will be discussing his choices, as well as his own career, with comedy historian Robert Ross.
In their interview, he said his first encounters with classic films came when he was in his late teens
'I'd come back from the pub at half past ten, make an egg sandwich then turn on Frankenstein and wake up with the dot,' he told the channel. 'Those were the days.
'I always loved Laurel and Hardy on a Saturday morning, now it's all there now for me to pick and choose from 24 hours a day.'
He said his favourite film of all time is Saturday Night And Sunday Morning, the 1960 kitchen sin drama in which Albert Finney plays a young machinist who spends his weekends drinking and partying,while having an affair with a married woman.
Reeves – aka Jim Moir – said: 'I like kitchen sink dramas and even more so if they're Northern, like Spring and Port Wine, I don't know why, maybe it's because they remind me of my youth.
'Finney's performance in Saturday Night And Sunday Morning is just sublime. You completely believe it when he was having a punch-up, when he's got his air rifle out of the window; it looks like it could well be real.'
'I think in the 40s and 50s film were still rooted in theatre and written like plays with a beginning, middle and end and intended to be enjoyed in that way especially in the 50s with actors acting like stage actors.
'I like the nostalgia element of looking at the streets of that time, these films are great for that, there's nothing wrong with nostalgia. Apart from the nostalgia it's quality film-making by great directors like Carol Reed and the Boulting Brothers, who always guarantee a good film.
'Films like Titfield Thunderbolt, The Tawny Pippit, Genevieve and The Maggie are real snapshots of a particular time in Britain, films that could have only been made in this country.'
Perhaps surprisingly, given his career, Moir said: 'I like serious films, I'm not all that keen on the comedies, I'm not saying I don't like them, I do, but give me a good dose of Stanley Baker and I'm happy, something like Hell Drivers. [In which he plated a convict trying to fit into the tough world of lorry-driving]
'I'm talking about men's men as well, men who will stare you in the face and tell you that "the scars on this jacket are from my Spitfire and I can drive my lorry faster then any of you lot".
'These are really powerful films, a lot more powerful for the fact you don't get gratuitous violence in your face, it's simmering. The Americans glamourised it, we made it more real in brooding violent films like Villain with Richard Burton.'
He said his favourite comedy actor was Terry-Thomas, revealing hat he bought the star's cigarette holder and monocle at an auction, 'Phil Collins was sitting next to me and I was bidding on this Terry-Thomas stuff: his monocle; two cigarette holders, one of them splayed out with the gap for his teeth. I was bidding but Phil Collins got them– but then he said I could have it anyway!
'I liked T-T because he was a posh idiot, I still say 'I'm going to take a shower' in a T-T voice.'
He said that he trades old films with Jools Holland, and admits: 'In my collection I've got a lot of seedy films like The London Nobody Knows with James Mason'
Describing his perfect day of movie-watching, he said: 'I'd start with a mixed bag of Laurel & Hardy and WC Fields, to lighten things up. The Bank Dick still makes me laugh my head off when he gets the pen stuck in his head.
'After lunch it'd be One MIllion Years BC, a Ray Harryhausen monster special. The busty ladies didn't do anything for me as youth, it was like "oh no, looks there's a busty woman in it just going to spoil the plot". I was in it for the monsters, seeing a dinosaur come to life was a big deal.
'Then at tea-time it would be School for Scoundrels followed by Hell Drivers to get the adrenalin going and then I'd finish with Saturday Night and Sunday Morning.'
Vic Reeves's Takeover Day is Sunday July 23.
VIC REEVES'S TALKING PICTURES SCHEDULE
09:35 VIC REEVES

09:50: WC Fields
10:00: Flying Deuces with Laurel and Hardy
11:20: The Great Chase – excerpts from the 1940 WC Fields film The Bank Dick
11:30 Scales of Justice. 1963 TV show. A restaurant owner bugs one of his tables with a hidden microphone to blackmail his customers
12:00 Vic Reeves
12:10 Woman in a Dressing Gown. Anthony Quayle & Sylvia Syms star in this 1957 British drama about marital strife
13:55 Saturday Night & Sunday Morning
15:40 VIC REEVES
16:00 Whistle Down the Wind 1961 drama with Bernard Lee, Alan Bates and Hayley Mills
18:00 A Family At War. TV series
19:00 Sally Visits Kew. 1948 short
19:15 VIC REEVES
19:25 Hell Drivers
21:45 VIC REEVES
22:00 Villain. 1971. Drama with Richard Burton, Ian McShane and Nigel Davenport
00:00 One Million Years BC
Talking Pictures is on Virgin channel 445, Freeview 81, Sky 343, Freesat 306 and Youview 81
Published: 11 Jul 2017