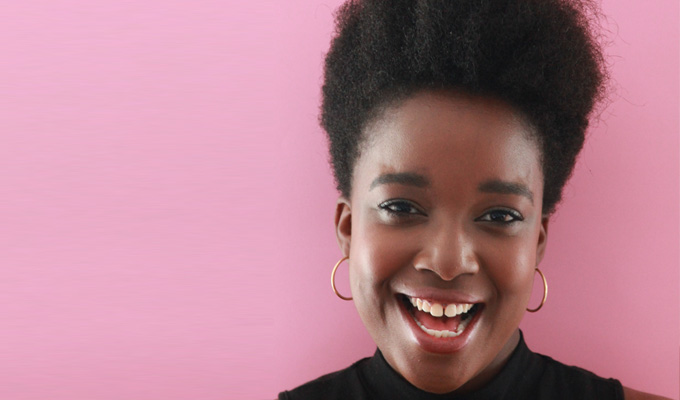 Lolly Adefope: Six comedies with a 'certain je ne sais quoi'
Thank you for choosing to read about my favourite comedy inspirations! I've chosen six shows that all have that certain je ne sais quoi, and so I hope you enjoy them as much as I did :-)
2016: Year Friends
This web series is the creation of British comedy's most innovative and exciting minds - it came off the back of People Time, and displays the same surreal alternative humour. My favourite episode is September - see if you can spot me! I played 'Lolly'.
@elevenish
It's quite rare for a channel to take a risk like ITV2 did with @elevenish – not only a sketch show, which many proclaim to be 'dead', but one full of new talent, and not one big name.
One of my favourite ever sketches was a Carpool Karaoke parody – see if you can spot me alongside Tom Parker from The Wanted, who has nearly a million Twitter followers.
Rovers
This is one of the warmest and simultaneously hilarious sitcoms, about a failing football club and the community of characters whose love for the (pathetic) team never fails.
David Earl and Joe Wilkinson, two of the funniest writers around, crafted an infectiously lovely comedy, with a truly excellent ensemble of absurd characters, played exceptionally by comedy greats like Sue Johnstone and Craig Cash (who directed the series), and Diane Morgan and Jamie Demetriou, two of my favourite comedians.
I actually played Sam in the show, the club's new barmaid - see if you can spot me in the clip below!
Loaded
Imagine loads of Britain's best comedy actors and an unbelievable script by one of my favourite writers, Jon Brown, and you've got Loaded, a new sitcom on Channel 4 about a group of friends who sell their video game company and become millionaires.
I had tremendous fun playing 'Naomi', throughout the series – see if you can spot me in this clip which is a scene featuring the character Naomi.
Pls Like
One of the best comedies of last year was Pls Like, written and starring my friend and constant inspiration, Liam Williams. It featured a whole host of my favourite character comedians – and see if you can spot me at 3:48 – playing beauty expert Chloe Sass and trying not to laugh!!!
Taskmaster
I think Taskmaster is one of the most ingenious shows of our generation. Every person who has seen it absolutely adores it and would love to go on it, which is a rare and beautiful thing.
Every series, Alex Horne (plus Task Consultant Tim Key) manage to come up with even more wickedly crafted tasks, that inspire joy both in those competing and those watching.
I was very lucky to be a contestant in Series 4! I came last.
• Lolly Adefope's Lolly 2 is on at the Underbelly festival on London's Southbank next Tuesday. Details.
Published: 7 Jul 2017
What do you think?