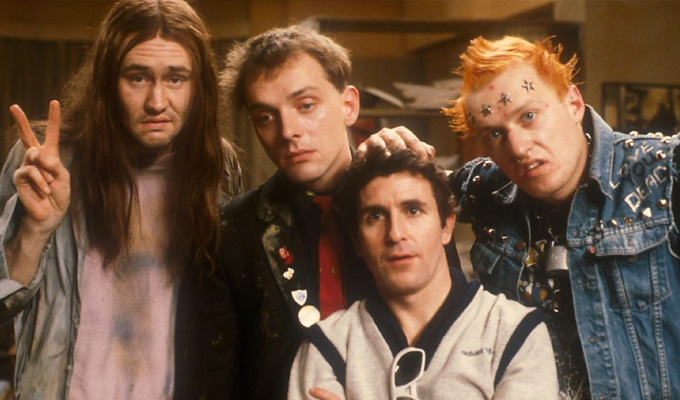 16 things you probably never knew about The Young Ones
Young Ones stars Alexei Sayle, Nigel Planer and co-writer Lise Mayer appeared at the Slapstick festival of vintage comedy in Bristol yesterday, where they were honoured with a 'Slapstick Legacy Medal'. Here are 16 things they revealed about the show and the time surrounding it, as they spoke to host Marcus Brigstocke:
1, The role of Mike was originally to be played by Comic Strip Presents… guru Peter Richardson, but he fell out with producer Paul Jackson. Keith Allen was then offered the role, but also had a row with Jackson. Mark Arden and Timothy Spall were also considered for the role, until it went to Christopher Ryan.
2. Jackson had a notoriously short temper. Once when Nigel Planer was asking for direction about how exactly he should throw himself into a puddle of mud, Jackson strode over and said: 'This is how you do it!' And threw himself into the muck. The outburst so spooked production manager Ed Bye – who would go on to direct Red Dwarf, among others – that he left the set.
3, Vyvyan's name is spelt that way because Lise Mayer used to live in Vyvyan Terrace in Bristol when she was a student.
4. She also used to run a pub theatre and said Ben Elton 'would turn up with a play he had written every weekend  – like Ernie Wise'.
5. When Alexei Sayle went on tour, his rider was for a bottle of vodka, a bottle of orange juice and a bottle of Perrier. He'd immediately pour the Perrier away and use its bottle to mix himself a cocktail.
6. Mayer recalls Sayle used to take over the tiny dressing room at the Comic Strip venue, filling the sink with ice the moment he arrived, to chill the wine he'd brought with him and preventing anyone else from using it. 'I'll think you'll find it was six cans of lager,' Style quickly corrected her. 'It was because Paul Raymond [who owned the strip club it was based in] made us buy our own drinks.'  All the other acts were too intimidated by him to say anything.
7, Nigel Planer first  developed the character of Neil – which he admits was based on himself – when part of a large comic ensemble, for which Jenny Beavan made the costumes. She went on to win an Oscar for her work on the Mad Max reboot.
8. And even though Planer had created the character of Neil, the BBC asked him to audition for the role. He refused, saying they couldn't have the character without him.
9. Planer was David Essex's understudy in Evita  when he started working on The Young Ones.
10. Mayer thinks The Young Ones would never be made now because there are 'too many committees'. And the team only ever made two series because they wanted to emulate Fawlty Towers, which Sayle now says was a 'terrible mistake'.
11. When Vyvyan had to bite into an exploding brick, it was made of Ryvita and muesli and had an air pump in it – one of the many stunts that resulted in a trip to casualty.
12. The worst was when Rik Mayall got burned by an exploding oven. According to Sayle, the special effects team filled it with explosives, then went off to lunch in the pub. When they came back, they had forgotten they had already done that job, so filled it up again. In the show, the sequence is shown in slow-motion – because only a few frames were captured properly.
13. Planer had to go to an osteopath after the gang were crushed by a giant eclair. Being the tallest he took the brunt of the impact. Most embarrassing of all was being asked 'So what happened to you?' at his first appointment.
14. One outdoor scene required fake snow, so the team sprayed it across the gardens of all the neighbouring houses where exteriors were shot in Bristol – but failed to ask permission from any of the home-owners. 'Lots of fivers' were hastily handed out in compensation, Mayer said.
15. After Sayle appeared as pisshead Tommy Balowski on The Young Ones, a friend of his mother's told her disapprovingly: 'I saw your Lexi on TV last night. He was drunk!'
16. And Planer's grandmother was equally unimpressed with his appearances, saying: 'You should wear a suit.'
• Eerie riddle of the Young Ones' mysterious fifth flatmate
Published: 23 Jan 2017
What do you think?