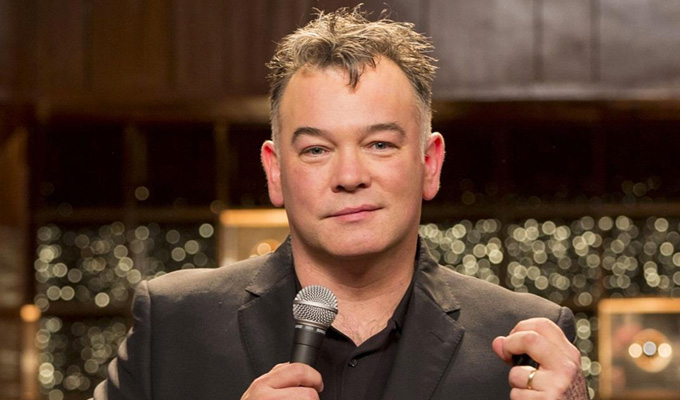 'We captured a gig in out-of-control freefall'
The DVD of the fourth and final series of Stewart Lee's Comedy Vehicle was released on Monday (Buy here). Here, the comedian exclusively reveals the genesis of the final three episodes:
Episode 4: Death
I had been chasing down a routine about the death of my pet hamster, the aforementioned Ray Bradbury [see yesterday's guide to episodes 1-3] since I began writing series 3 in 2012, but could never make my memories on stage as funny as they seemed in conversation with friends.
I saw Dara O Briain and Brian Cox talking about the eclipse on TV in a Glasgow hotel room on March 20, 2015, and had the idea for the opening gag immediately. I walked down to a bridge over the Clyde to watch the sky. Oddly, Wilco Johnson was there, and he recognised me and talked to me. I changed to location of the joke from Glasgow to Dundee. Loads of tragic things kept happening in Glasgow during that period and the name of the town made people nervous. Dundee is an inherently funny name anyway. I learned that from Jerry Sadowitz.
The details of my father's weekend routine are largely unchanged. He was a very funny man to be around and I miss him. The idea of mocking young comedians for doing shows about their dead father is hijacked, and then reworked, from the Carpet Remnant World live show. It is supposed to reflect my own perceived anxieties about my own impending obsolescence. I don't have any genuine opinion about people doing shows about their dead fathers one way or the other.
When I changed the hamster in the story to a mouse, it somehow started to seem funnier. The story happened exactly as written, except I never saw my pet rodent morph into a member of Slade.
For the Slade/mice/diary thread, Thorin in the art department asked me what my childhood diary was like, and recreated it, even down to the now out-of-print 1970s Marvel Comics bubblegum stickers that he attached to its cover.
Kevin Eldon and Paul Putner clearly studied their characters' moves far beyond the call of duty; the exteriors and interiors of the home are exactly like the little terraced house I grew up in; the little me was a perfect little me; the mum, somehow, even looks like my late Mum, though no-one was given a photo reference. The whole thing was a bit overwhelming.
The music is Hilary by The Durutti Column.
Episode 5: Migrants
This and the dead mouse episode were the hardest to assemble. This show went wrong for months, during the live shows, because I became hung up on basing it on an Observer column I had written about the migrant crisis happening in my garden which, though enjoyed by executives overseeing the show as a piece of writing, always sounded, to me, too written as a piece of stand-up. I recorded this bit anyway and it's on the DVD as an extra.
I did take some clothes to a migrants' charity in Dalston where the hip gear on offer did make me laugh.
I started to become fixated on the inane way newspaper columnists dealt with the crisis. The Rod Liddle poppadom bit again caused hysteria in large rooms, and seemed to me to be an appropriately meaningless response to the ongoing banality of newspaper comment. We had a couple of goes at it in the Mildmay Club. Neither worked anywhere near as well as it did live. In the two months of touring after the show was recorded I introduced little comedy tricks that meant it always landed in a more conventional way.
There was a lot of mess surrounding all this material as it was recorded – glasses breaking in the room, random introductions, cameramen being where I wasn't expecting them. In the end we decided to include all these, at the expense of the film item (another DVD extra), and the garden routine, and try to assemble the impression of a gig in out-of-control freefall, to capture the real stand-up experience of a room on the edge.
It would have been equally easy to edit it to look like an unqualified success, as Nick Helm revealed they do with acts that go to silence on Live AT The Apollo, but choosing the scrappiest bits and amplifying them seemed more interesting on this occasion.
My initial, and turned down, proposal for Stewart Lee's Comedy Vehicle, in May 2005, had been to record the sets at Pontin's holiday camps, and cross channel ferry bars, and Speakers' Corner, in places where I would struggle. In the end, we managed to make an episode of Comedy Vehicle that felt like that, even in front of my own audience.
Episode 6: Childhood memories
My kid was having trouble at school. But I don't like writing about my immediate family. I started thinking about my own schooldays and remembered that, as a very small boy, I had been kicked into a urinal and urinated on at Streetsbrook Infant School in Shirley. I remembered the ringleader's name, googled him, and changed it for legal reasons.
I did urinate in my grandad's face when I was in hospital in Exeter with a fractured elbow, after I had fallen blowing bubbles on the caravan step in Beer; he and I did urinate together on Maltese flies, and he had been an RAF engineer on Lancaster bombers. He did say he liked to pretend the flies were Germans.
Robin Williams had committed suicide, depressed. There were lots of newspaper articles about comedians being mentally unstable products of circumstance. I thought about my childhood. The two ideas came together. In a sudden late-night burst of inspiration, when some shows took years to crystallize, this half hour was written in about as long as it takes to perform.
What wasn't there on the page was the tension, and the space for intense improvisations around my supposed grief in rooms which often bought into it entirely. In Dublin, a Sunday Times journalist on the front row took camera phone footage and fled to file an exclusive on how Stewart Lee was having a nervous breakdown live on stage, only dissuaded later by Twitter users telling her it was all part of the act. In London, a supposedly psychic woman intervened, offering to help me deal with ghosts that only I could see.
I'm not an actor, and I don't believe in ghosts or the afterlife, but each night I got through the bit and made it real by remembering a vivid ghost of a loved one that had once appeared to me in Wolverhampton. I was glad when I didn't have to do the bit any more, and I think it represents the end point of a certain strand of stand-up I had been pursuing.
My wife has a photograph of herself with a very handsome ex-boyfriend on a tropical beach, on which she looks happier than I have ever seen her since. I want it blown up and framed.
I've been going deaf since my teens. It's an inherited condition, I learned, when I met a blood relative for the first time some years ago. I wonder if I genuinely have developed a stand-up style that seemed indifferent to approval as a result of perhaps not being able to hear any, when it may have been there all along? Since I had my hearing aids on stage, I sometimes feel like I am performing on LSD, absorbing all stimuli. It was nice to be able to take them out, and get a laugh.
I decided I wanted to perform an MGM swimming musical style routine in a massive tank of urine fairly early on in the writing process and spent a year trying to get fit enough to be able to dive underwater through rotating hoops of synchronized swimmers.
In the end the underwater cameraman who came with the place in Essex where the tank was had his focus wrong, and, after a day in the water, only one actual underwater shot, of me swimming through the swirling bodies of the 2012 British Women's Olympic Synchronised swimming team, survives.
Luckily, the rest of the crew had pretty much everything else covered, and the art direction, camera work and editing of this piece were all superb. This episode, which turned out to be the final one, was my favourite edition of Stewart Lee's Comedy Vehicle.
• Tomorrow: Download these notes as a booklet to include with your DVD. PLUS your chance to win a copy of the title.
Published: 12 Oct 2016
What do you think?