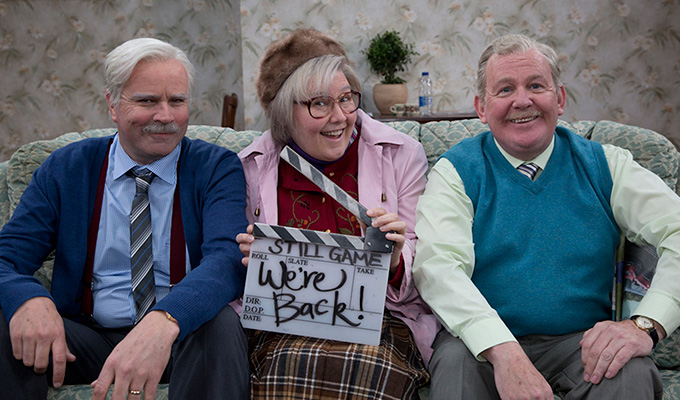 'Old people swearing is always funny'
As Ford Kiernan and Greg Hemphill return to TV as pensioners Jack Jarvis and Victor McDade for the first time in nine years, Still Game director Michael Hines speaks about why the series is such a success.
Any director would make a great job of Still Game, The scripts are beautifully written. They're clever, they're funny and they're just a joy to direct. And because I've directed every episode, I'm fiercely protective of Craiglang.
Nine years on, coming back to Still Game was utterly different and exactly the same all at the same point. It was totally different because we had brand new sets, studios and people involved but as soon as you shout 'action' it felt like a return to the past. What was fascinating was the first morning walking on set it was like we'd never been away.
There's a great quote that Jeremy Irons said: in every job he trusts himself but he pushes himself and this is what I felt I had to do this time around. I had to trust myself: protect the brand we all know and love and keep the flame of Still Game alive but had to push myself to make it better than ever before, make sure that new people were allowed into the party - it's a big room in the Still Game party.
The best parties aren't exclusive and have lots of room for everyone to join in. That's the beauty of Still Game. There is something for everyone. It has a feel-good factor without being schmaltzy. It's cynical, it's edgy and faces the reality of being old.
For loyal fans, they can expect everything they've ever loved about the show in the new series, just refreshed. And for people coming to the Still Game party for the first time, they'll enjoy discovering that the party has been going on for a while. There's a wee door at the back of the kitchen that takes you into another room where all the characters have been sitting drinking for ages and you're very welcome to join in.
The show's enduring appeal is that it's funny first and foremost, but it's not a comedy of humiliation. You're not laughing at someone's expense - it doesn't delight in anyone's downfall. We're rooting for each and every one of them.
I don't think Still Game is necessarily about being Scottish, it's about family and a sense of community. Apart from seeing old people swearing - which, let's be honest, is always funny - you get to recognise the familiarity of seeing older people. It doesn't matter what age you are you can have a laugh.
What I love about Still Game is all the characters are real. I've had people say to me, 'I know a Jack and a Victor'; 'my granddad's just like them' or 'I know a Boabby the barman'. All the characters respect each other and that's the heart of a proper community - everyone knows their place.
I see the Still Game characters as pairs so you have Jack and Victor who are the Greek chorus observing the community around about them. Jack's an early-bedder, he's less likely to have sudden outbursts, Victor's more intellectual, he knows all about World War Two and is more upstanding. One smokes and the other eats sweets.
Then you have Boabby and Navid. Navid is very much in charge of his surroundings, he's like the Lion King because in his shop everyone pays homage to him and respects him, they're almost frightened of him. Whereas with Boabby, he's regularly condescended by the others and brutalised by everyone else around about him and they will always try and get a free drink out of him at the Clansman. No one would ever steal from Navid's.
Then there's Winston and Tam. Tam's always on the lookout to get something for nothing, he's a nice guy but as tight as they come whereas, on the face of it, Winston is grumpy and rails against everything. Actually, for Winston, he just likes what he likes - the bookies and to do his own thing.
Then you have Isa who stands out alone as a single woman fighting her corner. And although she is a gossip, she brings a lot of the heart to Still Game. The men might call her nosey but they don't mean to be nasty, it's all meant to be endearing and protective of her.
This new series includes guest stars Kevin Whately and Ronni Ancona. Kevin was absolutely brilliant,. I was a little star struck. Kevin wanted to work on the show - he got Still Game straight away. We forget that he had a huge comedy pedigree in Auf Wiedershen, Pet.
Ronni is someone I've admired for years as a brilliant comedy actress and she came in and slotted into the part instantly. She was brilliant, she's just really funny.
• Still Game returns to BBC One at 9.30pm on Friday October 7. This article was taken from quotes supplied by the BBC Press Office
Published: 22 Sep 2016
What do you think?