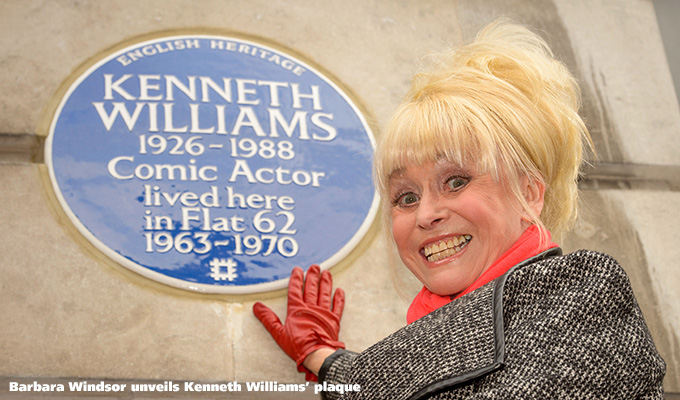 A little bit of blue...
Tommy Cooper today becomes only the 12th comedian to be honoured with a blue plaque – although he is one of the more famous to modern minds.
The English Heritage scheme, which operates only in London, is notoriously selective about who it honours. For starters the proposed recipient must have been dead for at least 20 years ago to 'ensure that the decision about whether or not to shortlist a candidate is made with a sufficient degree of hindsight'.
Here's our guide to the 12 comics with blue plaques in London, with their locations shown on this map:
Albert Chevalier (1861-1923)
17 St Ann's Villas, Notting Hill, W11 4RT
Plaque erected in 1965
A music hall comic and singer known for his working-class Cockney 'coster' humour. Though largely forgotten now, he was one of the biggest stars of the era, often performing at four venues a night. He wrote a number of hit songs, including Wot'cher! (or Knocked 'Em In The Old Kent Road) Appy 'Ampstead, and the sentimental My Old Dutch. Chevalier was born in this house and went on to marry Florence, the daughter of fellow music hall star George Leybourne, who also has his own blue plaque.

Tommy Cooper (1921-1984)
51 Barrowgate Road, Chiswick, W4 4QT
Plaque erected in 2016
With his distinctive look, topped off by his even more distinctive fez, Tommy Cooper was known for his silly jokes and magic tricks that went wrong, although in reality he was a talented and respected conjuror. Born in Caerphilly, Chiswick, he lived in this house from 1955, just three years after his first TV appearance, until his death in 1984, after collapsing during a live TV show from Her Majesty's Theatre.

Gus Elen (1862-1940)
3 Thurleigh Avenue, Balham, SW12 8AN
Plaque erected in 1979
A contemporary of Chevalier's, Elen had a 30-year career on the music hall stage, and was known for Cockney songs including Arf a Pint Of Ale and If It Wasn't For The 'Ouses In Between. He died at his home in Balham, South London in 1940, aged 77.

Bud Flanagan (1896-1968)
12 Hanbury Street, Spitalfields, E1 6QR
Plaque erected in 1996
A member of the stellar Crazy Gang troupe of anarchic vaudevillians, Bud Flanagan also known for his partnership with Chesney Allen, whose most famous song was Underneath The Arches. He also sang the Dad's Army theme tune Who Do You Think You Are Kidding Mr Hitler? This plaque is on his birthplace.

Jospeh Grimaldi (1778-1837)
12 Hanbury Street, Spitalfields, E1 6QR
Plaque erected in 1989
This clown, comedian and actor was the most popular English entertainer of the Regency era, packing out pantomimes in the Theatre Royal, Drury Lane and the Sadler's Wells and Covent Garden theatres. His whiteface make-up is still the trademark of many a clown. The plaque is on the home he inhabited from 1818 to 1828.

Tony Hancock (1924-1968)
20 Queen's Gate Place, South Kensington, SW7 5NY
Plaque erected in 2014
With Galton & Simpson's scripts, mediocre live performer Tony Hancock was transformed into the first master of the sitcom, a credible exaggeration of his own personality, living in poverty but pompous and obsessed with social status while grumbling about his lot. On what would have been his 90th birthday, May 12, 2014, Hancock was commemorated with a blue plaque on the building where he lived when Hancock's Half Hour made him a household name.

Tommy Handley (1892-1949)
34 Craven Road, Paddington, W2 3QA
Plaque erected in 1980
As the star of It's That Man Again, forever known as ITMA, Liverpudlian Handley was credited as being a major boon to morale during the Second World War. ITMA ran for more than 300 episodes from 1939 to 1949, when Handley died suddenly from a brain haemorrhage at the age of 56.


Dan Leno (1860-1904)
56 Akerman Road, Camberwell, SW9 6SN
Plaque erected in 1962
Dan Leno – the stage name of George Wild Galvin – was one of the biggest music hall comedians of the late Victorian era, especially known for his pantomime dame roles. During the late 1880s and throughout the 1890s, he was one of the highest-paid comedians in the world, talking about everyday life, mixed with comic songs. However his later life was blighted by alcoholism. This is the home where he lived from 1898 to 1901.

George Leybourne (1842-1884)
136 Englefield Road, De Beauvoir Town, N1 3LQ
Plaque erected in 1970
Another huge Victorian music hall star, George Leybourne was best known as Champagne Charlie, thanks to one of his biggest songs – alongside The Daring Young Man on the Flying Trapeze. Yet his high living also meant he died penniless - in this Islington home –  at the age of 42. Here is Tommy Trinder singing Champagne Charlie:

Arthur Lucan (1885-1954)
11 Forty Lane, Wembley, HA9 9EA
Plaque erected in 1978
The name Arthur Lucan might not mean much, nor his birth name, Arthur Towle. But his drag alter-ego Old Mother Riley, an Irish washerwoman, is far more enduing, with a series of films making Lucan one of the biggest box-office stars of the mid 1940s. He moved into this home in Wembley in 1936, and left in 1951. This is also a rare blue plaque with a mistake: He was born in 1885 not the 1887 it displays.

Harry Relph (1867-1928)
93 Shirehall Park, Hendon, NW4 2QU
Plaque erected in 1969
At just 4ft 6in, Relph performed under the professional name Little Tich, a childhood nickname. In fact, the word 'titchy', meaning small, came from him – not the other way around. He was famous for the Big-Boot Dance, wearing boots with 28in soles to allow him to achieve some impressive slapstick. The plaque marks the address where he died in 1928, following a stroke.

Kenneth Williams (1926-1988)
Farley Court, Allsop Place, Marylebone, NW1 5LG
Plaque erected in 2014
Tony Hancock's extravagantly-voiced tormentor in Hackcock's Half Hour and the stand-out star of the Carry On series lived on the top floor of Farley Court near Madame Tussauds between 1963 and 1970. During this time, he starred in the likes of Carry on Cleo, Carry on up the Khyber and Carry on Camping, was a major contributor to Round the Horne and began his long-running series of appearances on Just a Minute.

Published: 12 May 2016
What do you think?