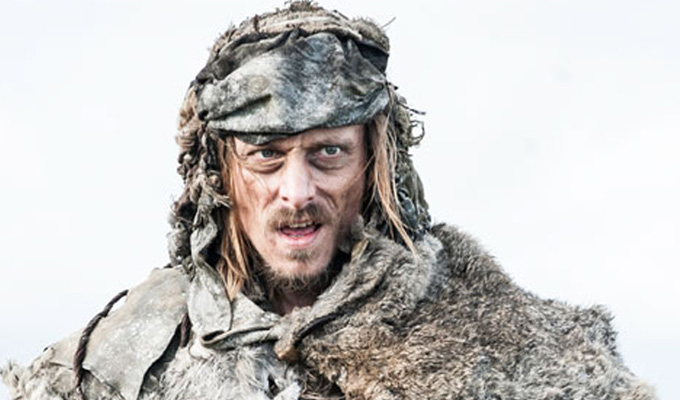 The comedy stars of Game Of Thrones
HBO's epic fantasy series Game of Thrones is back, featuring plenty of comic talent keeping straight faces through all the swordplay, ice zombies, dragons and Aiden Gillan's increasingly Irish accent.
With cast members joining series six including Kevin Eldon, Richard E. Grant, Samantha Spiro and Ricky Champ, Chortle pays homage to ten of the Seven Kingdoms' best comedy actors.
Featuring writer George R.R. Martin's hitherto undisclosed debt to Last of the Summer Wine, the following contains mild spoilers but no Red Weddings.
Kevin Eldon: 'Leading Actor'
Game of Thrones is going full meta, with 'the actor Kevin Eldon' reportedly playing the lead actor of an acting troupe, portraying the late Ned Stark (played by actor Sean Bean).
Casting called for a 'flamboyant caricaturist… using a pronounced Northern accent'. Which suggests Eldon's audition piece may have been Stanley Dewthorpe, his flat-capped, 'fictional Northern man'. 'T'other day I were down T'Grindlebollock Arms with Tyrion Lannister drinking a pint of Sodden Tussock. And it's gradely! …'
Gemma Whelan: Yara Greyjoy
For those who only know Whelan from her prim and proper, Victorian throwback character Chastity Butterworth (inset) unsmiling, leather-clad, Ironborn sea captain Yara Greyjoy might seem a departure for Gemma Whelan.
Yet neither is as buttoned-down as they appear. Literally in Greyjoy's case, with her first scene being groped by her brother Theon. Happily for Yara, her reputation as ballsy leader of her family's navy was confirmed long before her cocksure sibling was castrated into dribbling cretinism.
Mackenzie Crook: Orell
Referred to in pre-publicity as the character Jon Snow wants 'to put his sword through most', the wildling scout and warg, able to transfer his consciousness into an eagle, somehow failed to foresee Snow driving a sword into his ribs.
However, Crook did predict another, worse fate for his character, stressing to interviewers that he wasn't called 'Oral'.
Richard E. Grant: Izembaro
After guest starring in Girls as a paternal rehab survivor and managing the Spice Girls in Spiceworld, mentoring headstrong Arya Stark ought to hold no fears for Grant.
Described as the 'larger-than-life' leader of Eldon's acting troupe, casting for the new role demanded a thespian who 'specializes in portraying drunken aristocrats' and is vile to his fellow actors off-stage. A Withnail of the Westerosi essentially.
Paul Kaye: Thoros of Myr
A flame-haired outlaw, charged with speaking spiritual truths to power and waking (up) the seemingly dead, Dennis Pennis's creator was an inspired choice to play the drink-sodden, whoring red priest leading his merry band of vagabonds.
Kaye prepared for his role with a couple of Nerf foam swords, but his return as Thoros in series six reiterate his commitment to the fantasy show, after admitting that he prefers The Antiques Roadshow.
Mark Gatiss: Tycho Nestoris
There was great excitement when it was announced that Gatiss, responsible for some of the League of Gentlemen's most grotesque, hilarious creations, was joining HBO's epic gore-and-incest fest. Then it emerged he was playing a banker.
Fortunately, Gatiss can still make the thin-lipped Nestoris chilling. The end of the world, he predicts, will feature 'a crane shot, everybody's dead except me. Because, clearly, the only person who can survive is the bank'.
Tony Way: Ser Dontos the Red
Tony Way – whose credits include Ali G Indahouse, Mongrels, Extras and Spaced, played the Falstaffian Ser Dontos. Pelted with canapés and waterboarded with wine, his descent from high-born knight to pathetic court jester was one of Game of Thrones's grimmest story arcs. And his reward for bratty King Joffrey's murder? Crossbow bolt to the face. Way's assessment of the show'? 'It's just Krull with tits'.
Ben Crompton: Eddison Tollett
Wry cynic of the Knight's Watch, Dolorous Edd remains one of Jon Snow's most trusted lieutenants. If only because he's one of the few that Ned Stark's bastard hasn't got killed yet.
Stand-up and Ideal star Crompton has been loose-lipped about the new series, revealing 'it's basically two blokes stood round a fire, drinking mead, going "Oh, it's cold int'it?" They've run out of ideas… it opens with three of them going down the hill in a bath in Hebden Bridge…'
Joel Fry: Hizdahr zo Loraq
The eloquent Hizdahr is superficially similar to Fry's character in Plebs, charming beautiful women, championing gladiatorial contests and with a vested interest in the slave system.
However, where Stylax is perhaps over-sexed and orgy-fond, the Roman shrewdly never wed the woman who conquered his city and crucified his father, sparing him an insurgent gutting before he got a chance to consummate his marriage.
Ralph Ineson: Dagmer Cleftjaw
A renowned Ironborn raider and reaver, noted for his martial skill and loyalty to House Greyjoy, murderer, betrayer, flayed alive … wait a minute, that's Finchy from The Office isn't it? Nasty bastard in both series, glad he finally got what's coming to him.
• Game Of Thrones returns to Sky Atlantic at 9pm tonight, following its HBO debut in the States last night.
Published: 25 Apr 2016
What do you think?