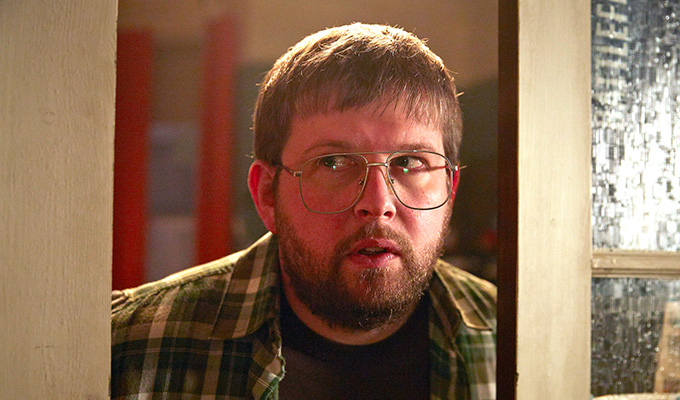 'Even Jack Whitehall showed emotion!'
This is going to be the last series of Fresh Meat – how does that feel?
It feels good now, and it felt odd when we were doing it, and it felt upsetting on the final day. A lot of people say this about productions, but we all became such good friends, it was more than just a production.
How we met, and how good the chemistry was from day one, meant that by the time you've done four series over five-and-a-bit years, it was really emotional. It felt like we'd all been to university together, and had loads of laughs and made a really great show with great writers and great producers. It was really weird finishing it. I'll always remember that final day.
These things often finish on quite an anticlimactic scene. Did you finish on a big scene?
We did finish all together. Even Charlotte, who'd started on Call The Midwife, came back to see us, so then we were all there in the room together when we finished. They called cut, and it was all quite emotional. Even bloody Jack Whitehall, public schoolboy, he mustered some stoic emotions. He'll never get to the House of Lords showing that level of human connection!
How do you feel about Howard? He's still something of an enigma. Is he an enigma to you?
No, I don't think he's an enigma to me, because I had to know all about him in order to play him. I think in this series he's more open. I think he's scared about leaving university. Not to ruin it too much, but a couple of the characters say to him: 'Actually Howard, you're probably not as weird as you think you are. You will be able to cope in the big bad world.'
I think Howard's one of these people that you don't want to know every detail of his existence, but you want to know enough for him to make you laugh, and enough to get to know who he is a little bit. He's not that forthcoming, but I quite like that.
Do you think he's changed during his time at uni? Has his friendship with the others changed him?
Yeah, I think incrementally it has. Some characters he got to know more than others, which I think was quite deliberate from the writers. I think that's realistic. So JP and Howard are actually fairly good friends, and he confides in Vod a little bit, and Josie's always quite sweet to Howard. I think he's changed in that he's a little bit more open and maybe not as weird. But he's still not willing to open up completely to any of them.
They're in their last year now. I take it Howard will be revising harder than most?
He's built his own specialist revising area, and spends an awful lot of time there. Howard is incredibly motivated to do well in his subject, even if he's not quite willing to confront the reality of what it means to leave this fairly secure world. He's not the most socially-orientated individual.
What do you think his high and low points have been at university?
High point? Probably losing his virginity. Low point? Losing his virginity – just the way he went about it.
How did your experience of university compare with that depicted on Fresh Meat?
I don't think mine was as anarchic. I don't think I had such a crazy group of friends. But yeah, similar in that I wasn't really a lady's man or particularly confident around women…
But presumably you weren't blow-drying Peking duck in your kitchen?
No, we didn't have anything that nice cooking in my home! I think what I did have at uni was experience of very similar people over the course of the four years. I met a lot of Howards, I met a lot of JPs, I don't think I met anyone as cool as Vod, but I certainly met a lot of Oregons. And everyone knows a pretentious Kingsley.
What will you miss about being in Fresh Meat?
The cast. I'll miss seeing Jack, Zawe, Joe, Kim and Charlotte. But also the work. It's helped my career massively – I think it's helped all of us. We owe a huge debt to David Kerr, the original director, and Sam Bain and Jesse Armstrong, the creators. I think, the work was brilliant.
Do you think the experience of writing your own sitcom, Gary Tank Commander, has made you more appreciative of the craft?
Yes, definitely. Writing a comedy-drama is incredibly difficult. I wrote a sitcom centred really around one central character, and lots of characters around him. But Sam and Jesse had something with real emotion and heart, but also a brilliant selection of very rounded characters. In terms of writing, and meshing all those storylines, and meshing those characters, and getting an audience to care about them, that really is writing on another level. I learned a huge amount from their scripts.
Did you ever discuss writing with Sam and Jesse?
To be honest, no, because I'm there as an actor, and I need to concentrate on doing that as well as I can. Outside of work I possibly would. But in Fresh Meat, I loved not having the pressure of being the writer as well. And also, when you're in awe of people, you tend to not want to compare and contrast work!
Do you have plans to write more stuff in the future?
I don't know. I'm doing a big live Gary: Tank Commander this year, so I need to write that. I will write again, but I'm loving getting to do other people's words. I like that, at the moment. I think I need to find something I really want to write.
• Fresh Meat returns to Channel 4 for its last season soon. Click here for a Jack Whitehall interview.
Published: 12 Feb 2016
What do you think?