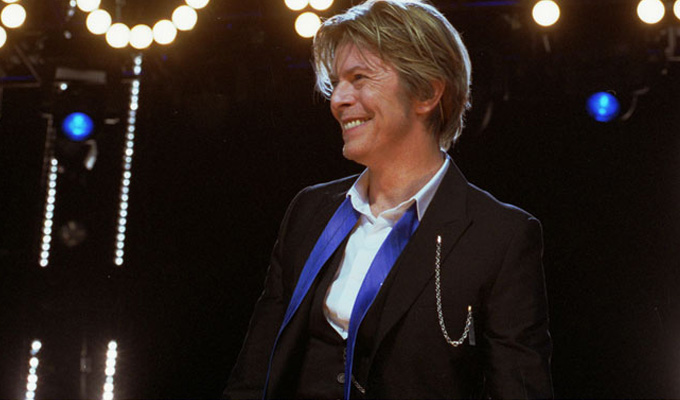 When David Bowie played the comedian
Looney Tunes 50th Anniversary (1986)
Bowie reveals his complex relationship with Bugs Bunny in this mockumenrary celebation:
Bowie plays straightman to Ev's bizarre antics, after performing Boys Keep Singing on the end-of-decade special:
Zoolander (2001)
Ever the fashionista, Bowie adjudicates the walk-off scene between Derek Zoolander (Ben Stiller) and his rival, Hansel (Owen Wilson):
Conan O'Brien: Bowie Secrets (2002)
Deadpan Bowie gets confessional with the late-night talk show host:
Extras (2006)
'Little fat man who sold his soul, little fat man who sold his dream, chubby little loser, national joke…'
Gervais later said: 'He's been a musical hero of mine for 30 years. When I called him up and I'd written Little Fat Man… I said, "Can you do something quite retro, like Life on Mars?" And he went" "Oh, of course, yeah, sure. I'll knock off a quick Life On Mars, shall I?'
This morning Gervais tweeted: 'I just lost a hero. RIP David Bowie.' And Stephen Merchant added: 'Honoured to have known him, if only for an afternoon. RIP Mr Bowie.'
Spongebob Squarepants (2007)
Yes, you read that right. Bowie played the Lord Royal Highness in the episode Atlantis SquarePantis. Bowie was also last year commissioned to write original songs for the Spongebob stage musical, set to open in Chicago this June.
Published: 11 Jan 2016
What do you think?