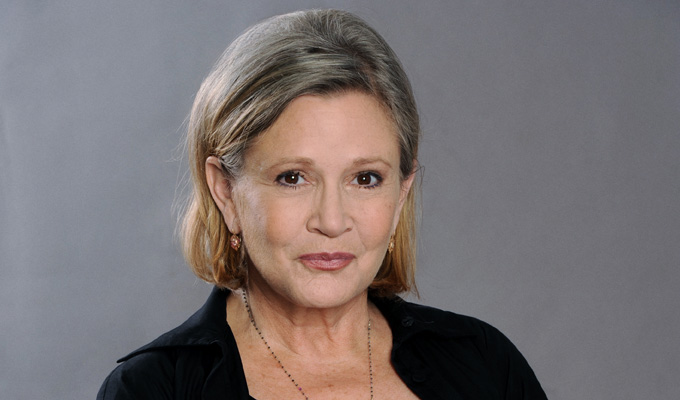 We want to tell you a story...
Carrie Fisher, Sarah Millican and Catherine Tate are among the stars taking part in the next series of adult storytelling show Crackanory.
The programme returns to Dave for its third series on December 7, with stories written by the likes of Kevin Eldon, Nico Tatarowicz, Holly Walsh and Toby Davies.
Some of the narrators were announced back in July, but the full line-up can now be confirmed as:
Episode 1
Stars Paul Whitehouse and Carrie Fisher. Uncivil War and Dread and Breakfast, both by Nico Tatarowicz. Things escalate out of control at a reenactment troupe's weekend display, after new evidence emerges suggesting history might have taken a different course; and a young couple checks into a mysterious B&B where the residents seem very keen to keep them there… forever.
Episode 2
Stars Catherine Tate and Richard Ayoade. The Catchment Area by Holly Walsh and The Frogbeast of Pontfidd by Toby Davies. A couple desperate to get their 'gifted' daughter ikrinto the best local primary school move into a makeshift camp; and in 1901 a photographer arrives in a sleepy local village determined to capture proof that the deadly beast residing there doesn't really exist.
Episode 3
Stars Jimmy Carr and Christopher Lloyd. The Zombie That Roared by Alex Kirk and The Sat Nav Did It by Melissa Bubnic. Brian wakes to find himself in a morgue alongside his friend Craig, who's suddenly attacked by zombies. Seeking revenge, Brian decides to pick them off one by one; and a disgraced police detective becomes convinced that his dead partner has possessed his sat nav.
Episode 4
Stars Robbie Coltrane and Sarah Millican. The Last Laugh by Toby Davies and Abattnoir by Dafydd James. When a bomb is discovered during their panto performance, an amateur dramatics society has to keep the audience laughing or else; and a girl takes a job at a local abattoir but can't bring herself to kill any cows, so takes them home instead.
Episode 5
Stars Morgana Robinson and Greg Davies. The Truth About Suz by Ed Easton & Kiri Pritchard-McLean and The Vexed Message by Tony Way. After lying about having a wife, Alan finds an unlikely date for the office awards ceremony; and a man mistakenly sends a text message intended for his wife to his boss, so does everything he can to get his hands on the phone.
Episode 6
Stars Simon Bird and Tamsin Greig. Unlucky for Sam by Kevin Eldon and Bob's House by Holly Walsh. A young student tries to convince his extremely superstitious elderly landlady that her beliefs are unfounded; and a man attempts to hide the CIA agent living under his house from his girlfriend. Is he really tracking an imminent alien invasion? 
Published: 6 Nov 2015
What do you think?