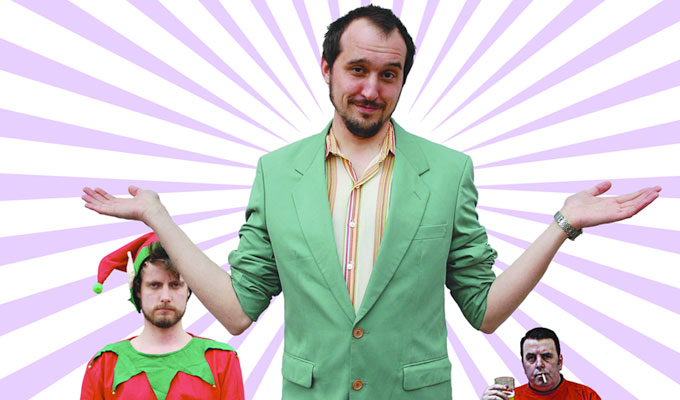 It's the besta Leicester
Dave's Leicester Comedy Festival kicks off tonight, offering a dizzying choice of around 600 shows over the next two-and-a-half weeks. Here's ten shows we'd recommend.
Simon Amstell's back on the road with his incisive, witty and sometimes awkwardly bitter-sweet introspection as he strives to live spontaneously and without consequence, hampered almost entirely by his crippling self-awareness. So when, for example, he says something inappropriate on Radio 1 the morning Nelson Mandela died, you feel every pang of embarrassment – while also appreciating the gag. The Curve, February 10, 8pm
2. Funz And Gamez
One of the hits of last year's Edinburgh Fringe, this is a joyful reinvention of the 'bad children's entertainer' trope. The genius is that it's appropriate for actual children (or at least 98 per cent appropriate) so works on two levels at once. Kids love the knockabout shenanigans; adults the desperation of a man on the edge trying his damnedest to keep it all together. Fun for all the family. Just The Tonic at Hansom Hall, February 21, 4pm.
3. The UK Pun Championship
Introduced to the festival last year, this allows Twitter's keyboard comics the chance to test their wordplay in the real world (although, of course, all the contestants are working stand-ups, too). Hosted by Lee Nelson, the finalists take part in a series of rap-battle-style showdowns to determine who'll be the the champi-pun. Defending title-holder Darren Walsh takes on Rob Thomas, Tony Cowards, Richard Woolford, Martin Cosser, Leo Kearse, Richard Pulsford and Rob Coleman. Just The Tonic at Hansom Hall, February 12, 8pm.
The most personal show yet in Mark Watson's ten years as a stand-up, in which he hints at the darker side of his comic rants against the trivial, linking them to to a more deep-seated pyschological problem. Fear not, however, Watson's breezy self-effacing approach ensure the possible breakdown flashpoints are regaled with humlour and passion. The Cookie, February 12, 7.45pm
5. The Herbert Show
Taking the best elements of Tommy Cooper and Mr Bean, and combining them with an inspired take on prop comedy, Spencer Herbert has created a wonderfully playful alter-ego in The Herbert. With his hunchback suit, tights and pudding-bowl haircut he strikes a distinctive figure, going about his inventive silliness with an endearingly child-like inquisitiveness. Heroes@LCB Depot, February 8, 4pm
Get the low-down on what it takes to be a successful comic as Sarah Millican chats to comedy festival director Geoff Rowe in what is sure to be an entertaining conversation. And if you're into the inner workings of comedy, Stuart Goldsmith hosts an episode of his acclaimed podcast The Comedians' Comedian at Heroes@LCB Depot at 5pm on February 22. The Curve, February 8, 5pm
7. Nish Kumar: Ruminations On The Nature Of Subjectivity
Super-smart, and quick to call out illiberal thinking, Nish Kumar is nonetheless playful with his intolerance, recognising his own hypocrisy and pedantry. Socially astute stand-up that's enjoyably upbeat. The Cookie, February 10, 7.45pm
8. Comedians' Cinema Club
Eric Lampaert leads a cast of comics as they recreate a semi-remembered blockbuster, including multi-million dollar effects on a Poundland budget. A director keeps proceedings roughly on track, and it's all tremendous fun for its spontaneous silliness and on-the-fly parody. The Cookie @ The Globe, February 17, 9.30pm
Six months from Edinburgh, the Leicester comedy festival always marks the unofficial start of Fringe preview season. Kev Sutherland of the Scottish Falsetto Sock Puppet Theatre (Feb 13, Kayal, 7.45pm) has counted up no fewer than 64 shows with 'in progress' in their title; and plenty more are less direct about it. It can be fun - not to mention cheaper - to see new material being formed, but it is inevitably a gamble. But Johnny Vegas's show has to be a win-win situation, since he's funnier when he fails. So take this chance to see him in an possibly intimidatingly intimate environment. Just The Tonic at Hansom Hall, February 14, 6.30pm
10. Leicester Mercury Comedian Of The Year
One of Britain's oldest new act competitions (which isn't the oxymoron it sounds), the Leicester final isn't the culmination of heats, but comprises acts recommended by comedy club owners across the country - so they should know what they are talking about. This year's batch is:
Penella Mellor
,
Tom Little
,
Kiri Pritchard-McLean
,
Jake Lambert
, Lolly Adefope, Stephanie Laing,
David Jordan
and
Ingrid Dahle
.
The Y, Saturday, February 21, 7.30pm
Or just have a punt at something you've never heard of - live dangerously! The festival runs from tonight until February 22, and the website is here.
Published: 4 Feb 2015
What do you think?