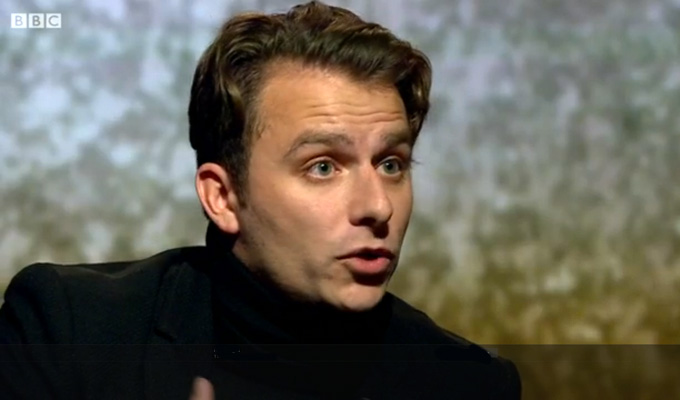 Dapper Laughs on Newsnight
Daniel O'Reilly the man behind Dapper Laughs, has appeared on Newsnight to admit he got drunk on the success of his alter-ego – and has vowed to bury the character.
He tried to distance himself from both his creation – appearing in a sombre black polo-neck looking almost unrecognisable from his persona – and his comments, particularly jokes about rape he cracked on his live show.
But yes, he blamed the media for some of his problems, too…
Here is a transcript of his interview with Emily Mathis:
At best what you do is offensive, At worst it incites harassment and violence.
Do you know that from the beginning when I started with the character Dapper Laughs it caught on really quickly that type of humour was really popular for a certain demographic of people, the Facebook page blew up and at the time I didn't think so many people would end up seeing it in the end. It became very popular and I kinda got a bit carried away with it to be honest with you.
When you see that now, [referring to some of his Vines], what would you think?
You know if that was the first time that I'd seen that kind of comedy I would think that the character is not setting a good example. But at the time when we were doing it, it was getting so much praise from the audience that it was being received by and growing and growing and growing, it was kinda something that took over me a little bit. I thought maybe it was something that these people can see that… saying that - to me - is like, c'mon that's not real. I don't think that. I'm taking the mick out of what I though men would think, do you know what I mean?
So when you're giving advice to me, for example, to say 'get your gash out' to women, can you deny that that would encourage men to do that on the street?
Yeah, potentially it's wrong of course, but – no I'm not going to say 'but' – to me I didn't see it as me. I saw it as this character. I'd created this character and was really pushing the boundaries with this character, cos it was popular
So you agree that when you create this character and it incites sexual violence..
I didn't think it did.
The clip of him at a London gig telling an audience member she was 'gagging for a rape' is played
I'm not defending myself of this. This section I was talking about how the media had looked at my TV show of how I'm inciting… and I'm trying to explain that I'm not and, you known, I hold my hands up: That joke may have gone a bit too far and I may have said too much but by no means do I stand behind that and I'm embarrassed by it.
Get some duct tape, and rape the bitch, she's gagging for a rape?
Yeah, but listen. The way I was saying that, there's no way my show condones rape. At all. I'm not standing by that.
A member of the audience says 'yes' to rape and you say 'geezer' to him as encouragement…
No, no, no. What I'm explaining to the audience is that I think it's ridiculous that people are pursuing this as that, that they're perceiving it as that, sorry
Do you think everyone is the audience just found that satire really funny or are they laughing because you referred to rape?
I think they were laughing at the fact that I was laughing at people thinking that I was inciting rape.
So is it OkK then?
No, I'm not saying that at all. I'm not saying that at all. And it's ruined everything.
Do you think you wouldn't be feeling like this if ITV2 hadn't pulled your second series?
Not at all. I felt blessed ITV even give me a first series. I didn't know if there was going to be a second series.
What I'm saying is that a lot of people may be watching this and thinking: 'Well, the apology's come because he's just had his series has been pulled, his tour has been pulled and his album's not for sale'
My tour wasn't pulled. This morning I woke up and decided that I don't want to carry on with Dapper Laughs.
When you rewatch some of these clips, do you laugh a bit?
No. I look at it now and I'm trying to… At the moment the whole back, erm.. the emotion that's attached to, you know, what it's done to my life and what the media have done to my life in the last four days. I didn't realise I was causing that much of a problem.
So if women watching this say you, in your comedy, have incited violence or that you have vindicated rape and rapists, what they should be doing is saying they've actually ruined your career, right?
No. What they should be saying now is if they think back, they should be looking at it and saying at least he's come on the TV and he's said: 'do you know what, I don't want to be an advocate for that.'
And what does Dapper Laughs do now. What does Dan O'Reilly do know?
Dapper Laughs is gone. My family have spoken to me about it, you know, so not only do I not want to carry on with it, I don't want to be seen to approve it.
Didn't your dad start tweeting , trolling…
I don't know what…
…following some of your stuff and some of the comments that came back from women?
Well, I can't talk for what he done because that was.. that was a long time ago… One thing I do know is that I'm not going to represent Dapper Laughs or allow Dapper Laughs to represent me. I want the people out there to know that not only am I going to stop it, I'm going to help it not be promoted as well.
The full Newsnight programme can be seen here
Published: 12 Nov 2014
What do you think?