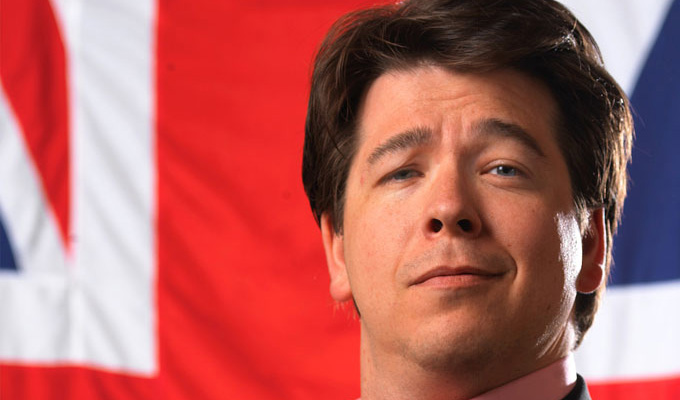 Boom and bust
Part 1: Stand-up's first impresarios
Part 2: The birth of Alternative Cabaret
Part 5
Someone who has made a living from comedy – and has been doing so consistently for about 30 years without much interference from Big Management – is a Jewish comedian from South-East London called Ivor Dembina.
Arthur Smith refers to Ivor in his autobiography, My Name Is Daphne Fairfax, as the 'patron saint of alternative Jewish stand-ups'. He was in the second wave of alternative comics that followed the rise of Sayle and his cohorts and made his name promoting comedy as well as performing it; a wily wheeler-dealer who seized the opportunity to make a bit of money out of stand-up by setting up his own little operation. He did this by enlisting a group of reputable comics, taking them out of their regular clubs and exporting them to rooms on the student circuit.
Militant comic Mark Thomas, who is friends with Ivor, describes this in William Cook's Ha Bloody Ha: 'Ivor Dembina used to run these really ropy comedy gigs. At the time, there was only Addison [Cresswell] and him doing them, and Malcolm Hardee on occasions. He used to put himself out as the cheapest comedy around. You'd get sixty quid and drive there and back. We did an agricultural college, and they're notorious for being complete and utter brainless bastards. Ivor went out and settled them down because he can be very schoolmasterly on occasions.'
The post-alternative boom that started in the 1990s in the UK saw a rise in proactive comedy management companies and, eventually, these were consolidated into two principal agencies: Avalon and Off The Kerb. The latter was started by Cresswell - a man with the same on-your-own-two-feet work ethic as the aspirational working classes in the 1980s. Cresswell used it to accelerate the capitalisation of alternative – then post-alternative – comedy. He was an Essex Man without being in the right catchment area.
After completing a degree in graphic design at Brighton Polytechnic he exercised this industriousness and set up his own rough space. He once recalled: 'I ran a dingy little club that the student union owned called The Basement – it held about 200 people. We built a stage out of old forklift palettes, across the fire exit of course because we never knew about fire exits in those days. I bought two anglepoise lamps from British Home Stores and screwed them into the ceiling – and that was the lighting rig.'
Then, after running a few more mildly successful clubs and going to New York to see how it was done, he came back to London and was advised by his friend, a struggling stand-up called Roy Hutchins, that comedy was becoming a profitable business venture; he should seize this moment. He got Roy gigs at different student unions, charging £50 for each gig, and started to turn this hand-to-mouth trade into a solid living. He went to nearly every student union across the map with stable of comedians shivering in the back of his shitty van.
'Nobody was looking after any of these guys. It was really early days. The only person who was working was Ivor Dembina. He was sending people to do pranks, hiring people like Julian Clary, dressing him up as Gay Tarzan. Me and Ivor were big rivals at the time. He doesn't do it anymore. He got out – he wanted to become a comedian, which I always thought was a bad move.'
Cresswell began setting up his own nights at Albany Empire after Hardee's The Tunnel Club closed and took over the Tramshed in Woolwich. From a little basement flat in Peckham, he was also running a sideline career looking after people like Julian Clary - to whom he was introduced at one of Ivor's gigs in a pub up the Grays Inn Road in Kings Cross - Jack Dee, Lee Evans, Jeremy Hardy and Mark Thomas.
He first met Dee when he paid him to do a fifty-quid spot at the Tramshed and 'thought he was a right miserable son of a bitch. He looked really mean. I thought "Fucking hell! We're going to pay this one on time!" He didn't say much backstage, went on, knocked them dead and fucked off! I made the decision there and then. I thought, "I'll have some of that!".'
This was the start of his transition from low-level club promoter to a high-level agent, to one of the most influential comedy power brokers in the country. This was first seen, on a smaller scale, when he took Clary away from the shoebox venues with sticky floors and kitchenettes and got him two nights at the Palladium in 1994.
In Ha Bloody Ha, he talks about the restrictive spaces that are usually a starting point for the stand-up; an embryonic casing: 'Basically, the comedy clubs are dives. Compared to theatres, they're fairly ropy places. Jongleurs and the Comedy Store are OK – the rest of them are pub rooms, and they're fucking awful. You're preaching to the converted half the time. If you go to Jongleurs nowadays, you see the same fucking set every three weeks. It's the same old mob. They go round doing the same set, but they're not going anywhere. I don't have any sympathy. I think they're fucking cowards.'
Cresswell, who died in December, moved beyond this start line and morphed into a Big Management figure. He later became a key player in initiating the current influx of comedy product on to television and in stadiums when he suggested that the BBC commission a new show: Live At The Apollo. And when his client Jonathan Ross was forced off the BBC in the wake of the Sachsgate scandal, he offered them his client, Michael McIntyre, to act as compere of a new Comedy Roadshow. His status as an arena-filler fuelled stadium stand-up in the UK.
Expansive arenas such as the O2 or Wembley are now regularly being used to stage comedy, but the shows are devoid of the synergy that sparks between people in close contact.
David Denby wrote in an article for The New Yorker that silent cinema is another language; that it's a 'language of gestures, stares, flapping mouths, halting or skittering walks, and sometimes movements and expressions of infinite intricacy and beauty.' The same could be said for club comedy. Those tiny tweaks that are made to a facial expression or those modulations in voice that are used to enhance a laugh are lost when viewed on the HD screens in the O2 arena.
Every industry follows a boom/bust/boom trajectory... It happened with tattoos, the housing market and witch hunts, and now it's happening with comedy. It already happened with comedy in America after the rise of cable television.
John Naughton (academic, journalist and author) said this was down to two things: 'The more people attempted it, the greater the craft was devalued. The more television showed it, the less it seemed to matter.'
Again, it became a flooded industry. It was saturated with wannabe comics who drove the performance fees down and its ubiquity on television meant that people got bored with the overexposure.
Ivor Dembina made the decision a long time ago to avoid television and stay in the clubs. Since the UK. scene appears to be on the precipice of another downward spiral, he may once again be proven to have made the right decision...
Published: 16 May 2014
What do you think?