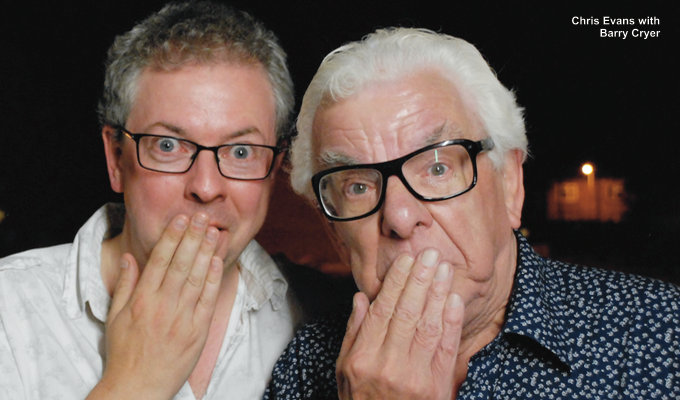 The DVD label that asks not 'will it sell?' but 'is it any good?'
Simon Munnery
,
Lucy Porter
,
Arnold Brown
,
Boothby Graffoe
and
Kevin Eldon
on the books, as well as
Stewart Lee
,
Richard Herring
,
Robin Ince
and many more, shoppers of 'alternative' comedy know where to buy.
Chris ('no, not that one') Evans, was still beaming after winning the Chortle Offstage Award when I caught up with him via Skype. We started our chat late as we had both been listening to the live broadcast of The Hitchhikers Guide to the Galaxy on Radio Four. So, inevitably we began by discussing this new version of Douglas Adams's classic before we put down our towels and moved on to more important matters. Like Chris's mug of tea.
Skype works fine, but my PC screen ain't great. So I was peering at his freshly delivered cuppa, from an unseen hand, wondering if the UK's leading exponent of alternative comedy DVDs could really be drinking from a mug depicting the 2011 Royal Wedding.
'Yeah, have you seen this? It's a Royal Wedding mug and somebody printed the wrong Prince on it. I thought it was funny, so I bought one and they said, "Ah, we know we've got it wrong, it's just a joke."'
Sure enough, a romantic depiction of Kate Middleton with the ginger Prince Harry was now filling my PC screen. I suggest that in years to come, as a limited edition (ie. mistake), it might be worth a few quid.
'Well, if I hadn't drunk tea out of it for two years.'
Chris doesn't have the average entrepreneur's attitude to money. He produces comedy DVDs of live shows that mass distribution companies wouldn't touch. The question isn't, 'Will it sell?' but rather, 'Is it any good?'
It all began back in 2005 when he went to see Stewart Lee's, 90's Comedian show. It had already been a hugely successful Edinburgh Fringe show; so naturally, Chris expected to be able to grab a copy of the DVD online. On learning that the DVD didn't exist, he emailed Stew, whom he didn't know at the time, and asked if they could collaborate.
It was a long shot, but Stew said yes.
'Stew came up with the way we could do it - we didn't have any money. We shot the whole gig twice in one evening to ensure we captured everything. We charged the audience to get in to cover the costs of hiring the equipment, so if nobody bought the DVD the worst that could have happened is that we'd have lost an afternoon.'
Once the DVD became a success Stew suggested that Chris get in touch with Richard Herring.
'And after that worked out I became more confident and started contacting comedians that I like. Robin Ince got involved after he bought Stew's DVD from my website. I emailed him back asking, "Are you the comedian Robin Ince?".'
Fast forward to last week and Richard Herring is collecting the Chortle award on behalf of Chris to recognise his offstage contribution.
'I was surprised to be invited to the Chortle Awards at all, I had no idea that I was up to win anything. I didn't make it because my 13-year-old son, Ben, had broken his ankle. Looking back, Steve [Bennett, Chortle's editor] did seem rather more disappointed than I thought appropriate when I told him I couldn't go.'
Fortunately Ben's ankle is now recovering. He's still in pain but at least he's getting some time away from school.
'Ben helps me out with packing up the DVD's to post. I pay him per item to pack it. I'm doing it all myself now, as he's on the sick. But the people in the post office are very nice. I see them every day.'
Glamorous world, stand-up comedy.
A favourite Edinburgh show of many was Simon Munnery's Fylm-Makker. While hidden somewhere in The Stand venue, Simon contrived to make live films (or Fylms) which were projected onto a big screen on stage. The result was truly original and it received great reviews and a sell-out run - but the show seemed to have no commercial potential. Step in Go Faster Stripe.
The resulting DVD comes with two versions of the show. The first from its initial Edinburgh run in 2012 and the second from Bristol in 2013, at the end of its UK tour. You get a very real sense of how the show has evolved over eight months – reinforcing the impression that you're watching recordings of unique live events.
'Our next project is with Simon. His current tour is called Fylm and it's the same concept but with completely new material'.
Simon's DVD is typical in that almost all Go Faster Stripe DVDs contain an overabundance of extras.
'We squeeze as much material as we can on to the discs. After the BBC sent me the tapes for Fist Of Fun, I found myself sitting down to watch hours of unbroadcast material, most of which was really good. I thought, "I want to put all this out there."'
Lee and Herring's show ran for two seasons on BBC2 in the 1990s. The original Go Faster Stripe release of series one eventually ended up with more than seven hours of extras on it. The second series' extras ran to more than 12 hours. The present-day Rich and Stew provided commentary for every episode and the result is truly special. I wonder if they might perform as a double-act again. I want the moon on a stick, me.
'That would be great. But they are both really successful in their own right now. They did get together for the Fist Of Fun DVD extras and they did re-form briefly a couple of years ago, but nothing has happened since then.'
Chris talks enthusiastically about future projects: 'Miles Jupp is very funny with a sharp, distinctive set. That DVD release is on its way.
'It's great to meet some of the younger comics coming through, but I can't wait to get to work with Barry Cryer. A very kind, very funny guy. He gets a great deal of respect from right across the industry and I must admit to grinning from ear to ear when I met him.'
I ask if Chris is a fan of TV comedy. 'A lot of it isn't very good. But I have to say that if Michael McIntyre wasn't  already a mega star, I'd be asking if we could work together'
It was as our chat was coming to a close that Chris dropped the name of another comedian he's working with. A name that will surprise pretty much everyone in the industry. A name I sadly can't share. 'It's already happened; we've recorded the gig. It's just a question of when it's coming out and that's up to the comic.'
The copyright on all Go Faster Stripe stuff is jointly held by the company and the comedian. 'It sounds like an obvious way to do it, but it's actually quite rare to have that arrangement,' Chris says. 'We don't do anything unless the comedian agrees. Until they are happy the only person to see the show is me".
Oh to see Chris Evans' private collection.
• Martin Walker is the new stand-up comedy editor for Broadway Baby. For details of Go Faster Stripe's catalogue, visit gofasterstripe.com.
Published: 2 Apr 2014
If the best stand-up show you've ever seen was produced by a comedian your workmates haven't heard of, then chances are that Go Faster Stripe have captured the performance on DVD. With
What do you think?