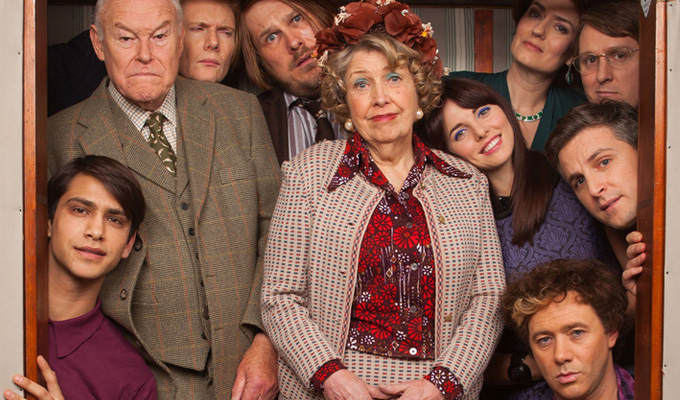 Inside No 9: Sardines
The BBC Two continuity announcer probably did Inside No 9 few favours by introducing it as coming from the masters of 'comedy horror', Reece Shearsmith and Steve Pemberton, and so needlessly deterring those without a strong stomach for gore.
For while there may have been a deliciously sinister twist in the tale, redolent of obvious precursors such as Tales Of The Unexpected or Alfred Hitchock Presents, the only unpleasantness in this lovingly crafted episode comes from the simmering tensions in relationships.
Good sitcom comes from when characters are trapped, so you couldn't do much better than this – with most of the action set in in a wardrobe during a game of Sardines at a well-heeled engagement party. They occasionally spilled out into the adjoining en-suite bedroom, but the set budget for this must have delighted the BBC accountants.
Instead, the cash seemed to have been splashed on a cast that represented the best of the best of British comedy: Timothy West! Anne Reid! Katherine Parkinson! Julian Rhind-Tutt! Ben Willbond! Anna Chancellor! Tim Key! And all on top of their game.
It could be a career-changer for Key, especially, to date best known outside of the comedy circuit for his role as Alan Partridge's sidekick, but here the epitome of awkward social creepiness as he played the part of Ian, the dullard in IT.
Flawed relationships were packed into the script tighter than comedy A-listers in a closet – not to mention an unspeakably dark incident from the past. Yet Shearsmith and Pemberton skilfully blended the bleak with the comedy – perfectly embodied by Shearsmith's own character, Stuart, whose ultra-camp double entendres were driving his partner to breaking point.
As more characters clambered into the confined space as per the rules of the game, the fissions between the veneer of upper-middle-class respectability gaped ever wider, and the laughs became more nervous. But still they came, thanks to an elegantly witty script.
It's been a long time since TV embraced the anthology format, but if it creates episodes as classy as these, it could be time for a revival – although it's hard to envisage who else could pull it off as skilfully as these League Of Gentlemen alumni.
Published: 6 Feb 2014
What do you think?