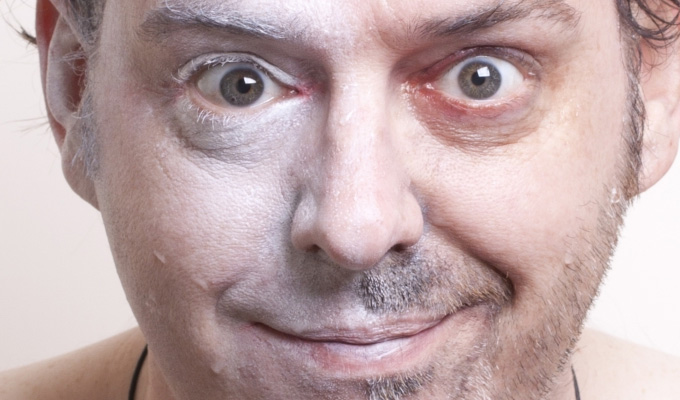 A funny sort of Christmas
Fifteen comics have written twisted Christmas themed short stories for a new charity book.
The Small Book of Stories has been released by The Stand comedy club in Newcastle and features contributions from stand-ups who regularly perform there such as Simon Donald, Seymour Mace and Kai Humphries.
The money raised from the £5 book – available here or at the venue – goes towards the North East Council On Addictions. The Stand is also hosting a live gig for the book on Monday. Tickets.
And as a special festive treat, we reproduce Mace's contribution, a poem, below. The Ideal star – who's been helped by the charity – also provided illustrations for the book.
Twa't night before Christmas when all through my home
Not a creature was stirring 'cos I live on my own
No stockings were hung by the chimney at all
'Cos I don't wear stockings and it's just a blank wall
No children were nestled all snug in their beds
As that would be dodgy 'cos I don't have kids
Just a lonely old goldfish swimming round in his tank
As I pick up the catalogue for a pre xmas wank
When in the back lane there arose such a noise
So i zipped up my zip and caught the skin on my balls
Aaaaaaaaaaaaaaagh! Aaaaaaaaaaaaaaaaaaaaagh!
Aaaaaaaaaaaaaaagh! Aaaaaaaaaaaaaaaaaaaaagh!
Outside the street light shone down on the snow
With pockets of dog shit every two feet or so
When what, to my still watering eyes, should appear
But a pissed up old tramp with a super strength beer
In an ill fitting suit with stains round the gusset
And a cart with no wheels so the cunt had to push it
He had eight frozen chickens in the carts' rusty bed
And he'd given them names 'cos he was off his fuckin' head
Now Darren! Now Karen! Now Pauline and Vicky!
On, Colin! On, Carol! On Donna and Dickie!
Get out the twattin' cart, climb over that wall
And nick me some beer now dash away all!
But the chickens just lay there all frozen like stone
The tramp said well fuck you'se I'll get them on me own
He climbed up the wall with the chickens in tow
Then fell into my yard in a pile of wet snow
And then in a twinkling I heard with my ears
The smashing of windows in the kitchen downstairs
As I came out my room, started looking around
Down the hallway pissed Santa Claus came with a bound
He was dressed all in red to the length of his height
And his clothes were all tarnished with piss, puke and shite
The eight frozen chickens in a bag on his shoulder
And he looked like Dean Gaffney but much fatter and older
His skin was all wrinkled with pock marks and cuts
And the veins in his cheeks were like rivers of ketchup
His wide open mouth was frothing like coke
And the beard on his chin was yellow with tab smoke
The butt of a rollie held tight in his gums
The smoke made him wretch all the phlegm from his lungs
He had a fat face and a stomach all foldy
That shook when he threw up and smelled a bit mouldy
He was scruffy and drunk, a right miserable bastard
And from the puke down his chin I could tell he was plastered
A squint in his eye and some jam in his hair
Soon gave me to know that he wasn't all there
He spoke not a word just made guttural grunts
And he had my new laptop shoved down his trunks
He tripped over backwards, got up off the floor
Slipped on some vomit and fell out the back door
He climbed the back wall with his pants falling down
And he crushed half the chickens when he fell to the ground
But I heard him exclaim as he crawled from the gate
Happy Christmas ya bastaad! Ya me fuckin' best mate!
By Seymour 2013
• That link to buy the book again: here.
Published: 18 Dec 2013
What do you think?