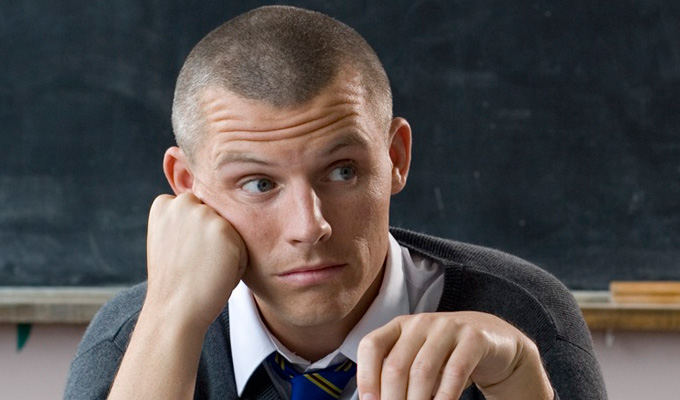 Bishop in China
Des Bishop is on a break from his job as a restaurant welcomer when I ring him in Hegang, a Chinese city on the border with Russia.
The Irish-American comic's new role seems apposite, since he famously made a documentary for Irish broadcaster RTE about trying to survive in minimum-wage jobs for a month, including working in the Waterford branch of the fast food chain Abrakebabra.
There he befriended his Chinese co-workers, and it sowed the seeds for his current challenge: moving to China for a year, learning Mandarin from scratch and performing stand-up to lao bai xing, ordinary Chinese with no English. He arrived in February and the film of his experience airs next year.
Those first three days in Beijing aside, Bishop has so far settled in without being filmed, although he has now been joined by his Irish cameraman.
His challenge started in the capital, where he lived with a family in the Haidian district. and studied at Renmin University.
'But I wasn't feeling enough connection with the real China,' Bishop says. 'I just wanted to come to a place where I'm a bit more immersed.' Hence his temporary relocation to Hegang, where he has just attended the wedding of Leo – a friend he met at Abrakebabra.
'Nobody speaks English here' he adds. 'My Chinese isn't good enough to be a waiter and if you've been in China any amount of time, you'll know that people are pretty impatient with service. Obviously, the conversations are all pretty simple but I've established maybe 25 good friends among the staff, all conducted entirely in Chinese.
'I haven't even started thinking about the performing side of it yet, so I'm not feeling any massive pressure. But every now and then, I get little panic attacks because it's such a vast language, so deep and much more complicated than I thought before I came. Sometimes I think I'm conning myself that I can achieve my final goal.'
That hasn't stopped him setting up a comedy night in Beijing, along the lines of The International Club he runs in Dublin with his brother Aiden. Inspired by a gig he performed in Shanghai's small but flourishing stand-up scene, which caters mostly for ex-pats but uses local and foreign acts, he began hosting The Humor Section in April.
A monthly night held in the Beijing Bookworm bookshop in Sanlitun, a popular cultural area for foreigners, the gig attracts audiences of up to 100. Or more if the acts speak Chinese.
In the country for six months, Edinburgh Comedy Award winner Tom Basden has appeared, 'doing his quirky British humour that none of them had ever seen before', as has Li Jiaoyang, a Chinese student who has returned from studying at MIT in Boston. 'English is his second language but he did seven minutes and was great, absolutely rock solid,' Bishop recalls.
Recently arrived from the US, Sherwin Jiang is an established part of the Beijing scene. 'The ABCs, American-born Chinese, have a culture all to themselves, they've got the best and worst of Chinese culture,' suggests Bishop.
'Their lives are very interesting because they live in a very open society but their parents are very strict, then they come here and they're not accepted as Chinese. They've had to live with this restriction in America and then they come here and get no respect from the very culture that has restricted them.'
From his limited exposure to Chinese stand-ups performing in English, such as Jiaoyang and Joe Wong, who got his big break on The Late Show With David Letterman, Bishop notes that 'they tend to use it in a quite deadpan way'. The Humor Section's first Chinese and, coincidentally, first female stand-up, Mia Lia, chose to perform in English because Mandarin carries more restrictions concerning appropriate subject matter. 'Which is super-interesting. And whenever we have stuff in Chinese, it brings far more attention and concerns about the size of the crowd in the room'.
Another American, Jesse Appell, delivered the club's first Chinese set, after studying Chinese comedy with funding from both the US and Chinese governments.
'He's already doing what I'm hoping to do after a year,' Bishop observes. 'He's completely fluent. His set worked out really well. Some people say "doesn't it freak you out that some guy is already doing what you plan to achieve?" But actually no, because it's great to have someone to share the frustrations and challenges with.
'He doesn't have the frustrations of learning Chinese. But he still has this cultural barrier of being a foreigner experiencing China through foreign eyes. And a lot of that material, even if you speak perfect Chinese, is just not funny to Chinese people.'
Bishop, who previously spent a year learning Irish in Connemara so he perform stand-up in the language and gain a a connection to the country he has made his home, very quickly got a good hour of material about the frustrations of learning Mandarin.
'I didn't even have a set list, I just got on stage and vomited fucking oodles and oodles of funny stories about what's been going on for me. But that's only good for people who've been in that situation, no one else. Even if I did it completely in Chinese, the Chinese wouldn't appreciate it.'
Still, he does have 'stuff I'm more proud of in terms of challenging foreign people's perceptions of China, particularly foreign people living in China. It's not really for the series. But it's really interesting to be a foreigner here because you don't perceive yourself as one. We don't experience discrimination because we're still a novelty, they're still excited by your presence (http://v.youku.com/v_show/id_XNTUzNTc3MjI4.html).'
After screening a subtitled version of another of his documentaries, My Dad Was Nearly James Bond, he was reminded that 'people don't have that kind of friendly relationship with their fathers here. They were entertained by our playful relationship because they're much more traditional. It wasn't shocking to them, just completely different.'
These cultural divergences should at least provide him with future material. The family he's living with struggle to comprehend his 'evening kind of a lifestyle'.
'Sometimes I can feel them looking at me, thinking, "what is this 37-year-old, unmarried man doing in China?" We get on great but to them my life is outlandish. When I'm going out a lot I start to feel a bit guilty and lie, pretending I have important things to do when I'm actually going to meet a girl.'
With so many 'no go' areas for his ultimate Chinese performance, he was pleased to discover that dating is one aspect of life 'which they're very comfortable having fun with'. Still, the differences are stark. Romance in Beijing is 'more innocent, to a degree' and yet 'much more formal and matter-of-fact'.
'They have parks where parents go and advertise their children for marriage' he explains. 'So I went down there and advertised myself. Parents were taking my number, showing me pictures of their daughter and then three days later, someone would call up trying to arrange for me to meet her. They would ask "is this serious? We're not fucking around here, I'll organise the marriage!"
'When you go to these parks, you have to put everything. Not just your height and weight but how much you make, whether you have an apartment. You'll see a father walk up to the advertiser. If he doesn't see an apartment, he'll ask about it. And if they say "no apartment", he'll walk away. That's how romantic it is.'
Regardless, living and working in a country undergoing seismic change 'is great from a comedy perspective, in that it's very inspiring in terms of ideas.
'However, the challenge for the TV show and the longevity of what I'm experiencing for the purposes of performing around the world is, how do you put that across in a way that's universally funny? In the same way I was challenged in the early days of my comedy career by trying to take my fish-out-of-water experiences of living in Ireland - and making them universal, which a lot weren't - there's a challenge in converting this into an internationally entertaining programme for people who want to know about China. Or just want to be entertained.
'It's been more challenging than I expected. What I've realised is that China is so completely different, that I'm not sure if the bridge between showing what China is and entertaining people in the West is even navigable. I'm more deeply immersed in this than anything I've ever done. I've never been as lost in a process and I just hope I have enough time to translate it into something people can follow and give a shit about.'
Aiden Bishop is appearing at The Humor Section soon. And in October, the Bookworm will host a wholly Chinese language night of stand-up featuring Appell, Jiong and Tony Chou, a journalist at China Central Television, along with other Chinese and foreign acts. Bishop is compering and will 'try to do a couple of minutes'. Exhaling, he admits 'I think it'll be a little early for me but our mission is to attract a much bigger crowd than normal'.
He wants to establish a Chinese comedy festival in the future. But for now, he's putting out an open call worldwide for club comics: 'If any acts have a desire to come to China for very little money, we have spots!'
Watch Des on Shanghai vs Beijing:
Published: 11 Jul 2013
What do you think?