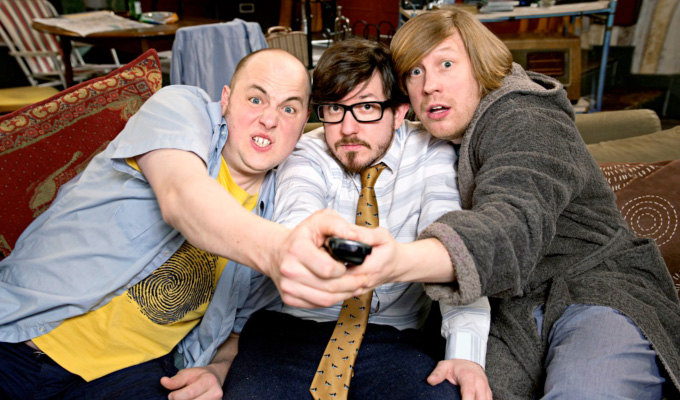 'If we didn't get along it would all fall apart'
After being nominated for the Edinburgh Comedy Award and winning a 2013 Chortle gong, sketch trio Pappy's – aka Tom Parry, Matthew Crosby and Ben Clark – have made their own anarchic BBC Three sitcom, Badults. Here they talk about the show, which is due to air from next month...
How did you set about translating your Pappy's stage act into sitcom?
Tom: At first, we tried to put the stage sketch show on TV, but that was like speaking a different language. We were trying to speak the language of live on TV. So we changed it and made a sitcom where we got to be ourselves and to put ourselves into ridiculous situations, but the show always keeps a toe in the real world. It's important to keep that element of reality. That's why the character of Matthew is so important. He is there as a witness to Ben's and my ridiculous ideas and to say: 'Guys, come on!'
How would you describe the tone of the show?
Matthew: It's daft and silly. We've never done dark.
Tom: We like to think of it as positive. That's always been our style of comedy.
Is it a reaction against the recent trend towards darker comedy?
Ben: No, it's just what we do naturally. We have never sat down and said: 'We must react against more cynical comedy.'
Matthew: It's not right to set yourself up as opposed to something. I'm sure soon, neo-cynics will come along and say, 'We're the antidote to happy-clappy comedy'. But don't be an antidote. Be funny. The church of joyous humour is very broad. Pure laughter will never go out of fashion.
Tom: People talk about trends in comedy. But you should never be influenced by them - you should just do what you love. You'll never be in control of fashion.
Badults is a flat-share comedy. Do you see that as a universal setting?
Tom: Yes. Without sounding grandiose, we wanted it to be timeless. I can always watch Red Dwarf and it's always funny. That's something to aspire to.
Matthew: Even Fawlty Towers is a blank slate. Hotels have been around for a long time already, and they will be for a very long time in the future. Everyone has stayed in a Fawlty Towers. In the same way, a lot of people have shared a flat – in fact, increasingly, they're doing it until their early forties!
Tom: More and more of my friends are doing it. My mum and dad were married with kids at our age. This taps into that idea of being a perennial student.
Can you explain the title?
Tom: When you're a Badult, you're bad at being an adult. You're trying to leave childhood behind, but failing miserably.
Ben: Anyone who is in his late twenties and is still labelling his food or, worse still, stealing food from his flatmates is a Badult. Those are things we are all familiar with!
Matthew: I think it's really good title, immediately evocative of what we are trying to put across. We're surprised it hadn't been used before. It feels like a word that should already be in the dictionary.
Do you have real life experience of a flat-share?
Matthew: When we were filming the show in Glasgow, all of us were living together in a flat. It was a case of art imitating life. In the first week, we all tried to be good and to eat healthily. We had lots of vegetables. Then four or five days in, we were all sitting round asking each other, 'Who's going to go to the takeaway pizza place?' But it works. We couldn't perform together and live together if we weren't really good friends.
Tom: After university, Ben and I lived together. I didn't want to live with my parents, so Ben said, 'Why don't you come live with my parents?' 'Brilliant,' I replied, 'that'll be automatically better!'
Ben: We said we would try the arrangement for a month until we could find a place to move in together. A year and a half later, we were both still living with my parents. Eventually we moved in together to a mouldy old flat in Streatham. Flat sharing is actually a lot less fun in real life than it is in this show.
Tom: It's a celebration of friendship. The idea that together we are greater than the sum of our parts is the basis of everything we do. That feeling of friendship, of being part of a gang is vital. Everyone has those friends who mean even more to them because they've known them since the age of 10. You know everything they've done wrong, you know their secrets, their worst haircuts and their worst trousers – and they know exactly the same about you!
Matthew: That's what we wanted to communicate in Badults. The message is, 'We know the worst thing you've done.' That bonds friends. When we were kids, we cared so much about Friends. We cared whether Rachel and Ross got together. We felt a real investment in characters we met every week. In the same way, it's important in our sitcom that people care about what happens. Otherwise, it's just silly people being silly. But it also has to have an emotional core, and that comes from friendship. If we didn't get along, it would all crumble. The fact that we are friends in real life also means we don't have to pretend in the show. It means there's less acting. But even when we're playing ourselves, we struggle. I can see the critics writing, 'He was not very convincing as himself!'
Ben: The great thing is, if you reminisce with your old friends, the stories are invariably funny. You rarely talk about the tough stuff with your friends. Everything is an amusing anecdote in hindsight, even if it's at another person's expense. It's like a best man's speech looking back on a friendship – it's best when it's funny.
How similar are your sitcom alter egos to your real selves?
Tom: They are heightened versions of who we are in real life. In life and in the sitcom, Matthew is the organised one. He's always trying to do admin. Ben will try to do as little as possible, and I have loads of ridiculous ideas. There is a fundamental truth in all that. Because we spend so much time together, the show is about how we make each other laugh. We thought, 'If we can put that into the sitcom,' then hopefully people at home will find it funny, too.
Matthew: We have turned all those things in each other that make us laugh up to 11. We have ramped up the things that make us funny, especially my pedantry and anal retentiveness and Tom's ridiculous exuberance.
Ben: And my idiocy!
Does comedy thrive in a recession?
Matthew: Yes. More than ever right now, people need a laugh. Our show is pure escapism. In times of crisis, people want a lot more silly comedy. Laughing and getting drunk are the two key British reactions to hard times.
Tom: Shows about sewing, baking and the supernatural are also flourishing. So our next project is Sewing Vampires Who Bake. We are going to pitch that. It's recession-proof.
The series involves ambitious sequences, such as transforming the flat into a pop-up restaurant or re-enacting the French Revolution. How did those scenes come about?
Ben: We just wrote what we thought was funny. When we presented the producers with the French Revolution scene, the producer said, 'This is ambitious' and we replied, 'Is it?' We would imagine the scene and have an idea of how it would look. Then the design team would come up with something even better.
Matthew: We just wrote what we wanted – we never had to restrict ourselves. Ian MacDonald, the head of the design team, was brilliant. We told him that we wanted a French Revolution style barricade in the flat, and he said, 'Fine.' His approach was invariably 'how?' rather than "why?'
Finally, who are your comedy idols?
Matthew: One of our influences is Bottom. That's about two people who hate each other but can't live without each other. They are co-dependent, but the comedy is joyous. If Bottom is about a dysfunctional marriage, Badults is about a really dysfunctional marriage.
Tom: It's the worst orgy in town. In fact, that's the title of our next show!
Tweet
Follow @chortle
Published: 26 Jun 2013
What do you think?