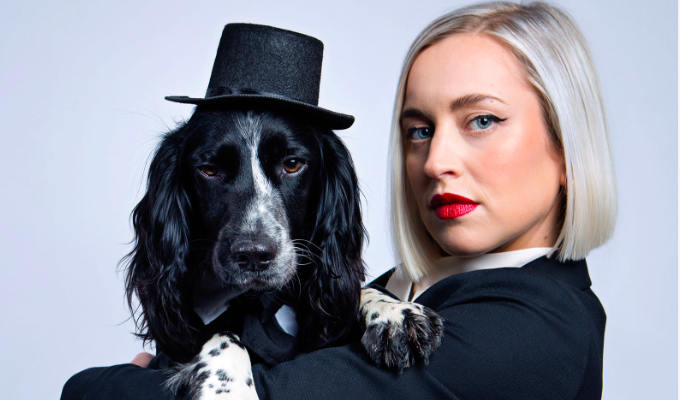 The realities of a comic's life on the road
For the last six months, I have been hitting the UK circuit hard, which is lovely after sitting in my pants doing Zoom comedy shows for two years. Travelling here there and everywhere to get as much stage time as possible before my debut Edinburgh show Smut. And it's been a fun/tiring/bloody scary learning curve. Let me talk you through it…
I have some awesome promoters booking diverse line-ups over the UK so I get the call-up and I'm off with my bag filled with jumpsuits.
I drive but don't have a car, because I've spent the money on my Edinburgh accommodation, so the options are:
Car share with a male comedian you've never met and haven't had the time to check if he's on some kind of list;
Car share with a female comedian or just comedian, but that doesn't happen much, unfortunately;
The train, which is fine, until the whole of the West Ham stadium gets on, spilling cider and singing, in complete un-unison, songs that make you want to crawl under the seat and die – but what do you expect for the price of… err, £700.
Or, drum roll please, you've got the Megabus-which is good value for money if you have three days to spare to get there and enjoy sweating.
Now some venues provide accommodation which is lovely, but mostly it's up to you (me) to try to find somewhere that doesn't completely wipe out your fee.
Recently I was chuffed when I nailed it, found cheap and decent accommodation near the venue, only to discover I'd accidentally booked a room at a makeshift brothel. Having to wrap towels around your head to drown out the sound of relentless humping was loads of fun.
Doing a 'weekend' means being away for one, two or three nights. I spend my days in the cinema watching something no one else wants to see at an inconvenient time to avoid the crowds, so let just say I've seen a lot of Japanese abortion films at 10am.
Then the fun part! The gig! Half a lager shandy for me please and then you're on stage to begin your vagina joke tirade. Dealing with a new battle, drunk people! FUN! And before you know it it's over and the next chapter begins… hunter gatherer.
Invariably you are starving once off stage so with a greasy pizza box slung under your arm you shuffle down a dark alley (sometimes I think Google Maps is actually trying to kill me), trying to find the 'hotel'. Occasionally you stop to think if you should quickly eat the pizza there and then in case it's the last thing you do.
Then sleep. Glorious exhausted sleep.
Maybe I'm just showing my naivety, these are the pitfalls of an inexperienced circuit comedian and I will learn the hacks and tricks the more I do it.
But I can't help but feel these are the roadblocks preventing some of us for doing the circuit long-term. Anyway, gotta go, writing this on a rail replacement bus and I'm starting to feel sick. Bon voyage!
• Lily Phillips: Smut will be at the Pleasance Courtyard Bunker One at 7.25pm during the Edinburgh Fringe.
Published: 31 Jul 2022
What do you think?