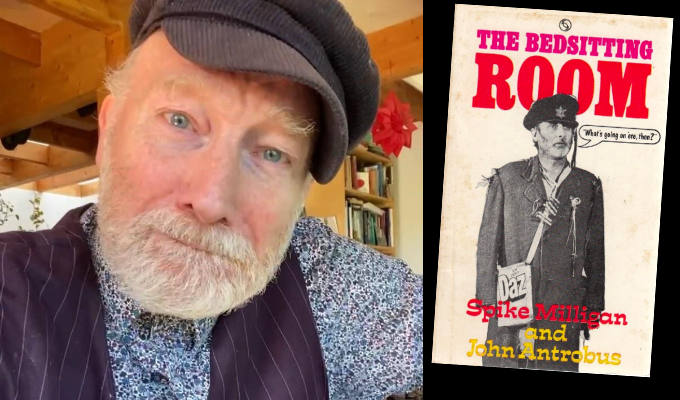 Why, 60 years on, Spike Milligan's Bed Sitting Room is as relevant as ever
Spike Milligan's post-apocalyptic dark comedy The Bed Sitting Room has not been performed on stage for almost 40 years. Now, ahead of a rehearsed reading of the script that the former Goon wrote with John Antrobus, producer John Hewer recalls what drew him to the project…
---
It's 2017, and I was looking for a new, big project for my theatre company Hambledon Productions when a friend flagged up that 2018 would be the centenary of the Mighty Milligan... Bingo! The Bed Sitting Room! Rather than trot out episodes of The Goon Show, it was Spike's irreverent comedy that most tantalised me…
The Bed Sitting Room seemed just too good to be true. In the early days of the internet (in our house, at any rate, about 2000) an IMDB search threw up this title. The movie was directed by Richard Lester, but it was the cast list that made my eyes stand out on stalks. Michael Hordern, Sir Ralph Richardson, Harry Secombe, Marty Feldman, Peter Cook and Dudley Moore, Jimmy Edwards, Rita Tushingham... the list just went on. It was practically mythical. No TV broadcast since the 1980s, no VHS release... it seemed fated to remain 'legendary' without even being witnessed.
Then I discovered eBay!
The film instantly became a perennial favourite of mine. It's a 1960s smorgasbord, not so much psychedelic, but bleak, garish, topsy-turvy and visually stunning. Yet incredibly, growing up through this nightmarish landscape, cutting through the grim and the absurd, were jokes. Good jokes. Bad jokes. So bad, they're good jokes. Some jokes which haven't aged well, true, but also some jokes which are still yet to come of age.
It was adapted from a stage show Spike had performed in the West End in 1963. The playscript and the film adaptation are very similar. John Antrobus, who co-wrote the play with Spike and adapted it for the cinema, did a remarkable job at translating it to a different medium.
However, by the sheer nature of live theatre, the play is more stark while also being more ribald and surreal. The playscript, published to tie in with the film in 1969, tries its best to keep up with Milligan's frequent liberal attitude towards the original script.
However, Antrobus had the ability to harness Spike's creativity, while also maintaining his own distinctive style. Putting it simply, when working on The Bed Sitting Room, they were interchangeable and worked as one. Imagine my delight, then, to discover, that not only was Mr Antrobus happy, and keen, to discuss a revival, but also he wanted to work on a fresh revision of his text alongside me.
Spike's rare but always tantalising dalliances with theatre are legendary; likewise, Antrobus's theatre work is astounding. Arguably, however, their crowning achievement, for stage at least, is the co-creation of The Bed Sitting Room.
It's a timeless text. The overall message I take from it is that, if civilisation as we know it were to end, we'd probably begin, in earnest, to restore it to what we already had without seriously questioning what we were going back to. There are elements of that as we continue to emerge from the pandemic. And on this blank canvas of a new, theatrical world, Antrobus' and Milligan's writing, their surreal characters and their anti-establishment messages flourish.
This was an amazing time. John, an extremely gracious, and also extremely busy chap, and I spent three months working on The Bed Sitting Room for a 21st century audience, as the play had not been performed on stage since the 1980s.
John's enthusiasm matched mine, and Spike's daughter Jane Milligan, who took time out from appearing in the West End production of Kinky Boots, put me in touch with Norma Farnes, Spike's former secretary and subsequently custodian, manager and promoter for Spike Milligan Productions for nearly 40 years.
Norma was now settled in Spike's former office at No. 9 Orme Court (known colloquially as The Fun Factory); a roomy, ornate, bay-windowed Georgian terrace in Kensington. Accolades and personal keepsakes were everywhere. I struggled to focus on our meeting, I was so in awe of my surroundings and the ongoing situation. It felt as otherworldly as Spike's own Goon Shows.
Norma ultimately had to decline the project; she was already co-producing another centenary tour; a bold and excellently executed recreation of The Goon Show as a live radio recording. This meant that, not only could she not afford the time to ensure that the show would be a fair recreation of Spike's seminal work, but she was also concerned that there would be a conflict of interest when it came to tour booking.
Like so many projects, the idea was postponed until parties were free. Never an easy task. For Norma, it sadly proved to be an impossible task; she passed away at the age of 82 in 2019.
As we began to emerge from the pandemic, early this year, my thoughts were 'go for gold'; 'nothing ventured, nothing gained.' And so I approached Jane Milligan, now a director of Spike Milligan Productions, and John Antrobus. They were both happy for us to revisit the possibility of staging The Bed Sitting Room. Result! Coincidentally, 2022 marks 60 years since the play premiered, and also 20 years since Spike's passing.
On Sunday July 3 we are holding a Spike Milligan gala night at the Riverhead Theatre in Louth, Lincolnshire, with a rehearsed reading of The Bed Sitting Room in which Jeremy Stockwell his dazzling interpretation of Milligan. I first saw him become Spike in his stage show A Sockful of Custard at the Edinburgh Fringe with Chris Larner, and was amazed by his mimicry and sheer Milligan energy.
The gala night, which celebrates 15 years of Hambledon Productions, will also feature Spike's daughter Jane, who recently performed in the West End in Magic Goes Wrong, for a live Q&A session offering an insight into what it's been like having such an inventive and unique man for her dad. And there will be a pop-up exhibition of Milligan memorabilia. Do join us!
• Tickets for The Bed Sitting Room evening are available here, priced £18.
PICTURED: Jeremy Stockwell as Spoke and the cover of the script
Published: 13 Jun 2022
What do you think?