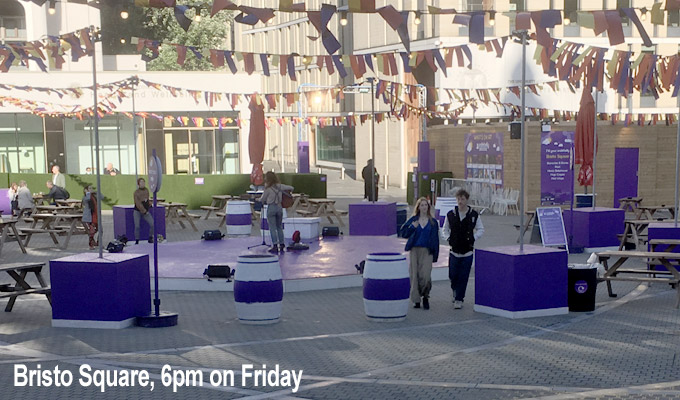 This festival is chilled and lovely - but it's not the Fringe we love
It's been a week since Nicola Sturgeon reluctantly, it seemed, relaxed social distancing rules indoors and allowed Edinburgh Fringe venues to operate at full capacity, if they chose.
As a punter, packed in cheek-by-jowl in a cramped pub room, it could be a normal festival year. Same, too, if you are in the George Square Gardens, where both Underbelly and Assembly have more or less recreated their normal outdoor hubs for booze, food and the occasional show.
But you don't have to go far to realise it isn't the Fringe as we know it. The normally packed Bristo Square, in front of the Gilded Balloon and what would usually be the Pleasance Dome is almost always deserted, with a forlorn street entertainer performing to a sea of empty pub tables. Other venues, if operating at all, have maintained social distancing.
The city is busy but not overwhelming - there's no hacking your way through teeming crowds. There are no flyerers and few posters and without the usual pressures, performers are much less stressed. Everyone seems more cheerful and audiences are almost universally lovely. This is what many Fringe performers have dreamed of! With many of the irritations of a normal Fringe have gone, a lot of people are enjoying the more relaxed atmosphere, perhaps thinking this could be a better way to do things.
But be careful what you wish for. Relaxed is not what the Fringe is about! Overwhelming scale is what makes it so astonishing and competition for audiences, attention and acclaim for their peers drives comedians to be ever more creative, and to sharpen at their game. The pressure to produce a new Edinburgh show every year or two under intense scrutiny has made British comedy the best in the world as here you have to win an audience, not be granted one.
That Edinburgh is not a nice, cuddly festival is what makes it so brilliant. We already have one Machynlleth.
Gone, too, from this year's Fringe is the sense that with so much bubbling creativity, absolutely anything is possible. The myriad confusing and variedly enforced Covid protocols have a lot to do with quashing that feeling. But in a normal Fringe year, you feel you're never more than 50 metres from somebody doing something amazing. By contrast, this year's Fringe feels more like a series of gigs than a festival.
That we've got to this stage at all is a miracle. Part of the good spirits that abound are surely down to the fact that people can barely believe this is happening at all, after being starved of live entertainment for so long and with question marks forever hanging over what would be legally possible, right up to the last minute.
It's testament to the can-do spirit of venue operators, performers and everyone else around the Fringe that – against the odds - we've got to anything even close to normal.
Maybe some things need to change. Valid questions have long been raised about the demographic of those who can get access to perform at the festival, especially with prohibitive accommodation costs.
And with mental health concerns increasingly at the fore, a balance has to be struck between putting performers under pressure to bring out their best, and causing damaging levels of stress. That such matters were raised at the Olympics - the only event that sells more tickets than the Fringe, don't forget – suggests the issue is starting to be treated seriously, no matter what Piers Morgan bleats.
I'm glad to be back here, grateful for all those who have made it happen. But I also can't wait for the Fringe to get back to its old, messy, insane, intense, stressful, tiring, full-on, brilliant self.
Published: 16 Aug 2021
What do you think?