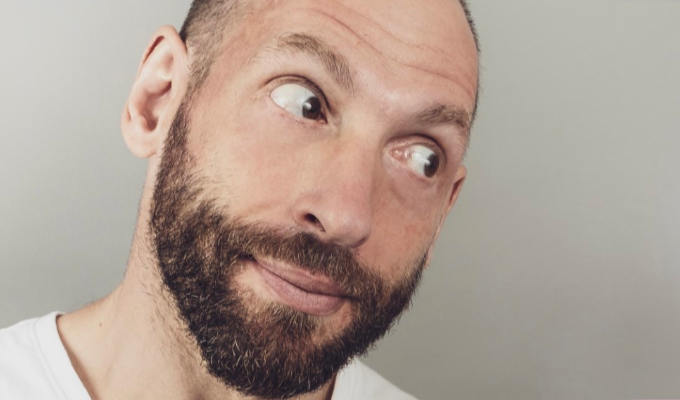 Status symbolism
A few years ago I was backstage at the Comedy Store in London. A visiting full-time American comedian was doing a guest spot. He handed a small piece of card to the MC with some writing on it and said 'Do you get any of these shows over here?'
He was basically asking her to big him up in his intro. She shook her head and said 'We don't do that over here'.
What the visiting comedian didn't realise was that she was doing him a favour. British comedians don't ask MCs to list all their TV credits before bringing them to the stage because it actually works against them.
American audiences like to be told they're being given a winner and, even if they haven't seen any of the TV appearances mentioned, they are excited to find out just how good that comedian is, whereas we Brits like to think that - if we haven't already heard of someone - they're an uncredited talent and that we've just discovered them.
That hugely significant cultural difference is something that anyone who's performed in both countries will know. I've experienced the results of this rule being broken from both sides of the stage in England. Very occasionally, a younger MC will excitedly mention one or two of my TV credits whilst introducing me and the audience inevitably give me a smaller round of applause than the previous comedians that night and I've learned that I have to open by undermining my apparent fame to undo the damage that the MC has just done.
When I first went to see live comedy as an audience member four years before I ever did stand-up, the brilliant Tony Allen was introduced as 'a comedy legend'. I can clearly remember feeling contempt for him, thinking 'Well, I certainly haven't heard of you'. This simply does not happen with US audiences because they inherently like winners and - unlike British audiences - therefore tend to gravitate towards high-status comedians. It got me thinking about status in US comedians and our cultural differences.
Dave Chappelle is about as successful as you can be as a stand-up and is clearly very high status because, just like Chris Rock, he tells you the answers to life. They may both be asking for our empathy when revealing vulnerable truths about their pasts, but they are almost never the victim of their stories (apart from in Chris Rock's Netflix special Tamborine, of course, which was a complete style and status change). They may both mention having grown up poor, but they make it very clear that they are rich now, making them winners. Chappelle's 'So, I kicked her in the pussy' routine is crammed with asking for our empathy for him as a child, but starts and ends with ludicrously high-status claims with him talking about just how easy comedy is for him and explaining why he 'earns the big bucks'.
No low-status comedian would ever say either of those things and coming from humble beginnings certainly doesn't override that behaviour. It may make it easier for some people to accept it, but given that Chappelle also talks about specifically not being from the hood, he clearly doesn't go out of his way to get our sympathy.
Chappelle even managed to be high status when opening a Netflix special with a story about being booed by his audience, arrogantly correcting the press who said he was booed off, stating that he 'was booed, but did not leave'. So, even when explaining that an audience turned on him, he still manages not to be the victim.
He even once smoked onstage at a Golden Globes ceremony and pointed out to an audience of celebrities that he couldn't be ejected from the theatre because of how important he was to the evening. This remark shows zero humility and as a joke is purely about his extremely high status.
The Blue Collar Comedy Tour of Jeff Foxworthy, Bill Engvall, Ron White and Larry The Cable Guy, may seem like a bill of very low-status comedians. However, they famously perform to an audience of rednecks. So, their audience are actually laughing at themselves and not the comedian, which is very different to the way British audiences laugh at a low-status comedian such as Lee Evans.
On top of that, the stadium-filling multi- millionaires onstage clearly don't live like rednecks anymore.
The late comic genius Mitch Hedberg may seem weird or stoned, giving him a lower status than the average confident, suit-wearing American comedian. However, when you study his jokes, he is still a winner. He makes sure he is almost never the victim of his jokes, unlike Milton Jones who asks us to laugh at his mistakes even though deep down we know he is being clever.
Milton is an idiot savant, something British audiences love because he turns his cleverness on himself, asking the audience to laugh at him rather than with him when he frequently gets life wrong. Mitch gets it right, albeit from a strange perspective.
Bill Burr is arguably as high status a comedian as anyone. He not only wins nearly every time, he often even starts routines by telling you how clever he is just before he goes on to prove it in depth. No British comedian does this because it would lack humility and vulnerability, causing their public to be at least slightly put off by them.
Jerry Seinfeld is unapologetically high status. He looks slick and stands above us all as he tells us how it is. Michael McIntyre is the closest we have to Seinfeld with regard to success, style and status. However, there's a subtle yet profound difference. McIntyre's act-outs generally involve
him failing to cope with everyday life to bring himself down a peg or two. It often used to puzzle me how someone so self-assured could become so loved by the British public because I'm aware how important vulnerability is to UK audiences. Then it suddenly occurred to me that his vulnerability is in his material, not his persona. He's a slick, super-confident, posh bloke who is failing to cope with daily life. Bingo.
Jimmy Carr may well be permanently high status, but he actually became famous as a TV panel show host, which is a very high-status role.
There are obviously exceptions to every rule, but the only two hugely successful low-status American comedians I can think of are Woody Allen and Amy Schumer. Allen's stand-up career was over 60 years ago and Schumer being the only female on this list makes me wonder if Americans embrace a woman struggling with daily life easier than they would a man.
This pattern also applies to sitcoms. Seinfeld is the US's richest comedian as a result of his self-titled sitcom whereas Britain's richest comedian is Rowan Atkinson because of Mr Bean. The two exceptions that spring to mind are Sanford & Son and The US Office, which are both remakes of British TV shows. It's safe to say that Del Boy, Alan Partridge, Edina Monsoon & David Brent are all adored by the British public and are all complete failures.
Now picture them replacing any four of the cast members in the opening title sequence to the sitcom 'Friends'. It's not possible, is it?
Published: 16 Mar 2021
What do you think?