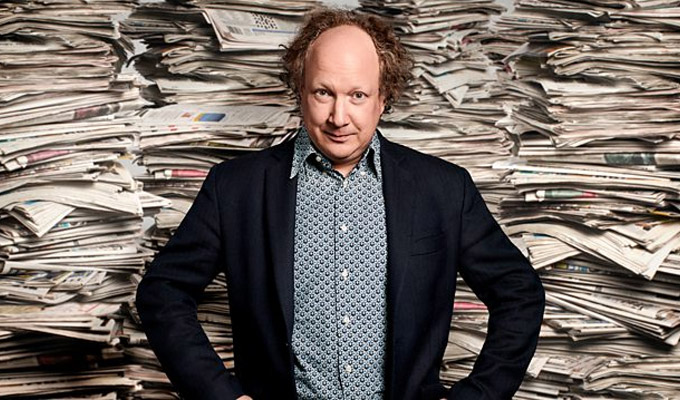 How Andy Zaltzman has revitalised the News Quiz
Radio 4's comedy output is, by necessity, pretty conservative – especially in the prestigious 6.30pm shot.
But an unheralded revolution has taken place on one of its longest-running flagship shows, with Andy Zaltzman revitalising the News Quiz. The current series – its 104th! – fizzes with a vitality and sense of fun that's rare in such topical comedy warhorses.
Writers of news-based gags tend to follow similar patterns, a well-established shorthand deployed for expediency and so audiences know where they stand. Watch any late-night US talk show host, for example, and the joke are virtually interchangeable.
But whether it's likening Britain like 'six-time world snooker champion Ray Reardon in disguise' or describing the EU as the 'famous multinational European economic and political organisation' - both quotes from last Friday's show – there's a distinctive rhythm and tone to Zatzman's patter.
In many ways, The News Quiz is the job he's been training for all his professional life, since being nominated as a best newcomer at the Edinburgh Fringe 20 years ago. That's two decades of honing his convoluted analogies, strained puns, sports commentary-style approach to adjectives and obtuse cricket references – and, more crucially, how to present such an idiosyncratic style to the public.
Outside of live work, his main outlet has been The Bugle, the podcast he started with John Oliver in 2007. While his erstwhile partner's sardonic sarcasm was snapped up by HBO and backed up by unbeatably forensic research that has proved an enduring hit, the more fantastical elements Zaltzman brought to the format were probably always going less suited to mainstream American media. Nevertheless, the podcast has continued to evolve with its regular guests, notably Alice Fraser (now a co-writer and occasional guest on The News Quiz), and enjoy considerable cult success.
Whether on the podcast or on Radio 4, Zaltzman is also a generous host (as indeed were predecessors Sandi Toksvig and Miles Jupp), allowing his panel the space to play to their strengths as much as he indulges his own eccentricities. So on Friday's edition, Mark Steel's was given reign to wax lyrical with his exaggerated, righteous incredulity at the incompetence of the government, as is his trademark, Chris McCausland could lob a few one-liners weirdly admirable in their groanworthiness, and Athena Kublenu was allowed to go off about continental breads or waterproof goats.
Any format of the quiz is a distant second to showcasing individual comic talents, as demonstrated by the ridiculous alternative answers and stupid team names Zaltzman has introduced. The show has also quietly dropped the old staple of newspaper misprints, though you may be too swept up in the jovial spirit of the half-hour to have noticed.
There's also been something of a lockdown dividend as the show has been able to draw on a more international pool of guests, including Bugle stalwarts, from their own homes.
By picking Zaltzman from the roster of guests who hosted the show last year, Radio 4 has ensured The News Quiz has a verve, distinctiveness and relevance that's rare in topical comedy.
Contrast with Have I Got News For You, its TV equivalent. It can still be entertaining, but Paul Merton's been phoning in his uninterested shtick for years, while it's been a long time since the once-innovative guest chair format has ventured far from the same old names.
But the biggest point of difference has to be with Radio 4's other 6.30pm topical show, the increasingly tired Now Show, which returns for its 58th series at the end of the month. That's 23 years that the station's satirical output has been defined by the same two voices – an extraordinary achievement for them, but surely time to mix things up a little…
* The last five episodes of the Andy Zaltzman-fronted News Quiz are available on BBC Sounds, while Friday's episode will be repeated at 11pm tonight on Radio 4 Extra.
Published: 8 Feb 2021
What do you think?