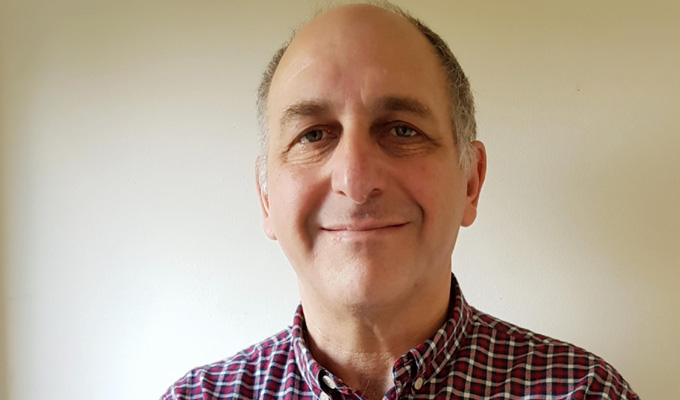 How much of my success as a comedy writer has been down to white male privilege?
What are your chances of becoming a writer? Of being successful enough to make a living? We're always being told it will depend on a combination of talent and hard work but that's not the whole answer. How much is down to you, and how much to your personal circumstances?
The question of the moment is about your identity. Where are you from, and how does that affect your chances of success?
Over the years I've seen bold statements from big organisations that we need more diversity, more working-class writers, the BBC is 'hideously white', there aren't enough women writers, it's time to listen to voices of disability and so on. Sometimes executives follow through those statements, mostly they fail. But the pandemic has taken us over a line that we thought would never be crossed. Enough people in authority have taken heed of the observation that most of the comedy world and indeed, the world, is run by rich white men, and that Something Needs To Be Done.
Some mistakenly label this attempt to create a level playing field as 'cancel culture', many understand what's happening and welcome it. The harder question is how do we achieve it?
There are two problems. The first is that for every new 'someone else' allowed to have a go, one white male must step aside. Terry Gilliam was one of the first to complain, wondering loudly and indignantly in public how on earth a creator of his standing could be denied a commission.
Second it is hard to create firm statistical evidence of discrimination. It's relatively straightforward when it comes to women writers: statistics collected by the Writers' Guild of Great Britain in 2017 showed 89 per cent of TV and radio comedy was written by men. Bringing that figure closer to 50/50 is an achievable goal that's easy to understand, and full credit to Saskia Schuster who as head of comedy at ITV put such a plan at the heart of her company's comedy department.
Collecting figures about diversity, race, gender, disability and above all class is much harder. Working-class white writers and black people are already disproportionately excluded from the educational opportunities that may bring them to the attention of producers in the first place. How intrusive is your questioning allowed to be to ascertain that the person you're trying to employ is from a poor background? And how do we measure that poverty?
There are no easy answers, even for executives who genuinely want change. Unable to see an obvious answer, they're saying: 'Hey, minorities, marginalised groups, you tell us what we need to do.'
While that's a small progress, it's not enough. The more I look into these questions, the more I believe the onus is on us, the older white middle class writers, to work out the answer. We all need to examine our careers and discover how much our success has been down to ability and talent and how much a result of white privilege. Every professional working writer needs to look at where they are and ask, maybe even in the voice of David Byrne, 'how did I get here?'
I can't know what levels of talent, perseverance, or other intangible character traits have allowed me to be a working comedy writer for 37 years. But there are a number of factors I can tell you about my life that helped or occasionally hindered me in moving forward.
It's time to create an Audit Of Me.
I was born in the late 1950s to English parents, second generation immigrant Jews from Russia and Eastern Europe. When I started doing comedy in the early 1980s, having been born white, male and middle-class in England was not a disadvantage. I don't have detailed statistics but the world of comedy writing and performing is small and I can state categorically that when I began the number of non-white, non-English non-males working in the profession was disproportionately lower than the national average by some margin. When I first worked at the BBC in 1983 there were 16 producers in the radio comedy department, all were white and 15 were men.
I had been to what used to be called a grammar school in the 1960s and 70s and graduated from Bristol University in 1980. I haven't been able to find statistics for that period, but it's reasonable to say I arrived in London in November 1983 with two serious educational advantages.
This doesn't mean that a grammar school and graduate education is a necessary qualification to work in comedy, but in my initial BBC experience it was rare to find anyone there who hadn't been to Oxford or Cambridge, let alone anywhere else. Surprisingly, class was not necessarily the defining issue. There was a period after the war when many Oxbridge colleges opened their doors to the brightest working-class kids. I met a few in comedy in the 1980s and some are still working now.
Before I gave up working for a living I was a journalist for three years. I learned how to write to a deadline, if I didn't have 400 words on the council meeting I'd just attended within an hour or so I would lose my job. I didn't make stuff up but learned to take the information I'd picked up and turn it into a story with a big opening to keep the audience reading.
In the late 1970s, punk rock changed the music establishment, and for a short while it was possible to become a star without any formal training. This revolution in music spread to other arts and alternative comedy was born, allowing people like me with no formal theatrical training to perform in comedy shows.
During that time, I performed in comedy shows in Bristol for a company run by the writer and performer Paul Bassett Davies. Years later I moved to London and re-connected with Paul, who was now a successful comedy writer and performer. Paul guided me through those early days, asked me to write with him on shows he was already working on, which immediately established me as a writer to be entrusted with more work from many of those 16 BBC radio producers. Paul was my mentor and his help in those early days was vital in progressing my writing career.
I began writing for Week Ending, a topical show that ran on Radio 4 for 40 weeks a year, and News Huddlines, which ran on Radio 2 for half the year. These shows, successful in their own right, were provided by the BBC as a free training service for new writers. Anyone could try, you could post jokes and sketches to the producer – working from home, remember that? - and many working-class writers started here.
I began performing stand-up comedy in 1984. At the time a disproportionate number of us were Jews and Catholics. Our skin colour meant we weren't subjected to the level of racism of non-whites, but we'd always felt like outsiders and were well placed to reflect the weaknesses and idiocies of the white English majority back at them.
One person who helped launch our stand-up careers was Margaret Thatcher.
In a prototype scheme for Universal Basic Income, she decided that in exchange for shutting down factories and mines across the country, the unemployed should be allowed to sign on even if they found part-time work. As long as you didn't work more than 11 hours a week (and no stand-up gig lasted longer than 20 minutes) you could work, sign on and the state would pay your dole and housing. This was one of the few times in my life when there was a level playing field for women, minorities and the white working class.
It was a great creative time in cities like London, where we were being paid by the Tories to slag them off. And we all understood the irony. Today there are plenty working in comedy who are proud to pledge allegiance to the ruling elite, back then there was no such thing as a funny right-winger but they didn't care because power was enough to make them happy.
In the 1980s alternative comedy grew, there were more radio shows and we made it to TV. The government money stopped and that window of social mobility for the working-classes slammed shut, but I was earning enough to go to the Edinburgh Fringe every August, where I could lose money, gain weight and dream of stardom. It didn't matter that I only normally achieved the first two of these goals, there was always a college tour starting September to pay off the debts.
In the decade or so from the mid-90s to the economic crash there was enough writing work for me not to worry about financial security. I was deemed talented enough to be offered the top jobs and spent many hours in writing rooms at TV companies. Good as this felt for my self-esteem, it was hard not to notice the almost complete lack of women and total lack of ethnic minorities in the writers' rooms.
It was also becoming rare to meet a writer or producer who hadn't had a college education, and by the time the BBC dropped News Huddlines in 2005 there were no shows left with an open door policy for those starting out. A short but effective Writers' Guild campaign reversed that decision, and ensured there would always be at least one radio show a year open to new writers. But the working-class numbers continued to drop at this point.
The 2008 economic crash had a severe impact on the world of comedy. The BBC, already a favourite punchbag of governments of all colours, was subject to huge cuts, but I got lucky round that time, writing for a show that became an international breakout hit.
The recent Writers' Guild Equality Writes campaign success means if you want to get into comedy writing it's never been a better time to be a woman. Which only proves that for the first 35 years of my career there had never been a good time. Last year, I was one of two men writing for a BBC sitcom to be replaced by one woman. Upset as I was to lose the gig, that show went from 100 per cent male representation to 75/25 female in one move. Unlike Terry Gilliam, I see this as a cause for celebration.
White, male, middle-class, English, Jewish, grammar school and university educated; journalism, alternative comedy, being mentored; free BBC training, Universal Basic Income; individual talent and working on a breakout hit show.
Looking at the Complete Audit of Dave Cohen, it's clear that many of those advantages will take several lifetimes to change. But there are two key factors in that middle section where change can happen now, and quickly: free BBC training and Universal Basic Income – each of these helped me to some extent, but also helped to oversee the biggest increase in working class and minority writers.
Maybe it's time to revisit those days when a relatively modest investment of public funds led to a disproportionate increase in industry, exports and above all a level playing field for those starting out.
To paraphrase a former Writers' Guild President and one of my great writing heroes David Nobbs, I didn't get where I am today without BBC training, professional mentoring and Margaret Thatcher's Universal Basic Income.
• To be continued next week when Dave Cohen celebrates Black History Month by cancelling himself.
Published: 14 Oct 2020
What do you think?