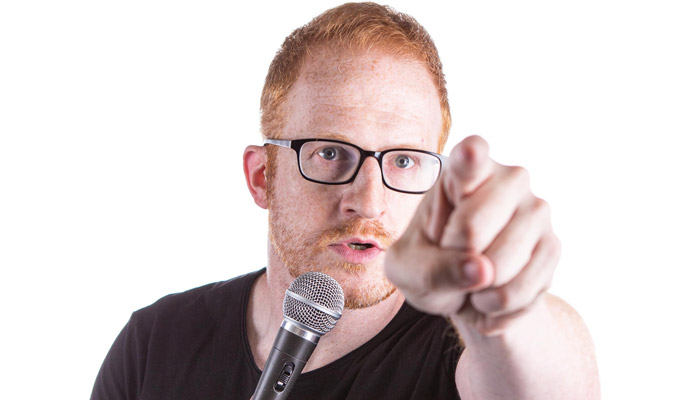 Why comedians should embrace virtual gigs
With the global pandemic, many comedians have turned to virtual shows for the first time. And most of them were doing it wrong. I can understand why – this is an industry where many decision-makers still have AOL email addresses.
Many shows were put together haphazardly: tickets were free, Zoom links were public, and comedians treated audio settings like they were the significant other of one of their openers (read: they completely ignored them).
Of course, these shows were going to suck. Imagine a bar show where people could wander in and out for free, there was no policing of the crowd, and the microphone was broken. Maybe I should say 'remember' a bar show like that, because we've all been there.
The comedy industry is ripe with bad gigs. Every comedian can tell you stories of terrible venues, disruptive audiences, and impossible situations. But every one of us kept doing comedy despite those gigs.
When I did a bar gig where they kept all the TVs on, I didn't stop doing bar gigs. When I did a university gig where I had to stand on a cafeteria table, I didn't stop doing university gigs. When I did a charity gig where the mother of the terminally ill child got so drunk she was louder than I was, I didn't stop doing charity gigs. I just stopped doing those particular gigs.
Virtual gigs don't have to suck – I know this first-hand, as I've done them for years. They're different than in-person gigs, but so many in-person gigs are different than each other. Every comedian has had to learn how to go from open mics to bar shows, bar shows to clubs, clubs to colleges, colleges to corporate, corporate to actual good clubs, and actual good clubs to theatres. Each one takes a little finessing on what we already do. And in that way, virtual gigs are no different.
I want to make it clear that there are perfectly legitimate reasons why comedians might not perform right now. Everyone deals with the tragedy of the pandemic differently, and if anybody doesn't want to get on stage, that's fine. But if you're a comedian passing on all virtual stages, you might want to ask why are you passing?
Maybe you're passing because the show could go poorly. You may not remember this, but EVERY show could go poorly.
The running joke of my last tour was, 'It's always something.' One night the point of sale system went down. One night the venue forgot to rent chairs. One night, we had to compete with the sound of trains every few minutes. That actually happened more than one night.
Maybe you're passing because you're just not as good at virtual stand-up. You may not remember this, but you used to be bad at non-virtual stand-up, too.
I had to learn that to play a university, I needed to drop some material they couldn't relate to. I had to learn that to play a bar, I had to get quieter, not louder – so the crowd would lean in to me. I had to learn that to play a theatre, I couldn't ever rely on facial expressions as the back half of the room is too far away. We learn as we go. We always have.
Maybe you're passing because the online shows you've done aren't run well. You may not remember this, but that's how it works in the tangible world, too. If you don't like how a show is run, give them suggestions or run your own. Just like you did in February.
Meanwhile, producers are getting better at running virtual shows every day, because they're learning from their mistakes. But while those mistakes still happen, something all comedians should remember is that we never learn anything from a good gig. Good gigs are the reward. Bad gigs are where we get better.
There is one argument I've heard that would render this all moot: comedians don't need to learn how to perform virtually because soon enough we will all be back in the clubs. Yes, we will be. But virtual stages will still be here. They have been coming for a long time – the pandemic didn't create virtual stages, it just accelerated them.
Virtual stages open your act up to people who would never see it otherwise. I had one man watch from his hospital bed. A woman who was agoraphobic. A 16-year-old hiding his iPad under his covers so his parents wouldn't know. A mother of seven children. And people in countries I have no plans to ever visit.
Virtual shows are more affordable and painless for attendees and comedians. Attendees don't have to pay for parking, comedy club food, or marked-up drinks. Comedians don't have to lose days to travelling, sit in cramped green rooms, or risk their safety with strangers after the show. Or risk their safety travelling. Or risk their safety sitting in cramped green rooms.
Virtual shows have so many benefits. They are more intimate, as everyone is in the front row. Small movements are heightened, because everyone can see the comedian close up. And my favourite, you can eject hecklers with the press of a button.
Meanwhile, virtual shows allow us to skip the worst thing about comedy – open mics. No one ever needs to go to an open mic again. Just gather four comedian friends together. Each of you gets a five-minute set and ten minutes of notes and feedback. You'll get more out of the 75-minute session than you would out of a month of waiting for your name to be called while a disturbed stranger forces you to be their therapist.
Fellow comic Ben Gleib and I created Nowhere Comedy Club with the mission to mimic the best parts of in-person stand-up comedy without all the drawbacks. Our crowds are mic-ed, we have showroom managers and bouncers, we have someone at the virtual door checking tickets, we do sound checks, we play pre-show music, etc, etc. And we're not the only ones. More and more producers are learning how to navigate this new environment, and digital shows are getting better every day. They will continue to exist and thrive long after stay-at-home orders are lifted.
You're welcome to disagree with any or all of these arguments. Stand-up comedy is subjective, and so is enjoying whatever part you play in it. But something you can't disagree with is that to be a comedian, you have to work on your craft constantly. If you're trying to build muscle, skipping working out for three months will lead to regression. And if you're trying to be a better comedian, not performing for three months will do the same.
The stage, tangible or virtual, is the life force of a comedian. The life we get from that stage is why celebrities still stop into comedy clubs long after they need to, for ego or finances. If you are healthy and safe and you don't do everything you possibly can to still find a stage, you're not a comedian. You're just someone who used to do comedy.
Which would you rather be?
• Steve Hofstetter is on Twitter and on Facebook, and his website is here.
• Or for an alternative view, comic Anthony Jeannot previously wrote about why he's NOT doing online gigs.
Published: 21 May 2020
What do you think?