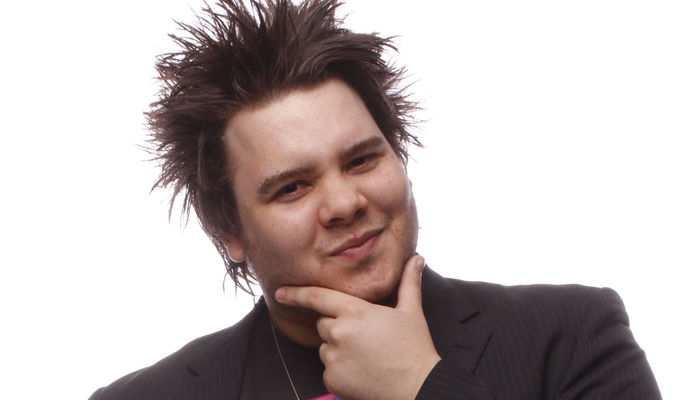 Why I'm saying no to virtual gigs
I know it's cowardice to start an article with a disclaimer, but now we're into the 1,500th hour of hiding inside. I stopped calling them 'days' when they stopped feeling different from one another. And I'm not feeling my bravest.
So, I want to start by saying, I don't begrudge any comedian who is enjoying online gigs or any comedian who needs or wants to do them. I'm just saying that, much like skinny jeans they're not made for me. And, unlike my 19-year-old-self, I'm OK with that.
In the old times, when we could go outside to gigs (remember that), I would only take gigs which I felt offered me something in return. Sometimes it was money or an opportunity to try new material. Sometimes, it was an excuse to leave my sharehouse because on Thursdays my flatmate's boyfriend would come over, and they were always too keen, too loud too early.
The key point is, no matter what happened, I felt I was getting something back from the experience. Gigging in person felt like a good relationship. There was compromise, and give and take, but ultimately, it was rewarding for all involved.
Online gigs feel more like a drunken Tinder match who exclusively contacts you to say 'you up?' at 3am. It feels like a good idea in an hour of desperation, but I can't escape the feeling they're hurting me more than I'd like to admit.
For one, from my experience there are two ways that an online gig can be run. One is with the audience mics on to let in a sense of laughter. One with audience mics off, to maintain a sense of control.
Both are terrible.
If the audience has their microphones on, you are putting your trust in the hands of the strangers of the internet, and if you want to know how that works out, spend a few minutes scrolling the comments of any news article. At worst, restless fidgets or people coming in from other rooms create a constant wall of sound to compete with, worse than any pool table at the back of a gig, because the other audience members can't see it. So it's more distracting. At best, a comic has the daunting task of spending their allotted time into a genuine void.
Years of performance has taught us comedians to use laughter as a gauge for how we're being received, and without it my emotional response is always to assume the silence is a sign of failure, no matter how hard I try to rationalise otherwise.
And, don't get me started on online hecklers. I'll never forget the day someone called me a 'a fat and unfunny Ricky Gervais.'
I've also seen some of my favourite comedians perform to a barrage of abuse in the comments. And, the worst part is, the age old heckle of 'I thought you were supposed to be a comedian' is accompanied by the thought, that you know they're right. That IS what you're supposed to be and there is no real way of knowing if that is what you are at the moment because there is no way of knowing if anyone is laughing.
But Anthony, online gigs are an exciting new format that offers a new creative challenge, I hear you say. And you're right. Except you're wrong.
Not all challenges are worth rising too. Learning the lost language of Yanga is an exciting creative challenge too, but if I have no one to speak it to it all seems a little pointless. That is to say, I don't think the changes I need to make for my act to translate online are skills that will have a long-term benefit to me. So, like a green open mic-er telling a story about a heckler that ends with a pullback and reveal that it was his Mum heckling him all along (or like that simile) the payoff is not worth the effort.
Fine, if you don't want to take up the challenge, why don't you do your old jokes online?, I also hear you ask.
I like to think of my jokes like students in a classroom. I work hard to craft them. I hope that when they go out into the world, they are prepared to impress people. And, with that in mind, I try to take the right gigs to help them grow. There are harder gigs to build resilience or learn your weaknesses. And easier gigs to build confidence. Both are important to my creative process. To me, online gigs feels like sending the jokes I've spend so long trying to nurture, out into the current job market armed with nothing but a Bachelor of Arts degree and a dream. (I'm sorry if you have only just recently graduated with or are currently studying a Bachelor of Arts).
I also can't guarantee I'll feel up to performing comedy. In a real-life gig, the hope that the crowd's laughter will stroke my narcissism is enough to push me through that. But with online gigs, it's not.
Some days, even turning the laptop on to log into work feels like a great injustice. How dare the world cancel my ability to meet friends and family but this monthly report still needs to be done. Add to that the prospect of logging on and slogging out an unpredictable set to an audience whose mood and investment is equally unpredictable, and I can't say it feels like a good idea.
So I'm not doing online gigs. But I do want to keep involved. I want people to hear my jokes, and I want feedback on them so I can learn and develop. So instead, I'm focusing on sharing recordings. I've released my most recent solo show online as an audio album and will be sharing shorter clips as videos.
The only value I can see from online gigs is brand building, but using recorded versions of my best stuff, doing well seems to have all the same benefits without the risk.
If you want to listen you can find the recording here. if not, I hope you enjoy your Zoom gig.
• Anthony Jeannot is on Twitter at @AnthonyJeannot.
Published: 7 May 2020
Recent Opinions
What do you think?