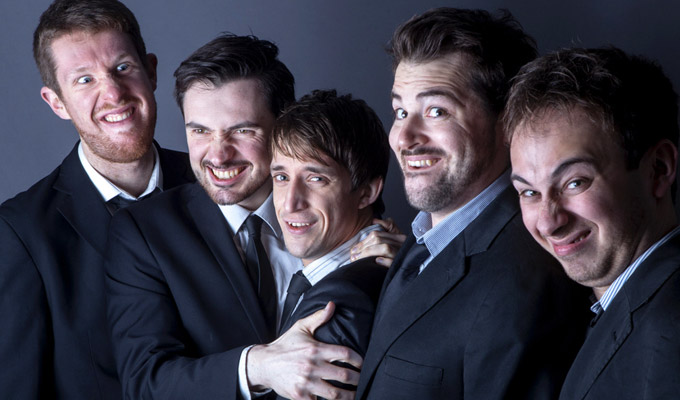 The last will and testament of Casual Violence
Beloved friends, enemies, Frenemies and enefriends,
By the time you read this, sketch comedy will have already been dead for about a decade. Given that we started making sketch comedy a decade ago, the timing could not have been worse.
We fought bravely against the tide, like King Canute, and outlived many of our sketch peers: the Beta Males, WitTank, Thunderbards, Kitten Killers, Alex and the Sausages, Toad and Balls, CRUM, Condiment Underwear, The Three Englishmen, Four Cheeses, Urchins Urchins & Urchins...
...but now, exactly ten years since we began, the time has come for us to join them in sketch group heaven (aka The Internet, where we will continue to make new videos and podcasts together without ever having to worry about ticket sales again).
But although the five of us will happily undertake the Sisyphean task of making people care about free online content, the time has come for us to hang up the suits. Before we bow out next month with a funereal double bill of the best nonsense we created in our twenties, we hereby bequeath the following assets accrued over a long, LONG decade of making sketch comedy.
To everyone who came to see our Edinburgh Fringe 2010 debut Dildon't!, - a comedy murder-mystery play set in a second-hand sex shop - we leave you our heartfelt apologies.
To Kate Copstick, the Scotsman comedy critic who came to that show even though we were total nobodies playing at The Space on The Mile, just so she could write an amusingly scathing one star review, we leave you the flyer that got turned down by a bloke on the Royal Mile who said 'No thanks mate, I read your review in the Scotsman'
To John Fleming, who nominated our writer James Hamilton for the Malcolm Hardee Award for Comic Originality in 2011 and 2012, we leave James's extremely well worn copy of Psychoville on DVD.
To Doug Segal, the mind-reading comedian who supported us in our early days: you know what we want you to have.
To Adam Kay, with whom we shared a venue at the Pleasance in 2013, we leave the lingering smell of gone-off double cream forever up your nose.
To Chortle's Steve Bennett, who presumed we were all middle class in his 2014 review of our show House of Nostril, we offer Luke and Greg's mild indignation. How dare you. They're upper class!
To Muriel Hamilton, who sewed tiny little black suits onto 13 voodoo dolls, complete with little shoelace black ties, for her grandson's comedy show: we want you to have no arthritis.
To Charlotte Repton, who made our first ever piece of Casual Violence fan art - an exceedingly sinister homemade voodoo doll of herself - we leave an exceedingly sinister homemade voodoo doll of herself.
To Gus Beattie, who gave us our first slot on BBC Radio 4: we've got dozens of great ideas for radio shows for you, can we schedule in a meeting? How are you set next week?
To anyone who wants the colossal amount of ludicrous props we've accrued over the last ten years - including a rubber fish, two World War One German army hats, a huge wooden signpost and a custom-made jacket designed for conjoined twins - please, for the love of God, have them.
To the Edinburgh Fringe Festival - we already gave you six years of our lives, we're not giving you anything else.
To everyone and anyone who has seen us and supported us between 2009 and today, we offer our eternal gratitude - as well as our ongoing podcast, YouTube channel, and Patreon.
Signed,
James, Luke, Greg, Dave and Alex (Casual Violence)
• Casual Violence are bowing out of the live circuit with Hang The Suits on October 12 as part of the London Horror Festival, at the Pleasance Theatre in Islington. Tickets are available here.
Published: 30 Sep 2019
What do you think?