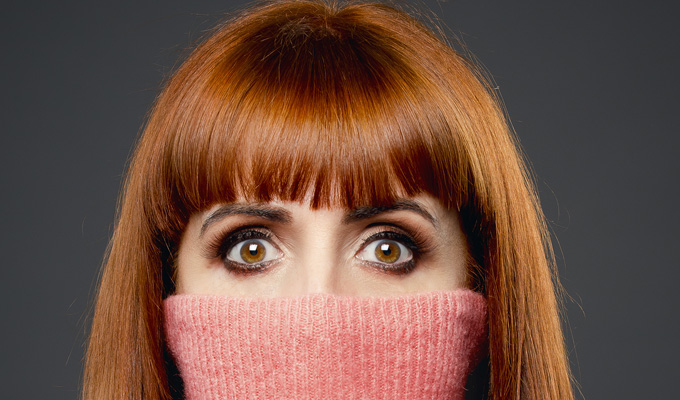 I'm invisible in Edinburgh
I did my first gig at the behest of Joan Rivers; I was 45, she was 81. I was working at Comedy Central (off camera – bor…ing) and got to know her a bit because of a show we were working on.
I mentioned that when I was younger I'd thought I'd be a stand-up and she asked why not do it now? I was a 45-year-old single parent of two kids, one of them with additional needs, with a big day job. Too late.
Well, not according to Joan. She told me I'd look back at being 45 and ask myself: 'Why didn't I?'. She died not long afterwards (unconnected) and I started out as a comedian.
Five years later and I'm in Edinburgh with my show 'Invisible', in celebration in part of turning 50 this year and in part a fuck-you to French author Yann Moix, also 50, claiming he was 'incapable' of loving women in their 50s, who were 'invisible' to him.
There are posters of my looking-better-than-it-really-does face around the place (in torrential rain the other day, a passer-by looks at me, looks at poster, looks at me... 'Is that you in better times?' Answer: Yes), shows are selling out and I'm in a proper, shiny venue (converted lecture theatre with broken aircon and projector screen that won't fully retract). On the outside it's going great, and I should know: most of that's coming from me on social media.
But here's the thing. The nub of the show is subverting stereotypes about women at 50.
I have never been more visible; to audiences, to people in the street, to lovers, to friends, and best of all to myself. But still invisible to one group:–the comedy industry itself. Not the circuit. Pro bookings stream in and I'm doing just fine. One of the great things about the club circuit is that it is, to a large degree, a meritocracy.
But this Fringe I've had one reviewer in. One. That comes on top of a long slog of being told, often explicitly, sometimes reading between the lines, that with the target demographic for TV shows being 16-34 (which is perfect, as we all know how much millennials and generation Z'ers love watching TV), I'm not going to appeal to viewers. Which is a shame, as I give good panel show (so far just evidenced in QI) and good radio.
And before you say there are women my age on the telly box, there are of course – incredible women who deserve every bit of airtime they get and more, but who crucially have been in the business for years. Since they were young. There aren't many producers gagging to break new menopausal talent. Trust me, I've been hunting them down, like a ginger pig looking for truffles.
I did a piece of live TV on Sky Sunrise just before coming up to Edinburgh and in the studio afterwards the producer said: 'You're brilliant on camera – you could've been a presenter.' If I was 30, I wondered, would the 'could've been' been a 'should be'? Then I punched him.
We all love a good story about the underdog defying the odds and making it in the end – JK Rowling, Samuel L Jackson, Colonel Sanders (the Colonel only franchised KFC at the age of 62). I'm writing this in a damp rental flat in grey-skied Edinburgh, hoping to join the list of odds-defyers – a mid-life underdog who may or may not make it in the end. I'm live under-dogging.
I love my show. I'm saying things I'm pretty sure no one anyone else is saying. And I think it deserves to be noticed. By all means tell me it's shit if that's what you think. But it's not. (And as the world's No1 poster girl for impostor syndrome, it's a mark of desperate times indeed that I can summon up the strength to write this paragraph.)
I have no regrets about trading in my proper job, paid in proper money and company shares, for spit, sawdust and beer tokens. I knew reinvention later in life wasn't redemptive, apart from in the movies. But I do deserve to be seen and heard, as anyone else at my level in comedy would be.
Only the rest of the month will tell whether I'm actually invisible. At least you've seen this.
• Cally Beaton: Invisible is on at Assembly George Square Theatre at 17:10 daily.
Published: 15 Aug 2019
What do you think?