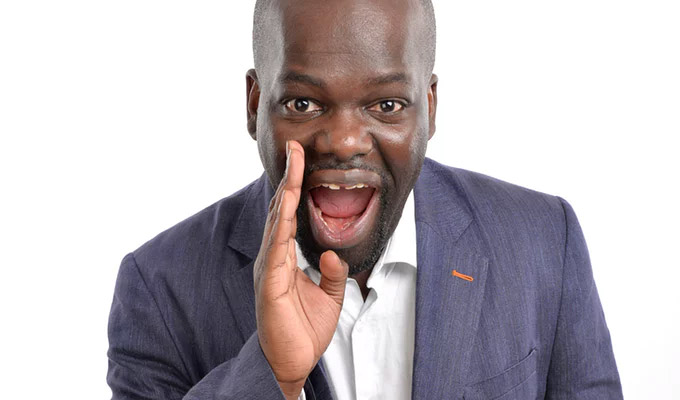 Laughs in translation
Get off the plane, then tedious immigration. These are the first steps that I and many other comedians face when gigging abroad.
Step 3 for a lot of us is to ask the first local we meet: 'What's the dodgy area of town? Who is the politician people hate? Is there a city that's a sporting rival?'
These questions allow a very pedestrian form of joke translation. Rather than writing a whole new routine about the city you are visiting, you can make your jokes relatable by altering your references. Katie Price in one of my jokes became Patricia Kalyati in Malawi and Zodwa Wabantu in South Africa. A reference to the Welsh language, became a reference to Arabic while performing in the UAE.
This, however, only works to a level. The more I've travelled, the more I've realised that certain kinds of jokes work better in different countries. I'm going to generalise massively and I've not done any detailed study with a squadron of phone monkeys. My evidence is purely anecdotal.
That being said, I perform a lot in different countries and keep geeky spreadsheets with my jokes recording how well each does in each country.
Overall, sarcasm and biting wit seem to work better in the UK than Canada. Low-status performances work better in the UK than Nigeria. I watched a self deprecating comic at Nite Of 1000 laughs in Nigeria die horribly because the attitude there is: 'We paid a lot of money to come see a great show, and now you are saying you are rubbish,.'
Self-deprecation is incongruous to a culture that respects Muhammad Ali style braggadocio and swagger. Many comedians come on stage draped in gold chains, dancing and announcing their high-status from the get go. I'm not that kind of act, but finding I was not doing well at my early Nigerian performances, began to wear expensive suits when I performed in Lagos and I saw the crowds immediately took to me better than when I dressed casually as I do in the UK.
The biggest thing I've found a comedian needs to research is acceptability. For all that some UK comedians claim 'you can't say anything anymore', you can say lots in the UK. And if you are clever, you can get away with saying everything in the UK.
However, there are cultural sensitivities it helps to be aware of when performing abroad. In detailing these, I'm not saying it's impossible to bring these subjects up, but a comedian has to to be careful: try the jokes on multiple locals, and do lots of research.
Discussing race is hypersensitive in South Africa, for obvious reasons. It's mighty easy to lose a crowd instantly with some badly thought-out racial material, as there are people in your audience will have endured horrific things all of 15 years ago.
Similarly though, the acts who tackle the racial well like Loyiso Gola, Nik Rabinowitz and Trevor Noah, soar in SA. So it can be done, but it's perilous. Discussing religion in the Middle East or Malaysia is Ill equally ill advised; discussing the genocide in Rwanda, or telling jokes about homosexuality in Uganda (the latter got me booed in Kampala).
Every country has its own set of taboos and a night out with a few locals is usually enough to get the broad strokes. The biggest discovery I've made that may be of use to other comedians is a broad guide to the jokes that can get you in trouble in African countries vs Western countries.
These revelations have been hard come by. I was almost arrested for making jokes about the Malawi president and after shows in Zimbabwe I was threatened by followers of the prophet Eubert Angel. These were more than your garden variety Twitter threats and so I mostly stayed in my hotel room that trip.
In Western countries like the UK you can offend, but the peril is lower and I think it's important to remember this when people bang on about outrage culture. The most that has happened to me in the UK is letters of complaints from BBC radio, a blogger condemning my set as sexist, and an angry audience member storming out because of a Brexit gag.
This is my revelation/theory. Generally, in gigs in the UK, US and Canada you can make fun of individuals as much as you want. Mock Boris Johnson or Madonna or Idris Elba or Katie Price as much as you want. You may get some people upset, but mostly you'll stay out of real trouble. Few will be offended and you will keep your job.
Where you can get in serious trouble or offend massively is if you talk about a group. Be it an ethnic group, a sexual orientation, the disabled, a religion that is not your own.
In a lot of African countries, (I say this based on experiences in Malawi, Nigeria, Kenya, South Africa, Rwanda and a few others), the situation is reversed. Mock groups as much as you want. Jokes that would be found offensive here about homosexuals, Indians, dwarves, etc, are totally acceptable in the African comedy scene.
Even some sitcoms the UK now considers problematic because of the stereotypes at play like Mind Your Language, are still remembered fondly in Malawi, Kenya and Zambia. OId clips are shared on the internet again and again. Look at the analytics of where such videos are being most shared and you'll see my point.
Mocking individuals on the other hand is where you can get in trouble. Mocking the head of state is a staple in Western countries. Trump jokes, Boris jokes, Macron jokes, Merkel jokes. All doable.
Mocking Mnangagwa in Zimbabwe or his predecessor Mugabe... folly.
South Africa and Kenya are African countries that have a culture of mocking their politicians, so my observation does not hold true for every African country. Museveni jokes in Uganda though? Mutharika jokes in Malawi? All of these are perilous waters. Equally in Singapore and UAE, I was begged by promoters to stay away from critiquing the government.
An easy guideline is the papers. Newspapers often have cartoons. If you see cartoons satirising the government, you are probably in a country OK with that kind of lampooning. If the cartoons all conspicuously avoid the head of state, so should you. Unless you are super brave. I'm not, hence my spreadsheets.
• Daliso Chaponda's new stand up show Blah Blah Blacklist is on at the Gilded Balloon at 18:30 in August before a UK tour. Dates: www.dalisochaponda.com
Published: 14 Aug 2019
What do you think?