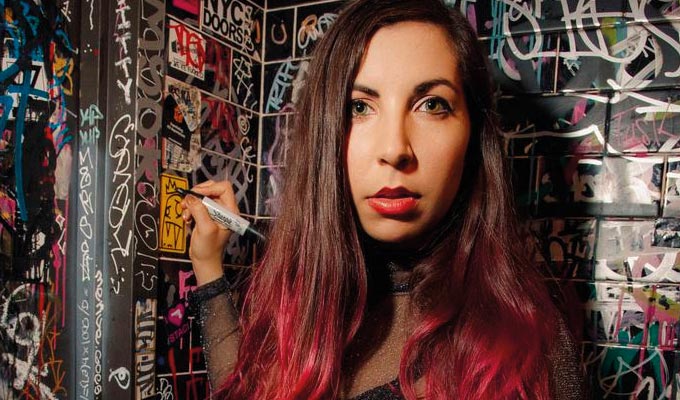 Using comedy to overcome trauma
Your parent's messy divorce when you were a teenager. An unwanted sexual encounter. Disillusionment with religion. A scuffle with the police. A miscarriage. A mass shooting. How Game of Thrones ended. Trauma can be anything, but what it does is always the same. Trauma splits your life into two parts: the before and the after.
But how you deal with the after? That's a different process for everyone. It took me ten years after 'the thing that split my life in two' to start writing this show. I won't go into what 'the thing' is here because I'd much prefer you hear it from me, in person, and in the context of my show (a plea to reviewers: please do come to my show, but please don't spill the beans on this). But I will say that before I started performing this show, I could count on one hand the number of people that I'd told about it. And now, I'm telling an audience of strangers about it every night (although on some nights I can count the audience members on one hand too).
It's exhausting reliving that trauma and putting myself back through those memories for the sake of the show. On paper it's certainly not the funniest part of my show, but it is the most vulnerable, the most honest. And the most cathartic, which are often times the ingredients for the most hilarious anecdotes. I didn't realise that by not telling people, by keeping the worst thing I've ever done a secret, I was giving it more power. I was letting it define me.
We've all heard the old saying: comedy equals tragedy plus time. And comedians often describe comedy as therapy. I never quite understood that until now. All I saw was a bunch of angry, ranty comedians turning audiences into their therapists instead of going to a professional like we all should be doing anyway.
But I get it now because talking about the dark stuff, the stuff that you think makes you're weird or crazy or broken, the stuff that you never wanted anyone to find out about you, talking about it and then somehow turning that into laughter for an audience? It's the most freeing feeling in the world.
'Your dad dies at minute 40.' That's a common trope that people like to point out about Edinburgh shows. And when it's not done well – that moment of pathos towards the end of a show – it can come off as attention-seeking and fishing for sympathy. It's not a good look. But when it is done well, it can elevate a show to the highest level.
Lots of comics will disagree with me on this. Their philosophy is that a good comedy show should make you laugh for an hour straight and that's all it needs to be. I agree to some extent and sometimes I want just that, just like sometimes I want to dance around my bedroom while listening to Hanson's Mmmbop or watch YouTube videos of animals that shouldn't be friends being friends.
But the specials and albums that I rewatch and relisten to over and over tend to take me on more of a journey. Bo Burnham's Make Happy; James Acaster's Repertoire; Neal Brennan's Three Mics; Tig Notaro's Live; Chris Gethards's Career Suicide; Sarah Silverman's A Speck of Dust; Laurie Kilmartin's 45 Jokes About My Dead Dad; Maria Bamford's The Special Special Special; I could go on. But I'm truly tired of defending Hannah Gadsby's Nanette as comedy.
I was 17 when 'the thing' happened and that was when I dove headfirst into comedy. It was the only thing that could make me laugh in 'the after'. I had liked comedy in 'the before', but I couldn't get enough after it happened.
After July 23, 2007, I became a ravenous animal for all things comedy, devouring everything by Mitch Hedberg, Dylan Moran, John Mulaney, Tina Fey, Demetri Martin, Amy Poehler, Adam Hills, Tracy Morgan, Kristin Schaal, Frankie Boyle, Chelsea Peretti. These were just some of the folks that shaped my weird, dark sense of humor in 'the after'.
And for me it was musical comedy that I truly latched on to and found myself playing over and over and over again: obviously, Bo Burnham but also Tim Minchin, Flight Of The Conchords, Reggie Watts, Tenacious D, Lonely Island, Rich Hall, David O'Doherty, Bill Bailey, Weird Al, Adam Sandler. These were the folks whose albums and specials helped me feel less alone in 'the after'.
Finding comedy was cathartic in and of itself. Performing comedy was transcendent. I had always written music, but writing music (and jokes) that could make an entire room roar with laughter… that is the greatest feeling in the world. And then doing it about your weirdest, craziest, most broken thoughts or experiences? That makes you feel seen.
I highly recommend. It doesn't have to be comedy for you. It could be songwriting, painting or dance. It could be going to therapy. Or pottery. Or martial arts. Whatever it is that gets you through your trauma and turns it into something tangible, something that makes you feel seen, keep doing it.
And I'm sure some comedians will read this and think, 'Shut up! There's already a comedy boom happening! Stop encouraging people!'
Look, I hear you! Just remember: there must've been some reason you got into this thing in the first place, and I'll bet it was some kind of trauma. Being bullied in high school. Being diagnosed with ADHD or OCD. Coming to terms with your sexuality. Having your heart shattered into a million little pieces. Or maybe just knowing that you had a darker, better sense of humour than anyone else around you and feeling isolated simply because of that.
Whatever the case, just know that there's enough room out there for all of us, not everyone needs to appeal to everyone else, and sometimes people go through some shit and only comedy can save 'em.
• Caitlin Cook: Death Wish is at Just the Tonic at the Grassmarket Centre at 17:50 from August 1.
Published: 26 Jul 2019
What do you think?