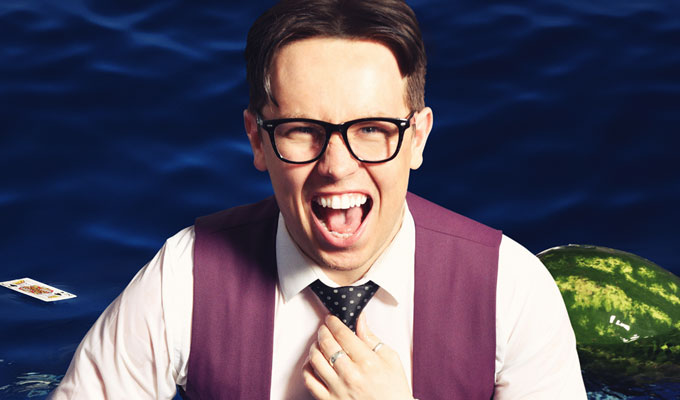 Does magic need comedy?
For as long as I can remember I've been surrounded by magic. From the age of zero I spent a huge chunk of my time in the company of my wonderful and late uncle, Paul Daniels, whose shoulders I stand on and from whom every day I take inspiration.
So from the age of two, magic has been the only thing I've wanted to do. It was my first love.
But unlike most in this particular fraternity, it's never been the skill, the trickery, the mystery or the secrets that I've been obsessed with, it's always been the opportunity for entertainment.
In writing my new show, Troublemaker, I wanted to create something that if you took the magic away audiences would still have the best time – similar to the way Bruce Forsyth could come on stage and make no gags or Sammy Davis Jr. could come on stage and not sing. There was an extra sparkle that didn't fit into their off-the-shelf job description. There was something extra.
We all recognise a version of comedy magic where the comedy is there as an attempted shortcut to this sparkle. Seemingly to attempt to create a reaction using off-the-shelf gags and dusty old patter.
Fundamentally, comedy and magic work on the same principle: create tension in the room, and pop it to create that emotional reaction. Done right, there's a moment people will remember for the rest of their lives.
I had someone wait for me at the stage door of my tour show recently, who went to see my uncle at The Prince of Wales Theatre in 1982, when they were nine years old – and all they remember is their sides aching from laughter. They didn't remember the trick, they didn't remember the gags, they remember the elation, and his daughters are now nine, so he brought them to my show so they can experience it for themselves too. Beautiful.
But equally, it's an awareness of this that's meant I've had my head in my hands or up in the air more frequently than I'd like to admit when I've dared to look left and right in the field I've chosen as my profession.
We've all seen bad magicians, haven't we? Through my BBC show and on the road with the tour I meet a lot of people, and the ones who are not fans of magic are invariably the ones who've had a bad experience.
A very famous American magician said to me recently: 'The problem is James, magic is showbusiness for people without any talent', and whilst we both knew this isn't true, it symbolises that anyone can go online and find the secrets.
A wonderful, and sadly recently passed, TV producer friend of mine, Anthony Owen, said to me, most of the time when people book a magician, they're looking for an imitation Paul Daniels. And within these two statement simplifies the answer to this question.
Since the 1970s the zeitgeist of magic in UK has been focused around a funny Northern conjurer, with a quasi-Forsyth wit and an Eric Morecambe twinkle (he was the most magical man I've ever met), and as a result, it's the image of a magician we all have imprinted on our collective consciousness.
And for many, magic is painting by numbers. Buy a trick, learn a trick, perform a trick. And it's as simple as that. No forethought, no years dying in front of audiences, just learn it, perform.
Which doesn't work. Why? Because they didn't spend a decade in front of hard-to-please audiences in working men's club grasping the inflexions of the words they're saying and day-by-day subtly tweaking it to create something extraordinary.
And more crucially, they're parroting a style that is now, more often than not, half a century old. It not only doesn't fit the personality of the 40-something who's performing it, but it doesn't fit the audience to whom they're talking. The same way doing comedy in the style of Colin Crompton or Bernard Manning to a modern audience would leave a funny taste too.
Seemingly though, this is the way it always has been. Why do magicians wear top hats and tails? Because Jean Eugène Robert-Houdin, a famous 19th Century magician wore them – it was the fashion of the day. Fashion moved on and the magicians' blueprint remained static.
What we as magicians forget – because we're too busy focusing on the secrets and the methods – is that our job is to entertain. Nothing else. The secret to the magic isn't the secret of the magic.
My uncle used to tell me: 'Write your show and then take out your best trick. You'll realise it's never about the trick and always about the person who's performing it'. Think about it, the bad magicians we've experienced were never because the trick didn't work. It's because the worn-out pseudo-pantomime gags fell flat and dusty old suit made it uncomfortable.
So I guess my point is this. Yes. The archetypal 'comedy magician' is probably a hangover from the glory days of variety shows and summer seasons, but it doesn't have to be. Magic doesn't need comedy, but it will be weaker without it – and it's all too reliant on one particular version of it.
There are emotions other than laughter that magicians can draw on, as Derren Brown, Dynamo and David Blaine have shown. All have their own identifiable character traits and performance angles, and all use comedy rarely. We can create that tingle when really seeming to read someone's mind, or inspirational excitement, or drawing the audience to tears telling them how this was the first and last trick my uncle ever showed me.
Comedy is a tool we should cherish, we should nurture, we should think about, but we shouldn't copy-and-paste from times gone by because then it's a short walk before the comedy is no longer comedy. It's a powerful weapon in our arsenal, but it shouldn't be the only one and it won't replace the skill of the marksman.
Create drama, create humour, create emotion, create depth. Just don't be lazy and don't be shit.
• James Phelan: Troublemaker is on at the Gilded Balloon Teviot at 18:45 daily.
Published: 1 Aug 2019
What do you think?