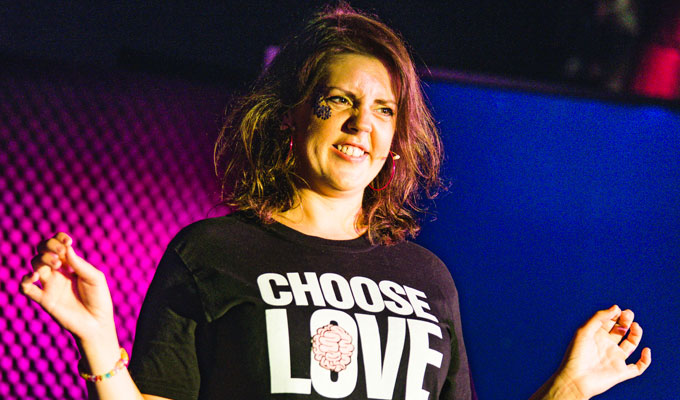 Don't be twp Omid, and apologise!
Just when you thought you were safe in the tweeting thumbs of a popular comedian who's all about diversity, Omid Djalili comes to Wales. After driving through my home county of Carmarthenshire, he manages to not only offend the natives with an unoriginal 'joke' about the language and Welsh signs (yawn!), but adds extra insult to injury by poking fun at dyslexic people with stammers. O-Kaaaay!
There are worse things than being Welsh, dyslexic & having a terrible stutter. But not many pic.twitter.com/jEEBJTeyc1

— Omid Djalili (@omid9) June 30, 2019
Welsh is the language of my ancestors who lived here for centuries before me. I am 36 years old and until I was seven, Welsh was the only language I spoke. Recently, I've been looking into the neuroscience of language and one of my motivations was to arm myself with knowledge for when my mother tongue comes under attack, which, unfortunately, is way too often.
The language you speak is your primary method of communication. It's how you get your views, emotions and personality across. Language is innate to humans, we are a special species because of it. It has evolved, mainly so that we can learn from each other and gossip.
And language is of a land.
The other week, I was at a friend's birthday party in West London and, true to my Welsh nature, my drunken parting shot as I left the Chinese restaurant was a huge rendition of a song that's very close to my heart. In my 'too-pissed-to-navigate-public-transport' state, I hopped in an Uber. One of my favourite things about Uber is the international-driver-chat. This particular driver turned out to be from Afghanistan, with Persian as his mother tongue, and of course when he asked me how my night went, I told him all about my fabulous exit. I then asked him if he'd like to sing me a song to help me envisage the land he was from – a folk song, a love song – anything from his home. (I promise I'm not this intense with everyone I meet… not straightaway at least.)
He did, and it was absolutely stunning. I could envisage horizons, the land itself was clear as day, and the emotion really resonated with me, even though I didn't actually understand a single word that came out of his mouth. He asked me to do the same and we went back and forth for the whole journey. I sang a Welsh folk song called Hiraeth then Mil Harddach Wyt amongst others and by the time he dropped me off we were both in tears, having shared our languages and songs. The things that shaped us, that speak of our lands and ancestors. Our heritage. Our love.
As humans, we have no determination over our sexuality or skin colour when we are born – nor do we have determination over which language we will speak when we start to talk. We simply pick up what's around us. A new-born baby covered in goo, popped on its mother's breast, can't suddenly turn to her and say, 'Hey Mam! Before we begin – do you mind not speaking to me in Welsh? And can you tell everyone else to do the same for me? Also, see that sign over there? Take it down; it looks ridiculous. I just really want to be accepted by a certain comedian and Jeremy Clarkson as I get older.'
I could bang on about colonialism here, but it bores me to death these days. I just want to live in a world where we celebrate our differences.
Sound familiar, Omid? I genuinely believe that insulting a language is as stupid as it gets, but then I have the advantage of being completely bilingual, so I often find myself patiently defending the existence of what comes out of my mouth, even when I want to go from zero to rage in three seconds flat.
Like our sexuality and skin colour, our languages are a part of us that we should celebrate and take pride in. Being bilingual is awesome, something I assume Omid knows, since he speaks Farsi.
I am often in and out of two cultures and languages in one sentence. Languages really do shape you and like most bilingual people I've spoken to about this, I feel like a different person depending on which language I'm speaking. My vibe is that I swear in English and I stroke cats in Welsh. To me, English is a very direct language with all sorts of amazing swear words that I absolutely engage with on a regular basis.
The direct quality of the English language can get things done faster and I also find it great for venting and rage. Welsh on the other hand, is of the land – there is more breathing space in it; it has so many words for different elements of nature that simply don't exist in English. It's poetic, gentle, melodious and exudes calm. Also, Welsh is the oldest language in Britain, so how about you show your nation's linguistic elder a bit of respect, huh?
I really hope that if I ever go to another country and drop a joke online that hits a nerve running deep into native people's identity, I'll have the heart to apologise.
So next time Omid comes to Wales, I'd like to openly invite him to come around for a cuppa. . I conveniently live only a few miles from The Botanic Garden of Wales, and I'd very much love for him to meet my Mam. She is like a female, Welsh Danny Devito and she loves giving people 'the hairdryer treatment'. This basically involves Mam gives you a piece of her mind and you just gotta take it. There's no other option.
You will also receive a cup of cold coffee. It always happens, she talks too much before she hands you your cup. You may have asked for tea – she will still give you cold coffee. And then, when she's had her say and sees you've understood her point, she'll give you a good 'cwtch' (Welsh for hug) on your way out and make you promise you won't do it again.
Once a deputy-headmistress, always a deputy-headmistress.
The Welsh word for 'stupid' is 'twp'. It's very onomatopoeic. So please Omid, don't be twp; apologise for what you recently tweeted. It may just be a joke to you, and we're a reasonable, peaceful bunch, but we've heard it too many times my love. And as so many people have said before: you're better than this.
• Carys Eleri's Lovecraft: Not the Sex Shop on Cardiff plays Underbelly at the Edinburgh Fringe, August 13-25.
Published: 2 Jul 2019
What do you think?