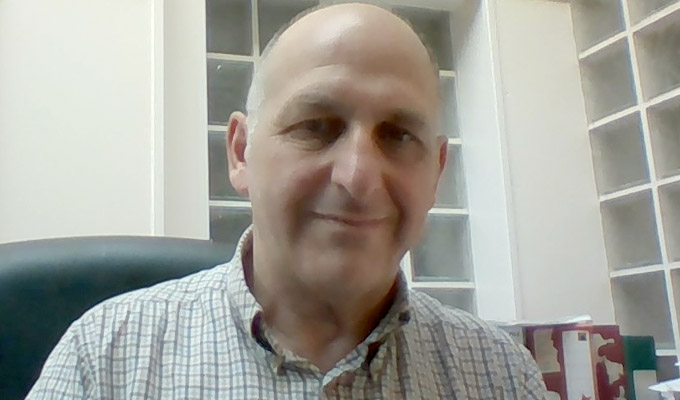 In sickness and in health
This article was first published on Chortle last year, but as World Mental Health Day comes around again, Dave Cohen's thoughts on the toll a career in comedy can take are just as relevant today...
---
I've been thinking about the responsibility that comes with producing a 'how to' book about writing better comedy. I try hard to dampen expectations, to point out that I am one voice and there are plenty with more success or experience than me who may disagree.
But the issue I'm most concerned about is at the heart of this genre of book: the idea that 'yes, you can do it'. Believe in yourself; persist; every time you get knocked down, get up again; look on every failure as a learning experience, and so on.
I'm concerned not so much with the notion that you might not be able to do 'it' - we all fail sometimes at some grand life goal, and usually learn over time to acknowledge that maybe it wasn't for us.
What I'm genuinely worried about is the effect that trying, and maybe even succeeding, may have on your mental health.
There has been an alarming increase in mental health problems throughout the UK, and it has become especially noticeable in the arts. A lot of this is well documented, a recent survey showed that the risk of suicide is elevated here – 69 per cent higher than average for women, 20 per cent higher for men.
You might point to the fact that mental health difficulties are increasing across all professions, and that people who end up working in the arts are a disproportionate number who have come from dysfunctional backgrounds.
This is true, but there are a number of issues heightened for people in the arts.
Writing in the Huffington Post specifically about performers, although everything she said applies to comedy writers too, the MP and mental health champion Luciana Berger pointed to 'sporadic patterns of employment – sudden bursts of frenetic activity, followed by fallow periods with endless applications, auditions or second jobs. Performers lack job security, and cannot plan far ahead.'
Writers and performers 'put their heart and soul into their art, and can be subject to highly personal attacks and criticism. The tone and language of reviews, or commentary on social media, can be bruising and severe. Everyone's a critic. This is a sector which sometimes sees sexual harassment, workplace bullying, and a constant demand to work for less money, or even for free.'
Opportunities have been diminishing for all freelance workers: zero-hour contracts, minimal pay rises, huge cuts to the BBC have all contributed to the hardships faced by comedy writers.
Health cuts have further impacted the availability of help for people with mental health issues. Income allowance for people with disability is skewed against time off work caused by addiction or mental health problems. Appointments with the overstretched mental health services have to be booked months in advance. There's a one-size-fits-all response based on cognitive behavioural therapy, which is a great treatment, but for some is not enough.
Getting back into work after a period of absence is hard. Our attitudes to mental health have changed, and are improving, but there's still a stigma attached to returning to work after a mental breakdown compared to say, coming back after breaking a leg.
We don't get sick pay: if I'm booked to do a writing day in an office and I'm too ill to go in, they'll find someone else at short notice to replace me and I won't receive a penny. The same is true for stand-up gigs.
We don't get holiday pay. If you're earning £25,000 a year in a job, that's about £500 a week, including all the weeks you don't work. Imagine if you took the standard six weeks off in a year and had to give £3,000 back to your employer.
The worlds of theatre and music have done a lot to address these issues, but comedy has been slower to catch on. Part of the problem is we work so much in isolation. It's one of the most important parts of our job. You may live alone, but even if you have an understanding partner it's not always easy for them to comprehend the emotional stresses you sometimes find yourselves going through.
We have the Writers' Guild of Great Britain, one of the smallest trade unions in the country and a fantastic organisation looking after the welfare of writers, but compared to actors and musicians bonding opportunities don't come up often, we rarely work together professionally.
In the entertainment industry, we are experts at happy. Our job is to make people laugh. Paradoxically, this can involve serious and sometimes upsetting self-examination. Unlike other professions, success can be found by digging deep into the darker parts of your personality. Who knows what lasting emotional damage you might be doing to yourself or those closest to you, in transforming those harsh unpleasant truths into entertainment for strangers?
I used a lot of reverse psychology and counter intuition in my book. I'm trying to challenge the reader's widely held views, managing to upset a few of my own in the process. I've no more idea than anyone else whether you, reading this now, can make comedy part of your career.
Whatever I say about perseverance, determination, believing in yourself and so on, the vast majority of you will find a way to accommodate the successes and failures into your lives, maybe not in a way that you'd hoped or imagined but then that's the same for all of us. For a few of you that might not be easy.
Our business is fiercely competitive, it's one where individual brilliance is often rewarded over team effort, and it's small enough to mean that among our group where most of us know quite a few of our colleagues, my commission is your rejection.
Whether you're thinking about a career in comedy, or you already have one, pay attention to your emotional and physical well-being. Understand there's an element of toughness you have to display, or fake. The comic Logan Murray, one of the top stand-up teachers in the world, notes that the wannabe comics that make it past the first couple of years of rejection are those with the thickest skins. That hardness may come at a price to your welfare.
Most important, whatever stage you are at in your career, please look out for your colleagues and friends. For those starting out, there's a great network thanks to Chortle, the British Comedy Guide and others – but bear in mind that rejection is hard, and never goes away, and at this sensitive time in your career it's easy to feel anger at the success of others you consider less talented than you.
If you already have a career, you will know other writers and performers, but may be too wrapped up with your own issues to look out for them. Do it. Arrange to see them. Email them out of the blue. Write them a letter. Imagine how you would feel if someone did that to you.
If you've ever lost someone you've known or loved this terrible way, you'll wonder if you could have done more. Or if you could have been the one to prevent it. I'd almost certainly say you couldn't, but together we can all be doing more. Bond with your friends and make friends with your rivals, and hope in the process to create some kind of net that stops them – and you – from crashing.
• Samaritans are open 24 hours a day to listen to anything that is upsetting you Their national freephone number is 116 123, or you can email jo@samaritans.org
• Dave Cohen's book, Funny Up, was published last year. For more details, visit his website.
Published: 10 Oct 2019
What do you think?