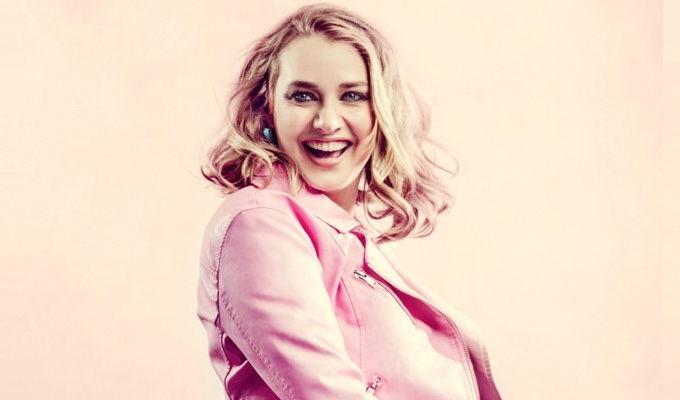 More than cosmos and Manolos
To mark 20 years to the day since the very first episode of Sex And The City aired on HBO, performer Kerry Ipema considers the legacy of the groundbreaking comedy. The programme inspired her own spoof, One Woman Sex And The City, which receives its UK premiere at the Edinburgh Festival Fringe in August.
---
Twenty years after the premiere of Sex And The City and I couldn't help but wonder… what have we learned? I try to answer that question and more in One Woman Sex and the City - a parody of all six seasons of the beloved HBO series.
I've been a fan of Sex And The City since I was 18. I stumbled upon it on regular cable. A couple of years later, I found the unedited episodes and truly fell in love - I mean half of Samantha's bits were cut for cable! Thank god I had access to the DVDs, yes DVDs. (DVDs were what you used instead of streaming services. They didn't ask you if you 'were still watching?' so you woke up in the middle of the night to the sounds of the DVD menu).
I loved that the women are real and their wardrobes are a total fantasy. New York City felt like a faraway land full of shoes, endless brunches and terrible dates. My writing partner, TJ Dawe, and I tried to capture Sex And The City in all of its glory: the good and the bad, the timeless and the unwoke.
Sex And The City was revolutionary because it introduced the world to the power of modern female friendship - we did have Golden Girls, but I challenge you to find another show at the time where you have four central characters, all of them women, and the men are merely secondary.
The show highlighted that women can be sexually autonomous and brought it into people's homes. It challenged what America called 'sluts'. These women did what they wanted, who they wanted, and were unapologetically ambitious.
As much as the show helped, it also fell short in many ways, I say that lovingly of course. Collectively, we've learned so much in the past 20 years; I am certainly still learning. I genuinely believe if Sex And The City premiered today it would have WAY more diversity, that includes both race, sexual identity, sexuality - just to name a few. I live in New York, and I can assure you that their version of Manhattan is SIGNIFICANTLY less diverse than the actual demographic of the city. I can also say that Donald Trump would not be a guest star on the show (at least I hope so…)
Even with its flaws, Sex And The City has created a world where things like dealbreakers, the naked dress, the rabbit, bad date stories, and loads and loads of puns are embraced and beloved. Lest we forget real-world benefits like Cynthia Nixon's campaign to run for governor of New York State (a total Miranda on and off screen), @everyoutfitsatc, Carrie Dragshaw, and a wardrobe we'd all kill for.
We as a society still have a long way to go, and I hope to be a step in the right direction. One could see the TV series as a frivolous show of cosmos, Manolos, and unrealistic New York living conditions - and don't get me wrong, it is all of those things, but it's also so much more. For the first time on TV, we had women who are sexually active and not looking for a husband, or at least not all of them (with all respect to Charlotte).
The show also dealt with impotence, infertility, infidelity, divorce, and cancer. The show was so much more than just a fun romp down Fifth Avenue and designer clothes. It had a huge heart that still makes the show relevant to today.
It was only 11 years ago that the infamous article was published in Vanity Fair, Why Women Aren't Funny (I don't even want to include a link, but I guess I will in case you haven't read it http://bit.ly/2sIbOeu). Like many funny women before me, with every single performance of One Woman Sex And The City, I seek to prove that wrong. I don't take it lightly, and I certainly don't take for granted the platform I have to share this show and the fun and empowering message it brings.
It's been 20 years since Carrie, Miranda, Charlotte, and Samantha strutted into our lives. In that time we've learned a lot: you can't afford Carrie's wardrobe or apartment on a columnist's salary, a bad date is a universal truth, friends will get you through anything, and the show still connects with audiences all around the world today, flaws and all.
Until showtime,
Kerry (Carrie with a Miranda Rising) Ipema
• One Woman Sex and the City runs at Underbelly Bristo Square from August 1 to 27. Tickets.
Published: 6 Jun 2018
What do you think?