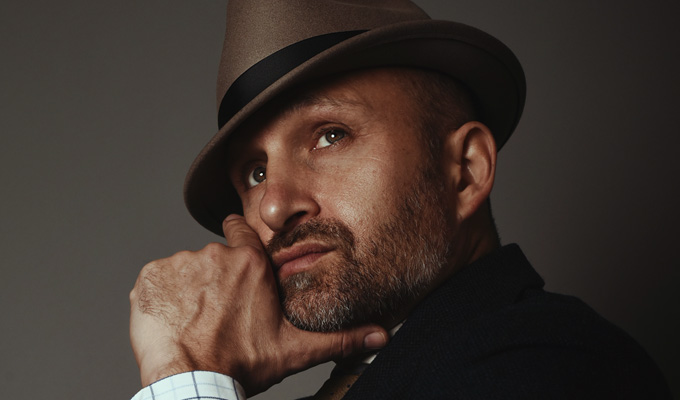 Umpah Umpah, stick it up your jumper!
A couple of weeks ago, I was on holiday (I had a delightful time, thank you for asking), and, one afternoon, probably after multiple negronis, one of us, for god knows what reason, piped up: 'Umpah Umpah, stick it up your jumper!' - and then commenced a few minutes of giggling, interspersed with, 'Remember that?', 'What WAS that?'.
So I tumbled down a bit of an astonishing research hole. And today I'm going to tell you about someone who is, at least to me, and I'm guessing perhaps also to you, one of the great unknowns. You'll probably know some aspect of his work, might very well have seen him on screen, but the chances are thin that you'll know the name Leslie Sarony.
He was born in 1897, just outside London. His dad an Irish photographer, his mum a New Yorker. Although he didn't come from a theatrical family, he adopted one pretty damn quick. A child performer, he dropped out of school and went pro before he even reached his teens, thanks to a good showing at an amateur showcase at the Shoreditch Empire. The Great War, however, intervened, and replaced the life he loved, with one he was lucky to live through. He served in France and Greece with two different divisions, and earned the Silver War badge.
Once safely back on the safety of the stage, he started the work that would make him. A comedian, but also a singer, an accomplished dancer too. Like so many of the best stars of his time, he could do a bit of everything, and well.
He racked up appearances in musicals and pantomimes, but became a bill-topper in the music hall. The king of the nonsense song, as he came to be known, had more than 400 of the things published – including The Old Sow, which, like me, might ring a bell, or my personal favourite, his ode to Gorgonzola, or even 'Tweet Tweet! Shh! Shh!', which was enough of a hit to be mentioned in a Jeeves novel by P.G. Wodehouse.
But we're here to talk about one of the songs he recorded with his double act partner for a few years, Leslie Holmes. Umpah Umpah Stick It Up Your Jumper, isn't, it seems to me, a particular stand-out from his repertoire – but I guess the gag of saying something rude, but not really, was enough to make it something people went out of the music hall singing at each other, and give The Two Leslies a bit of a smash.
It certainly made a mark on comedy star Jimmy Edwards, who adopted it as his catchphrase in the 1950s. Same deal for John Lennon, who remembered the song from his childhood, and snuck the line into I Am The Walrus. John Peel, too, was a fan, and played Leslie's songs on his show on more than one occasion, and you can hear his song Jolity Farm covered by the Bonzo Dog Doo-Dah Band on their 1967 album Gorilla.
And this leads us to what I think is truly fascinating about the his career. Partly because he was born at the right time, and partly because, clearly, he was good at what he did, and a hard worker, he was able to continually re-invent himself, and keep popping up Zelig-like, throughout the history of British light entertainment, on every platform available.
Starting in music hall, he then performed in stage musicals, released records (his last in 1980!), appeared on numerous radio shows, and logged dozens of appearances in film and television. Oh, he cropped up everywhere – as sidekick to Harry Worth, when he was a TV star, as an actor on everything from Crossroads, to Z-Cars, Steptoe and Son, Minder, the classic sitcom I Didn't Know You Cared, even the bloody Liberace Show, before finishing up his career performing in an episode of Victoria Wood: As Seen On TV.
He even had a small role in a Monty Python film - think about that for a minute – from music hall to Python. But my favourite little gem about him is that in 1984 he had a part in the movie Give My Regards To Broad Street, a vehicle for Paul McCartney. I wonder if Paul knew that he was sharing the screen with the guy who had, indirectly, 17 years earlier, given The Beatles a lyric.
He's one of those people, and there's lots of them. The great unknowns. People who had fantastic, influential careers, full of adventures, up and downs, rich and poor, and contributed to the DNA of entertainment in a way that stayed after they left.
Leslie had been, undeniably, famous, and prospered from his fame. When he was in his double act, they had matching Jaguar cars, and his wedding was important and glamorous enough to be covered my Pathe news. (Which you can watch here, and is quite wonderful, especially if you stick around to the 'berth' gag). But he wasn't famous enough to, I guess, stay famous. Hardly anyone is. His fame went, as did his money, thanks to some unlucky investments, and he was back to being a working showbiz stiff, like so many of us. He died in 1985, having devoted his life to entertainment.
It got me thinking about my own relationship with this horrible, cruel, beautiful, fun, business. I've never really held on to any fantasy of being famous – as I often say, name some other famous jugglers.. exactly. But I guess all any of us can hope for, is to be good enough that people will always want your version of a working showbiz stiff. And who knows, maybe some schmuck, sitting in his dressing room before a show, hammering away on his laptop, will write about us.
I'll leave you, as I'm sure Leslie would make sure to do, with his business card: 'Leslie Sarony – Entertainist. Clean as a whistle or broad as a bean'
Stick that up your jumper.
• Mat Ricardo is Chortle's variety correspondent. His website is here, and he tweets here.
Published: 27 Apr 2018
What do you think?