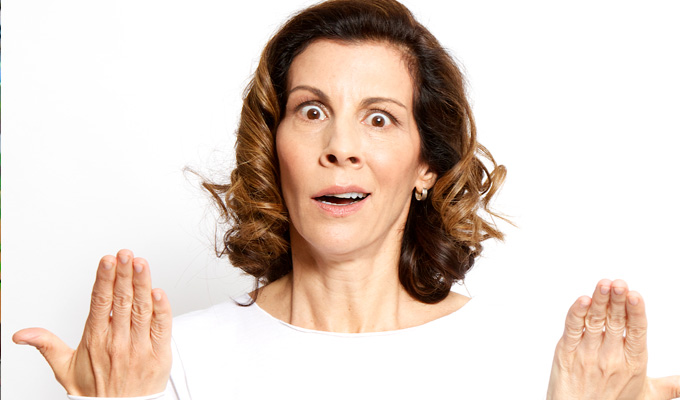 Green room etiquette
I visit a lot of green rooms doing stand-up. I'd prefer if they were white and padded (especially after a bad gig) but at this point in my 'thriving' comedy career, I'm just glad there's a room.
After being squeezed into corridors, cubbyholes and janitor closets (it's amazing how much space mops take), I can boast when there's a Green Room. And toilet paper in the ladies loo! Success at last!
Now let's not confuse 'green room' with the evergreen section in your local garden centre. A green room is defined as: 'A room in a theatre or studio in which performers can relax when they are not performing'. 'Relax' is not exactly the right word. More like: 'She's hyperventilating … looks like she's gonna pass out'.
I like green rooms. They remind me of the women in Dove soap adverts; they come in all shapes and sizes and bigger is definitely better.
Take the last corporate gig I did. The green room was a huge seminar suite filled with posters praising the benefits of hard work:
WORK and MAKE IT HAPPEN!
No Shortcuts: WORK FOR IT!
WORK HARD! Get ahead!
Very inspirational. I must remember to follow them one day.
For quirky Green Rooms, the winner has to be a B&B room in York annexed to the pub we were performing in. One act took a shower, the headliner took a nap and I took all the biscuits. Hey they were free!
Close second is a curry house in Birmingham. The green room was beside the kitchen. I wasn't exactly on top of the stove but close enough to go on stage smelling like chicken dopiaza. The audience wanted more and more! Curry.
Always a favourite is a brewery in Berkshire. Could it be the tank's reflexion that makes us shine? Or the fact the audience is doubly intoxicated due to what I call 'alcohol osmosis'?
Green rooms have rules too. As far as I know these remain unwritten, so for the benefit of any rookies out there (in stand-up that means anyone with less than 15 years' experience):
Don't be a jerk… but be prepared to meet a few.
Avoid saying 'Is *this* the Green Room?!' With a smirk on your face. Go back to point 1.
Don't brown-nose the promoter… too much. A little 'mocha' nosing is expected, but most promoters will see through: 'You're the best promoter in the world!' And those who don't are best avoided.
Fans and groupies are not allowed in the green room. My grandmother is in Spain so not a problem for me.
Don't be greedy. The promoter has kindly put refreshments out for all acts. Taking all the homemade flapjacks 'for the road' is not cool. Plus, I have yet to be invited back to that gig.
Be nice to the MC. They have the power to introduce you as: 'We believe in giving new acts a chance… I've never seen this act, so anything goes '.
Don't believe acts that say: 'I'm doing all new material' and then storm it. (See point 8).
Do pretend you're writing new material and tell everyone you will be doing it on stage. Then do your same old junk.
Don't say: 'You really bombed!' to acts that have just died on stage. Do say 'How do you think you did?' or 'Did you enjoy it?' which are appropriate translations.
And finally,
10.If you have an issue with any of these rules - ignore them like I do.
• Sonia Aste's website is soniaaste.com and she tweets @soniaaste.
Published: 13 Mar 2018
What do you think?