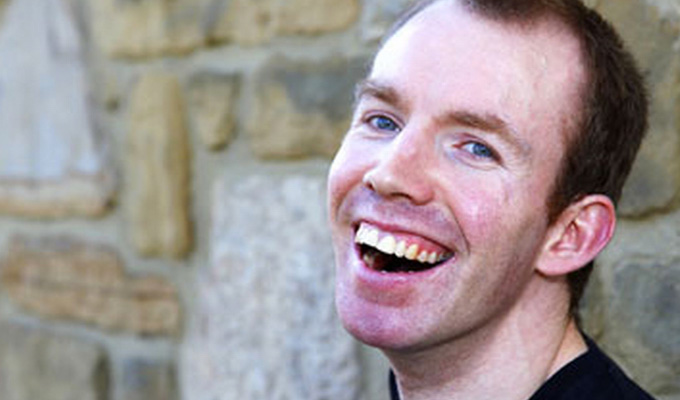 Comedy could change the world for disabled people
This country has a very weird relationship with disabled people. We are either seen as 'superhuman' or as some sort of burden on society. There just isn't any middle ground at all. We are encouraged to go out and become Paralympic superstars on one hand, while the other hand takes away the ability for us to live independently at all.
And I know the feeling after being disabled for 36 years. After all, I'm not one of those 'superhuman' disabled people. I'm one of the regular ones without any superpowers. In fact, the only impressive ability I do have is the fact that I can't talk during Coronation Street. That one is really a hit with the ladies.
But, as a comedian, I also have hope. I have hope that the industry that I work in can be at the forefront of changing people's attitudes. Mainly because comedy has played that role in the past, certainly in my case at least.
I've always seen the funny side of my disability, really. If I didn't laugh about it, then I'd definitely cry! And I've always used that humour as a defence mechanism. If I could laugh at myself then it meant that no one else could laugh at me. It helped take some of the stigma away from being 'different' and also helped deal with the elephant in the room.
So it's perhaps unsurprising that I eventually found my voice by doing comedy. Although, it did happen by accident after a mate nagged me to give it a try. Even then, I just thought it was a bit of a laugh, a hobby that I could do in my spare time. I never expected to be doing this as a job.
So, I didn't start stand-up to change people's attitudes at all. But I appreciate that when I'm up on stage that I am helping to do that, whether I like it or not. That is how powerful comedy can be at times.
I've had first-hand experience of facing an audience who weren't sure about the disabled bloke on stage at the start of the night. Could they laugh? Should they feel sorry for me? Where the hell was my carer?! But by the end of the night, they had forgotten all of that and were just enjoying someone telling jokes for a living. I won't mention the time I got asked if I was a character act after a gig… some people are beyond help.
And that's why I would like to see more disabled comedians booked by comedy clubs, appearing at festivals and being shown on television. Basically, more disabled people being portrayed in a positive light. I'm sick of being part of a group in society who are mostly demonised in the media (unless they can win a shiny medal, of course). That's exactly why hate crimes against the disabled are on the rise.
The general public need to see that we're not all just scroungers and benefits cheats, they need to see that disabled people can contribute an awful lot to society, and they need to see that we have a sense of humour just like anyone else.
Programmes like The Last Leg on Channel 4 have paved the way but there's still a lot that could be done. Only when we see disabled people on our stages and on our screens as much as anyone else will attitudes really change. And only then will disabled people feel fully a part of society.
Of course, success breeds success as well. It would be nice for every disabled child to realise they have the opportunity to do whatever they like when they grow up. But they'll only believe this if they see other people in a similar situation achieving their goals.
The comedy scene as a whole can play a big part in this. There are some amazing disabled comedians working on the circuit. And comedy is the perfect way to tackle difficult subjects in a way that can make people both laugh AND think at the same time. At a moment when no one else seems to care, it's time for comedy to save us yet again.
In a nutshell, what I'm saying is I'm available for work.
• Lost Voice Guy, aka Lee Ridley, has a website here.
Published: 5 Dec 2017
What do you think?