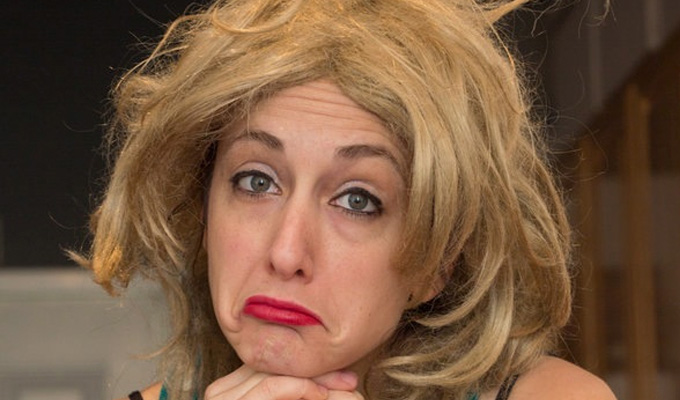 Comedy makes us suffer better
Finding what's funny about painful experiences is what helps me get through life. If it weren't for comedy I'd be in a puddle on the floor at any given moment: crying, shaking and gasping for air.
The human condition is wrought with painful absurdity: we mysteriously come into existence, fumble around for an indeterminate amount of time trying to find some degree of purpose, fulfilment, love, and security amid an endless slew of obstacles from minor annoyances to major traumas, trying and failing, all the while needing to acquire enough money to pay for our lives and our families (if we have them) until one day we mysteriously and/or unexpectedly die.
We could despair over this insane hand we've each been dealt in isolation or we could come together and laugh about it. I choose the latter, so I am doing a comedy show about suffering.
The day my boyfriend of six years dumped me last summer, I wandered the streets of New York City crying uncontrollably, fantasising about downing two bottles of whiskey prior to tying a brick to my ankle and jumping off the Brooklyn Bridge. I continued sobbing on and off for weeks, like I had been informed my skin would be peeling off gradually until I had to be quarantined on an island, or that my sister had been mauled, raped and crushed to death by a gang of escaped zoo animals and I was being summoned to identify the body.
Granted, a break-up after a long relationship is a painful experience. Yes, I had wanted to marry this male human animal, spawn with him and share our unique flavours of depression and anxiety until one of us bit the dust. Still, my emotions were akin to medieval torture devices attacking me from the inside. Something had to give or I would never survive.
One afternoon, I was on the phone discussing the state of my heart with a friend when he offered the phrase: 'We can't stop ourselves from suffering, but we can learn how to suffer better.'
What was that supposed to mean? Was I to train myself to suffer more efficiently, or to suffer as hard as possible in order to purge all suffering from my system, like blowing a fuse?
Out of this conundrum and my primordial angst, the character Celeste was born and a new solo comedy show was under way. Celeste is an alcoholic wannabe novelist who, shortly after losing her fiancé to her stripper bestie, reads the above statement about suffering better as a 'real fact' under a Snapple bottle cap. She decides to search for suffering people in spots like street corners, bars, senior centres, hospitals, waiting rooms, anger management camps, and more. She convinces some of these people to enter a suffering contest in her basement for an audience that has been lured there with promises of beer, cake, Xanax and heroin. Celeste hopes that based on whoever is voted winner she will learn what suffering better actually means. She's hosting the contest twenty-three times at this year's Edinburgh Fringe.
I have tried on a few occasions to quit comedy in favour of being a strictly serious actor and writer. However, I cannot deny the power that comedy wields. Comedy makes difficult subjects more palatable. Comedy starts conversations. Comedy brings people together. Comedy heals. It's good for the spirit. It keeps people from living life as puddles on the floor. It helps us suffer better.
• Amanda Miller's show How To Suffer Better is at Laughing Horse at The Newsroom at 13:15
Published: 8 Aug 2017
What do you think?