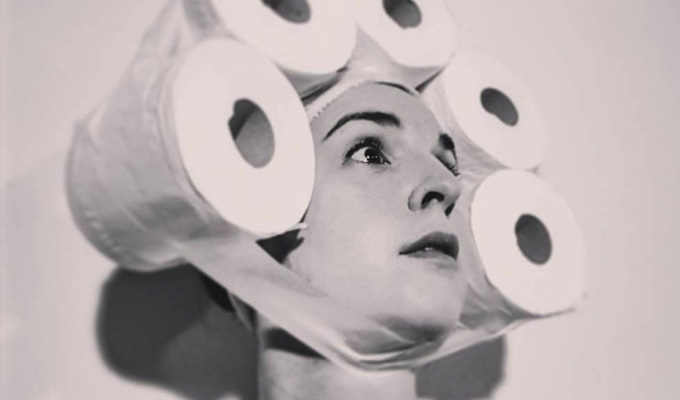 Are two heads better than one?
The Fringe is an intense place for comics (I know, get the violin out) and taking a solo comedy show up is arguably the most stressful way to do it. The pressure is on you to write, perform, promote and accept critique and compliments humbly all by yourself.
Me: 'This dress? Oh this old thing I just threw it on, it cost 1p from a charity shop'.
It can be challenging, but working in a group or duo can be equally as tricky, right? After being in a duo, That Pair with Lorna Shaw, for five years (we are still mates and love each other. I know, how dull) and now taking a solo show, Loo Roll, up this year, I've noticed five major differences about going it alone.
1) The need for others
As a duo you nudge each other along and motivate, encourage and occasionally wash each other (it was only once and it was late), so it's good to have a super team around you.
Mates and fellow comics including the other half of your duo are key to getting you through. I've found myself working more closely with a director (Matthew Crosby) and my tech/comedy brain (Jonathan Monkhouse). As well as guiding me creatively with the show, they have become my sounding board and also helped to keep the process moving, setting deadlines and encouraging changes and, occasionally, being shoulders to cry on when you turn up to a London preview and it's in a shed. They have been a saving grace.
2) The need to push yourself
After working on my own for a year, it turns out that when I was in a duo I was great at delegating and therefore great at avoiding certain jobs.
Now I have to update my website and load the car, jobs I appeared not to know existed. Lorna and I used to drew on each other's strengths to assign jobs. She would be great at admin, finances, designing posters and I would be great at cooking rehearsal lunches and eating them! Turns out I was a princess all along!
Leading on from this, you find out what a challenge you can be to work with.
Kat: Good day at work?
Kat: No Kat was a real p****k
Kat: You should take a step away
Kat: I'm trying but she's everywhere.
3) The need for self agency
(I wasn't sure whether to write this one, but I got a second opinion and they said go for it)
You learn how to trust your instincts and have faith in your decisions. The pro's of being solo when decision-making are that it is less time consuming than making decisions as a duo, but there at least you have someone to make that decision with. Lorna and I once took four hours discussing the end of a sketch and I genuinely thought someone was going to end up out the window.
Me: Should she be holding a espresso or a cappuccino?
Lorna: She's not an espresso kind of character, there is no way she would have anything without milk. Also she is a slow mover she's not caffeinated to the max.
Me: You're wrong, she is the sort of character that is definitely allergic to chocolate, she's never have a cappuccino!
Lorna: How do you know?
Me: I just know!! [Picks Lorna up throws her out the window.] 
Taking four hours to decide/argue over a joke is too much. Sometimes two heads are better than one. You sift through the rubbish you have written in a duo and there is less room to be indulgent. In solo previews I have been letting the audience make the call on certain jokes which is another way of avoiding decision making.
4) The need to use your audience
On stage you have to work out how audiences respond to your material and you as an individual.
I'm not a huge fan of too much audience interaction, but I do try and use my audience in different ways. In a duo your status and relationship is often the main source of comedy, so it's nice to find new ways to make people laugh.
It's good to play with ideas and work out your persona or style of comedy. I've loved that experience. It's easier when it goes well, of course, because if it doesn't the stage feels pretty empty.
5) There is nowhere to hide
You wrote it (unless you nicked it from the internet, in which case, stop doing that) and you're performing it, so it's all on you.
This also means that you get the highs and the lows all on your own: reviews, feedback the lot.
Positive - you have the opportunity to change and adapt on stage if its not going so well, without running the risk throwing the other half of your duo or group completely off. 
Negative - it's nice to have someone to have a chinwag with after if it's gone completely down the pan, as well as celebrating when you've had a corker.
Lorna and I once did a gig on Valentine's Day at midnight to one single couple who spent the whole set necking. That would have been tough one on our own, at least we had each other. Along with the tough gigs, it's also nice to have someone to help you perfect that compliment-taking with.
Me: 'My hair? Oh, I just woke up like this!'
Im working on it! 
• Kat Bond: Loo Roll, Pleasance Courtyard: 17:45
Published: 1 Aug 2017
What do you think?