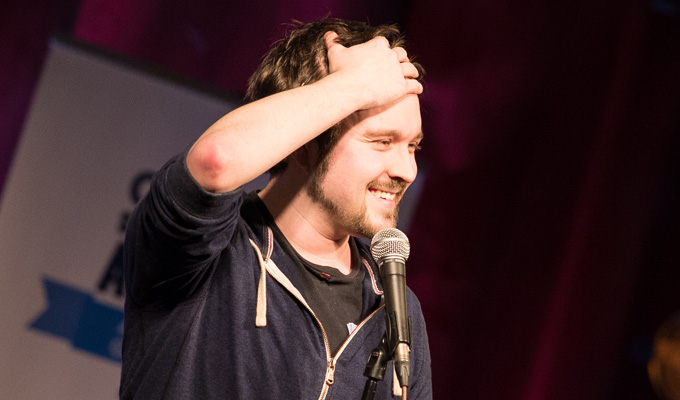 A passive-aggressive guide to running an OK gig
I've been doing stand-up in Northern Ireland for a mildly depressing six years now and I've been promoting a weekly gig for just about four.
It is, at it's worst, objectively OK. Perhaps you'd like to know how to run an OK small gig. I'd like to try and communicate some of the fundamentals of how to be OK (I'm a passionate man).
Many of these are no-brainers but I wouldn't put them in here if I hadn't seen them ignored or broken by people who should know better. I'm going to put an asterisk to indicate what should be particularly obvious tips*
1. Arrive before you open the doors*. Arrive before any punters. Definitely arrive before the night's supposed starting time. I shouldn't have to tell you this*. You'll look like a tosser if you don't, as you set up the stage under the glare of the lights, the other annoyed comics and the audience who've waited for you.
2. Blaming acts for a night going badly isn't kosher (there are exceptions). Act like an adult.
3. Blaming an audience for a night going badly isn't kosher (there are exceptions). Act like an adult.
4. Act like an adult. You're an adult.
5. A lot of comedians are selfish whiny babies and not adults and it's best if you're in a position where any of them are expendable. Can't have them getting notions.
Mic, equipment and set-up
You need to have a mic* and no that is not too much to ask. Don't let a venue try to convince you otherwise. If the venue hasn't provided you with a mic on the night after promising one don't go on with the gig. Don't reward that. Get your money back.
A mic is the absolute tiniest, least thing you could ask of a venue in the world. Throw a mini-shitfit if you must, though to be honest I find the 'disappointed dad' the most effective.
If it's a panel show format, there should be more than one mic*. Panels shows thrive on real or perceived spontaneity and you can't have that if you have to pass a single mic around half a dozen people.
When you sound test when the room is empty, make sure the mic is just a little bit too loud. A crowd tends to absorb some of the sound, and you need to be heard over people who learned to whisper in a volcano.
Wireless mics are unreliable and annoying and more trouble than they're worth.
Promotion
Paid Facebook ads work for a while. Newspaper ads work for a while. Most things work for a while, then stop working. Then they start working again. Any type of ad's effectiveness tends to ebb and flow.
Aside from the usual events listing sites - including Chortle and local sites – other good places to put up the event are meetup.com, Tripadvisor and couchsurfing (though it's best if your event is cheap because if people are couchsurfing I can't imagine them being flush with cash)
Facebook's scheduled posts function is a godsend for keeping your page active without having to slog back and forth to it throughout the week. Try to post comedy things that aren't just the event page, or else people will stop seeing your posts on their timeline. Try to keep it stand-up related though, not just shite memes if you can help it.
If it's a competition you and the comics and their friends are the only ones invested in it. You won't pull in bigger audiences just because it's a competition. Nobody cares who's the best. They just want to laugh. Comedians bringing friends to fill up the audience to increase their chances of a win may mean more audience members but they're usually a shite crowd (more on this later) and people winning who don't deserve it is pretty frustrating for everyone.
Don't make it free. The audience should actually know comedy is happening and they are there for comedy*. I do think a tiny charge like £1 or £2 would bring more people than it being entirely free, paradoxically.
Gender balance Without rehashing moral reasons, striving for a gender balance in comedy is as good for business as it is your fragile sense of being a good person. Observational comedy is written to be related to, so more female comedians mean a higher chance that a female audience member will enjoy the gig. If your gig is more likely to make women laugh, you're going to get more women audience members. So even if you're a big old sexist, you surely like money.
Venue cooperation: It helps when the bar actually wants you to be putting a comedy night there*. Butter them up, stress how easy and cheap it is for a comedy night to be run. Try to get the room for free. Have them include you in their promotional material. If they have drinks promos, include it in your event page. They may be a bit hesitant to do this until they know you provide a decent product, it's a pretty nasty Catch-22 I'm afraid.
Lose money. For a while. Then don't. Then do again. Then don't, and think that that's it sorted now, you have regulars who are here every week and love it and it's always nice and full. Then lose money again.
There are no certainties whether the night is going to be packed to the gills or nearly empty, and size of crowd is no predictor for how well the night is going to be.
MCing and audience manipulation
An audience has a single, collective personality made up of smaller, individual personalities. This is important, because as the night goes on the single personality reveals itself: it becomes clear whether or not they like dirty jokes, clean jokes, off-colour jokes, love or hate puns, crave or hate audience interaction, if they're smilers rather than laughers or just not enjoying it. But you can shape it by working with the smaller, individual personalities. This is something you can do, and something that is the MC's job to do.
A lot of people have not been to live comedy before, and of those who have, not many have been to a night that isn't someone they know off of TV. So the collective personality is usually a bit uneasy at first, as they don't know what to expect.
A lot of people have to be encouraged to sit at the front (sometimes it needs incentivised, even). A lot of people arrive late (so incentivise arriving early with an offer for the first few people, say, and advertise everything to start about ten minutes before you intend it to).
They want to relax and know it will be a good night, but don't realise that their relaxation is what makes it a good night. This is why the MC usually has to instil a sense of confidence in the gig within the crowd, but this is hard to do alone. This is why someone needs to bring the MC on, rather than the MC just leaping on and beginning the night.
Remember the crowd are a bit tense, so they're hesitant to clap and cheer initially. Simply saying 'cheer if…' is not enough; raisie your hand, so they know when to respond.
If your gig gets a lot of regulars (or, for example, it's a specialty gig like a student night) the collective personality is quite constant so you know what will work for them.
Don't MC your own gig if you haven't been doing stand-up for a long time*, have never MCed a gig before*, if you aren't willing to at least briefly chat to the audience or go slightly off-script*. The MC is the lifeblood of the gig. Brilliant comics have died on their arse because of a bad MC.
If the MC is dying, don't encourage them to try to fix it. They're the problem. The longer they're on the worse it will get.
The MC doesn't need to talk to the crowd or do any material between acts if the last act did well*.
If you're MCing and you're all material and no interaction, you will struggle and look disingenuous. If you're all interaction and no material, they don't know if they can trust you to be funny yet.
Hecklers should be dealt with by the MC but some hecklers keep going even if they're beat, so as a promoter you are going to have to have a quiet word with a heckler at some point. Be prepared for rationalisations – 'sure I'm only having a bit of craic', 'it's a free country', 'I'm helping him out' and all that nonsense. Be stoic, don't let them excuse themselves. If they don't keep quiet, they're leaving, simple as that. Make sure they've been annoying enough that you know the rest of the audience hates them before you eject them. There'll be a relief-applause as they leave. Know the names of the doormen and bar staff and make nice with them in case you need their help.
Musicians doing music sets and comedians doing comedy sets don't mix*. If you want to do both put comics on first. Musicians don't require 100 per cent of the attention of the audience (I am not referring to musical comedians of course) and it's jarring for the audience to be dragged from the conversation they were having during the musician to listen to you talking about yourself.
If you're MCing, doing the door is a good way to get to know the crowd before it even starts. You'll see who'll be funny or interesting to talk to. You'll also be able to see a mile away who'll heckle and be ready for them.
The time past which an audience starts to get tired during a gig is about two hours, maybe two and half. At this point the night becomes much harder work and it ends on a real downer.
Prepare the line-up accordingly. If you're giving a new act a chance try and cushion them either side with good comics, so the night can recover if they fail.
Comedians bringing friends is helpful for buffing up the audience, but they're generally pretty terrible audience members. Keep an eye out before the gig starts to see if this has happened. If it has, either put their friend on really early or really late. If they're on early their friends relax because they aren't nervous about how their buddy is going to do and they don't feel forced to stay there for the acts, so the worst audience members among them leave. If these friends are almost all the audience, put their friend on after the break so they can't leave and effectively end the night.
Don't tell comics what time they're on. This encourages them to show up just for their set, then immediately disappear without supporting or listening to other comics at all. I can't abide that.
The MC usually has to do about five minutes after someone who has brought mates, because there's a lot of background noise and buzz after they finish as all their mates go to congratulate them.
After the night starts, let go of the responsibility for it being a good night. You've done all you can, it is in the acts' and compere's hands now.
Keep an eye on the money box. People can just run away with it if you aren't looking.
Dealing with comedians
Have ONE channel where people can ask for gigs. Don't give people your phone number. Someone tells you they don't use Facebook, or whatever channel you've chosen? Too bad for them. You aren't their mum.
Be ruthless about keeping people to their time.
If you're finishing late, keep an eye on where you're losing the time. We found that with one MC the break went on too long, and with another MC they ran over too much in their own set. Adjust accordingly.
Pay attention to your own set*. It's only polite. Get your face out of your phone. Smoke during the break, not during a set*. Look at the acts you booked while they perform. It's the least you can do.
Talk after the gig. Long-term, gigs live and die by a sense of community. Hang out a bit, if you can.
Don't talk about comedy if you can- good material comes from conversation and also it's just exasperating after a while, isn't it?
Politely tell new comics you don't like having material tested on you in conversation.
Booking acts by 'first come, first served' is a bad idea*. You'll get a lot of enthusiastic lovely new people but the quality will go down.
Give shite acts a chance. It's inspiring when they grow. Don't give too many shite acts a chance at once.
There's no room for arrogance and dickheadedness and never reward it (unless obviously it's your own superior brand of arrogance and dickheadedness)
MC and headliner should be paid.* Anyone booked for longer than 15 minutes should be paid. Pay people. Word gets round if you try and stiff someone (eg not giving someone a promised amount of prize money, or running off without paying someone and deleting your Facebook) and you 100 per cent deserve to be named and shamed.
Don't expect your acts to advertise for you and share the event for you. It's only a nice bonus if they do and it rarely brings more people.
Acts who only seem to do one or two gigs a year are pretty low priority bookings.
People who are very good but never seem to be writing anything new are also pretty low priority bookings.
If you're thinking about running a gig and think this is a load of shite, why not just not run a gig! You'll be doing everyone a favour. Thanks.
• Luke Mcgibbon previously wrote a Chortle opinion piece on why comedy is like therapy. Read it here.
Published: 3 Jul 2017
What do you think?