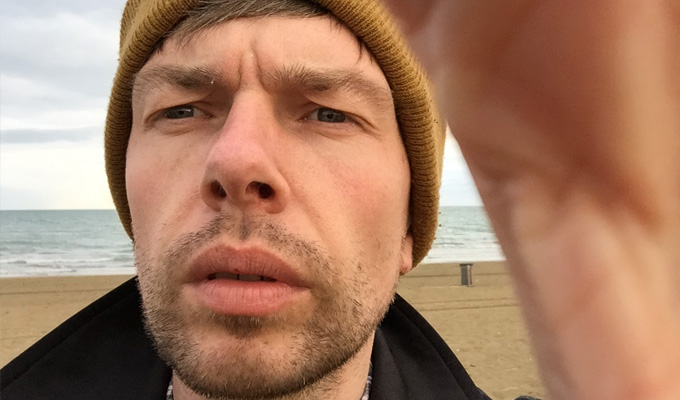 Comedians: Say what you want, but know it will affect people
I threw myself back into work after my son died. Almost immediately. Unduly quickly. It was in hindsight, how I grieved, I suppose.
We scattered his ashes on the Saturday morning on a beach in the Highlands. By Monday, I was back at work. Some random supplier on the phone asked how my weekend was and I told them and it was all very uncomfortable.
People are nice, but they don't really want to talk about dead children. Not on a Monday morning, no.
Three months later and I was working on a play that was travelling around the US.
In Chicago, on a night off, some of the cast and crew and I went to see a show at the Second City. It was funny. Quick and slick. Really very American.
Towards the end, there was a sketch where a man died and he was greeted in Heaven by all the people he knew who had already passed on.
In the queue of people waiting to meet the recently deceased was one of the ensemble wearing a babygrow-type thing. I tensed a little, guessing at what was about to happen.
And it did. This is his son and they are seeing each other for the first time since the child died. And it is a beautiful and nice moment.
And then the father looks at his son and says: 'You went to sleep and didn't wake up.'
I didn't just cry, I think I probably wailed. It hit me. And there was nothing I could do about it.
The work colleagues around me were good to me. I felt awkward for them having to see me like this. We didn't really talk about it. Nobody wants to talk about it.
It wasn't the offence - it wasn't offensive - but rather the connection.
It still happens sometimes. Something will, for want of a better word, trigger the sadness I felt when my son died. A soap opera, a news story, a song, something Joseph's younger sister, my daughter Eve, does or says.
It just comes at me. Unexpectedly.
It came at me reading the article about Ricky Gervais and the Belfast couple walking out of his show.
The only time I was ever offended was when EastEnders had a really cack-handed storyline about a baby dying and there being some sort of living-tot-dead-tot switcheroo. There, it was the inauthenticity of the emotion that annoyed me.
I mean, comedians say things which upset people.
Sometimes they joke about sexual assault or rape, and generally those jokes are always fucking awful, because the male comedian onstage is asserting their dominance, their strength.
I don't know. I don't really know about comedy. I'm sure people will have better, more considered opinions on offence and comedy.
But I just wish people were cleverer.
Comedians should be clever enough to know that in that audience of 20, 50, 100, 200, 2m000 people watching them, some will have a lived experience of what they're joking about.
And if they're cool with that, then grand. If they're doing it from a place of cleverness, if they're informed and if they are aware that what they're saying is something that might offend someone, or remind them of the last time their child held their hand, and they still want to do it, then great.
Again, if they're happy joking about rape even though it's more than likely someone in the audience will have been molested or grabbed, or that it'll remind someone of the time some dude crawled into their bed at a party and put his dick in them without asking first, then they should go for it.
But they should just be aware that their words will have an effect on some of the people watching them, even if the rest of the room is laughing.
Even if nobody says anything to the comic about it. Just, you know, people should think about the shit they say.
But they should also say what they want.
Also, audience members should be clever enough to know that if they're at a gig and someone else's lived experience is the butt of the joke, then they should maybe be prepared to be next.
Also, comedy's a really broad term. Too broad. Don't just go to the comedy expecting 'a laugh'. Audiences should do some research first.
I'm sorry for that couple in Belfast's loss, but, also, it's Ricky fucking Gervais.
Nothing is off limits in comedy, not really. Some comics don't go anywhere near the boundaries of good taste. Ricky Gervais does though. Everyone knows that, don't they?
Oh, and my experience is my experience and your experience is yours, and the Belfast couple's is theirs, and it's not one size fits all, and nobody knows anything.
I don't know.
Anyway, the triggering. Sometimes I like it. I don't really get to talk about Joseph very much. Being reminded of him lets me think, or write, or talk about the time I had with him.
It's comforting.
It's maybe why I'm writing this.
Published: 4 Apr 2017
Recent Opinions
What do you think?