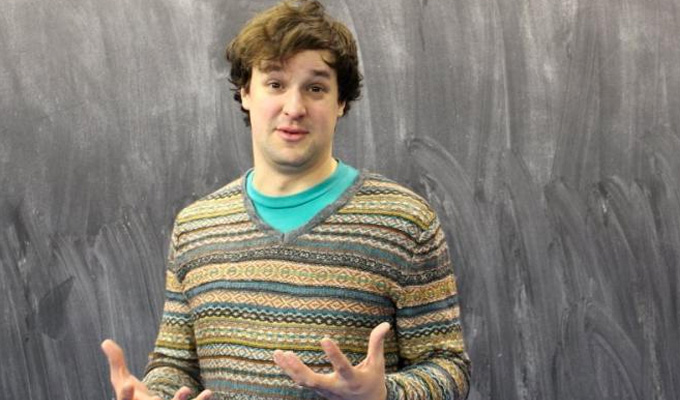 We're all five-star comedians now
The Vault Festival starts in London next week, and I hereby give every show there five stars out of five. 
Last year, I also gave everything at last year's Edinburgh Festival five stars out of five.  And this applies not just to this year's event, but at every previous one. And what's more, I'm giving them out in perpetuity at every subsequent festival into the future. Ludicrous, right? 
Perhaps not. After all, we've not even been rating things out of five stars for a century yet. It was in 1928 the New York Daily News began rating things out of three stars (mediocre through excellent), and not until Sight and Sound magazine in the 1950s did we need five whole stars to rate things. 
One hundred years ago, the idea of enjoying a piece of art (Picasso was in his African period, Rachmaninoff had polished off his second Symphony, and P. G. Wodehouse had a show in the West End) and ranking it out of five would've seemed completely alien to your great-grandparents. 
But now, some wouldn't even think about getting a doughnut from a shop that has fewer than four stars on TripAdvisor. 
But even the editor of this website wrote in 2014 that it was 'time the stars went out'. Steve Bennett claimed that the 'rationalisations for maintaining them… now seem eroded'. [Chortle still gives out stars at Edinburgh, after readers voted to keep them] 
Is it that the star themselves erode, too, from the minute they are given out? So a five-year-old five-star review is worth the same as a fresh 1-star review? Can a star review pass its sell-by date; are the stars in reviews subject to the same entropy that will pull apart the stars in the night sky?
Not all stars from all publications are equal, though. Perhaps we need a second set of arbiters who give the star ratings themselves stars out of five. They could determine that one reviewer's stars are worth more than another's. Then we'd really know if it was worth getting that doughnut. 
Do the star reviews even mean anything? Perhaps it's just that star-ratings are meaningless.
Most agree that a five-star show is 'excellent'. In comedy that's pretty subjective. Mrs. Brown's Boys does an excellent job of entertaining a whole host of people, enough that it has been voted 'the best British sitcom of the 21st Century'. 
The best British sitcom of the 21st Century.
That's this Century. That we're in. That hasn't finished yet. 
Now my five stars aren't seeming so ludicrous, are they? Oh no. The Radio Times' readers have the audacity to predict that nothing written before January 1, 2101 will be as good as Mrs. Brown's Boys. 
By giving out five stars to everyone it seems I'm being rather tame by comparison. But I'm just trying to help. We all want to have a five-star review (or an award, did I mention there's an award? I've given everyone the Nothingism Best Show at the Festival award, too. They're all award-winning now). 
Well, we all rank our subjective experience out of five, right? 
For example, the funerals I've been to. Ken Campbell's funeral: five stars (celebrities, dog attacks man, someone tears the lid off the coffin). Clive Wolfe's funeral: four stars (less minor celebrities, someone did an impersonation of urinating on someone else in front of the coffin), worst funeral I ever went to: two stars, bit dull, didn't really know the guy.  
I don't think I've been to a one-star funeral. Maybe that'd mean they wouldn't be able to get the cadaver into the ground? But on second thought, that sounds hysterical and I'd probably give it five stars. And that sandwich I made today? Three stars. That sandwich I made back in December though? Three and a half stars. I remember it. Fresher tomato.
No, of course you don't rate things this way. It's impossible to cram the enormity of human experience into a single number. That's a defining feature of a dystopia. 
I've got a bunch of three-star reviews that aren't on my poster. I would put them on. I would. Nothing would make me happier, actually. I enjoy a good old 'f-you' to tradition and establishment as much as the next guy (but not too many guys, or then it becomes establishment itself). But here's the worry: I worry it'll make me look bad and people won't come to my show.
That's because people dumber than me (or you, gentle reader) care about five-star reviews. And I, like an idiot, fuel that fire by putting them all over my poster. I've gotten just about every review you could name. Once I hit 'Fringe Bingo' (where you get a one-, two-, three-, four- and five-star review for the same show in under three weeks) three years in a row. 
That's because opinions are like arseholes: all star-shaped. 
I want to yell, 'Three stars means it's good, you blithering idiots' as I beat them in the face with my marketing materials. ('Them' being they who are not buying a ticket to my show). I want to hold them down and force them to have the full subjective experience of the qualia and quiddity of what being in one of my shows is like. But they won't believe that. I don't believe that when I see three stars, and neither do you. 
Instead of expressing "These people could press CMD+V on their MacBook Pro five times, but these people only four" in reference to reviewing my 2015 -16 show about how suffering extreme suicidal agoraphobia was similar to colonising Mars (a comedy!), I want to download my excitement and enthusiasm about my 2016-17 show about how cultural nihilism makes everything pointless (also comedy).
Well, that's why I've made star reviews pointless. You're WELCOME. 
Everyone at Vault this year, next year, the year after, forever in perpetuity has got a five-star review now. You should go and see their show, it's really quite good. Doesn't matter which one. They've all got a five star review. They're all good in their own way.
And when you love (or hate) it, I bet, when you're at the bar, you don't relay your experience to your friends in terms of stars.
• Phil Mann appears in Nothingism at the Vault Festival  from tomorrow until Monday.  Tickets
Published: 24 Jan 2017
What do you think?