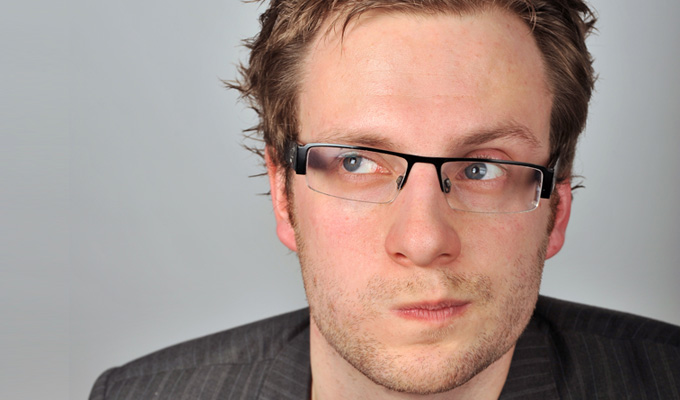 Why I'm crowdfunding my Edinburgh show
A couple of years ago, I started a daft  creative writing exercise that combined my twin loves of horror fiction and comedy. It has since snowballed into something I'd never have envisioned at the time, both in terms of popularity and how my own writing is perceived. 
It began as a couple of throwaway status updates on Facebook and after encouragement from a few other supportive comedians grew into its own page and fanbase. Since its humble beginnings I've done my very best to keep it updated weekly and that commitment has grown it into a little community that - I hope, at least - look forward to the little guff of comedy that I fart out into the internet every Monday.
I See You is essentially a short story every week, using celebrities as a starting point like an overly sarcastic Heat magazine before escalating into whatever absurdist horror or sci-fi situation I've managed to think of for them. 
I've had a deranged Kriss Akabusi torturing an octopus with a hairdryer in a garage, for example. Needless to say, my sense of humour doesn't always fall into the category of 'broad appeal.' This was a big part of my motivation to start the page in the first place; to create something different from my club set and to get my brain thinking in different ways. 
Over time the stories have evolved into more current and politicised pieces, to the point where people are not only comfortable in calling me a satirist but have even suggested I might be slightly better than shit at it. I didn't expect that when I started at all, and to have your confidence in your own output bolstered by that sort of support is a lovely and humbling thing.
I See You isn't a massively popular behemoth like Chris Simpsons Artist or Jim'll Paint It, both of which are absolutely glorious comedy pages that any procrastinating comic can - and should -  kill hours giggling at. Nevertheless, I've been pleasantly surprised at just how popular it's become; my page now has over 43,000 likes and the stories that succeed often reach up to a million people at a time. For a circuit comic like me, it's comforting that a figure that equates to the population of the entire town of Jarrow approves of and supports something that I do. It's particularly comforting when I've only ever gigged in Jarrow once, years ago, and back then they definitely didn't.
At times, it's a lot of work. For a free content page to succeed, the updates need to be consistent, both in quality and frequency. I don't always hit the mark, and the times I've hit a duff note have inevitably been reflected in the likes and shares. 
It's been a learning curve and what I do isn't always understood - I fell foul of the Facebook censors for a story in which I envisioned the Northern Powerhouse as an industrial warship full of aggrieved factory workers bearing down on a shrieking George Osborne. It wasn't taken down because it was offensive, but because somebody at Facebook seemed genuinely concerned for my mental health and tried to direct me to the Samaritans. That was an odd day.
For me, though, the work has been absolutely worth it. I've accidentally cultivated a genuine fanbase for the weirder elements of my imagination and it's given me the confidence to be more adventurous with what I do as a comedian. Having taken the time to build something, I now want to see if people trust me enough to stand behind it.
My plans for a live show based on I See You are a lot more ambitious than anything I've attempted in Edinburgh in the past. Unfortunately that ambition results in higher costs than the way I'd usually do things, which is why I've turned to crowdfunding to try and bring those ideas to life. 
The support I've had from people who like the page already has been incredible. I've had venue offers for previews, advice on marketing and publicity, even exclusive artwork produced by a very busy and talented artist to give away as pledge awards. The initial rush was a huge one, and the drive raised more than  £1,000 in its first 48 hours. Things have predictably slowed a fair bit since then, but the idea that anyone at all would offer their own money up just because they've got faith in what I want to create is a ridiculously humbling one.
I've always been a bit uncomfortable with the idea of crowdfunding a live show, simply because I've never had a concrete idea of what I want to do so far in advance and it's odd to try to get people to chip in on a purely speculative basis. With I See You, the difference is that I've already put two years in to building a solid foundation for a show. I know for a fact that people like it and I've got faith in myself that I can make it work. Now it's just up to those it reaches if they want to contribute - I may have cultivated the fanbase, but the harvest is a voluntary one. 
It's a bold tactic, but with how strongly I feel about this idea, choosing between trying something different in order to do this show and not being able to afford to do it all is no choice whatsoever.
I also have to thank all the comedians and comedy folk who've voiced their support and shared my relentless bombardment and Facebook plugs. It's been a great reminder that our industry can be a brilliantly supportive group at times. Hopefully I'll reach the crowdfunding target and can carry on working my arse off to do the people who've put faith in my ideas proud.
•I See You is on Facebook and the crowdfunder for the live show is here.
Published: 11 Dec 2016
What do you think?