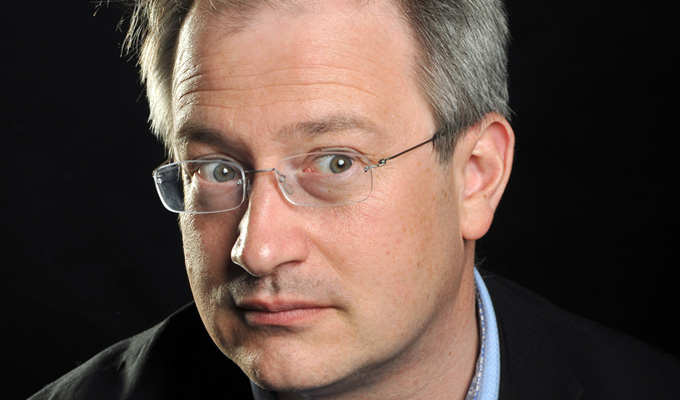 Working with Jimmy Perry was 'fascinating chaos'
I can't dance, unfortunately for Jimmy Perry, he never asked if I could.

On Saturday night, I was on stage at the New Wimbledon Theatre for the first time in 19 years. I was standing next to a physicist who was presenting a cosmology lecture and offering occasional interruptions.
In 1997, I was standing next to Su Pollard and Ted Rogers for the purposes of a musical about the cut-throat nature of showbusiness.
Yesterday morning, I was back at the theatre again in foyer with June Whitfield and Fenella Fielding, making big small talk about the nature of time and the work of Norman Evans and waiting for a commemorative plaque for Jon Pertwee to be unveiled.
All three had a sense of music hall about them.
I met Jimmy Perry on an afternoon magazine show called 5's Company, an early Channel 5 enterprise presented by Nick Knowles, Esther McVey and others. Each afternoon, a circuit comedian would go on the live show in front of a nearly live audience and fail to entertain them. At that point in her career, Esther McVey was pondering on branching out from presenting into stand-up comedy, but instead went on into politics. She became Minister of State for Employment and delivered a lot of Bible-black material.
On 5's Company, she interviewed the crabby wit and art critic Brian Sewell who argued that money for a Princess Diana memorial would be better spent on hospitals. She challenged him, 'but people want a Princess Diana Memorial'. Sewell replied, 'but people are idiots'. This may have given her the idea to go into politics.
After my turn, Jimmy Perry asked if I would be interested in appearing in a musical he had written, called That's Showbiz. It would star Ted, Su, Freddie 'Parrotface' Davies and Peter Baldwin (who was quite brilliant as Derek Wilton in Coronation Street).
I went for an audition and two weeks later, I found myself in a South London rehearsal room. Just as Brian Blessed is the most Brian Blessed-y person imaginable, it is fair to say you would be hard-pressed to find anyone more Su Pollard-y than Su Pollard. She has all the vim, verve, and anarchy in her that you can imagine.
The cast had been warned that I was 'an alternative comedian' and I could see suspicion in their eyes. They expected me to walk in with an expletive-laden diatribe about the John Major administration before telling them they were all dinosaurs and saying something unsavoury about Binky Beaumont. Our comedy circuit was in the last days of being alternative, and a few of my friends had raised eyebrows and questioned why I would want to appear with the host of 3-2-1 and the cast of Hi-De-Hi. It seemed obvious to me, at the very least, this would be a fascinating look into another world of showbusiness, and it was written by the co-author of Dad's Army. Nowadays, the former alternatives are all over musical theatre, which reminds me, I must buy tickets for Chitty Chitty Bang Bang.
The choreographer told us all to get up and get ready to run through the Funky Chicken number. I explained that I wasn't in the dance numbers.
'Everyone is in the dance numbers!'
And then the horror struck. Jimmy, having presumed that everyone in showbusiness was an all-rounder, had not thought to check whether I had a left and a right foot that were up for the job.
By the end of the day, I had been dropped from five numbers.
By the time the show opened, I was merely a ghastly distraction, hopefully in the shade beyond the footlights. 'Allo 'Allo's Carmen Silvera – in full pomp as she was Queen Ratling that year and had recently danced with Sacha Distel – was appalled by me and would loudly tut each night as my 'front, turn, back, together' crumbled into a JG Ballard collision of limbs.
Freddie 'Parrotface' Davies was a delight and taught me much in terms of traditional technique and on the last night he gave me a cassette of the songs of Leslie Sarony.

Jimmy was very generous and had a delightful air of Brylcreemed showman whose destiny would have been music hall if only it hadn't been in post-war death throes. Among the parts I was to play was a lewd and loud alternative comedian who opens the play. Jimmy clearly had doubts about this new punk of the boards, and had the character mainly doing farting noises and swearing. I suggested that this might not be quite in the character of the sort of stand-up he wanted me to play, and he very generously allowed me to rewrite the whole piece.
The whole thing was a fascinating chaos. 22 hours before it opened, it turned out the play overran by an hour, and scenes were hastily chopped, so on the first night, no one quite knew which of their scenes were still in. I have fond memories of Su Pollard singing a moving song of melancholy romance, before hastily leaving stage left for a rapid costume change. Her microphone still on, 'where's me fucking wig!' boomed across the auditorium.
It was a fascinating 20 days (it nearly killed Ricky Gervais, who came to see it and laughed so much he failed to breathe for 40 to 50 minutes, such was his delight and seeing me share the stage with Freddie 'Parrotface' Davies). I was very fortunate to get a chance to see a little of that world, to talk to Jimmy about his work, and quiz Ted on the machinations of 3-2-1.
I also thank Jimmy Perry for the wonderful and predominantly forgotten BBC series Turns, in which he presented archive footage of music hall acts, often the only footage that existed of people I had read of musty books that told stories of Dan Leno, Little Titch and Eli Woods.
It seems odd, though I know it's mere coincidence, that I should return to New Wimbledon Theatre and all those memories the day before I heard of Jimmy Perry's death. Before the news broke, I told Jon Culshaw and astronomer Paul Abel that there was a neatness in standing in the foyer, watching a plaque being unveiled, as that is exactly how the Jimmy Perry musical had begun 19 years ago.
I can't complain that my career (it's nearly been going long enough to call it that now) has variety.

Looking at the assembled elders of Doctor Who and the older acting eccentrics at the unveiling, I thought how important it is that these plaques exist and these gatherings occur to keep names alive. Hopefully a plaque for Jimmy Perry will be up very soon.
• Robin Ince co-presents the Book Shambles podcast – including interviews with Alan Moore, Noel Fielding and more – and he has edited Dead Funny Ecore, an anthology of horror stories by comedians including Jason Manford, Stewart Lee, Josie Long and others.
Published: 24 Oct 2016
Recent Opinions
What do you think?