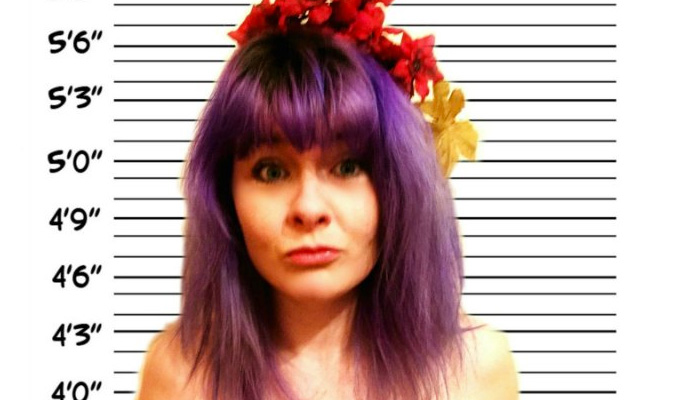 Sex and comedy... do they mix?
I've just rolled a condom onto a dildo, using my mouth. Women are rolling on the floor laughing. This isn't a comedy club though, it's a hen party.
I teach a variety of classes to hen parties, burlesque, pole dancing, seduction. This is my day job and I love it. Women of all ages come together, sometimes with penis balloons or a naked blow up man. They drink bubbly, talk about sex and crawl all over the floor.
I've always thought sex, sexuality and comedy are a great mix, but I tried the condom trick onstage last year at the Fringe and Broadway Baby told me to get out of Edinburgh and never come back. At least that's what it felt like.
I've never really been a fan of mainstream stand-up, but have always loved to make people smile and laugh. I just want us all to be nice to each other and get along. I'm weird like that. So I was really upset that the young lady that reviewed me from Broadway Baby completely dismissed the rest of my material which covered mental health issues, social cleansing and a call for sexual revolution.
I was really proud of my effort, having only been performing stand-up for less than two years. Maybe I undermined myself intellectually when I did my impression of a pensioner with a sex addiction? About 50 per cent of my audience did find that funny and it did tie into my wider point - that perhaps our hormones were being manipulated by capitalism.
I really enjoyed my run last year. Despite that bad review, I did well getting audiences. Some people even came twice and some people hated it, but you can't please everyone. Thats why I've chosen to do a paid show this year. I'd rather perform to five people who have read my blurb before parting with their cash than 50 people who have just wondered in for 'The Comedy'.
Is 'No sex we're British' really a thing? Sometimes I think its a class thing, I usually do really well in working-class rooms. Posh people don't like me as much, or maybe that's just my projection. Can we be sexy and funny as comedians? Russell Brand pulls it off, but he's a bloke.
I love Amy Schumer and Chelsea Handler. They are sexy, funny and clever. I don't see many women doing that kind of comedy on the UK circuit. Sara Pascoe tackles sex and sexuality but it's a bit more intellectual that what I am doing, which includes dancing around with my tits out. I am trying to make a point though, or two!
I was offended by the No More Page 3 campaign, due to snobbery towards Page 3 girls. I saw comments on Facebook along the lines of 'Why can't they get an education?' and 'They are a disgrace to real women.' I thought it was ironic these 'feminists' were dehumanising other women by saying they weren't real and assuming they aren't educated demonstrates we've got a long way to go in challenging cultural stereotypes.
I worry about stereotypes. Where I'm from, men aren't allowed to hug, cry or wear lipstick. I read that suicide is now the biggest killer of men under 45. According to Rape Crisis, one in five women have experienced some form of sexual violence between the ages of 16 and 59. I'm one of those women, my attacker was never brought to justice. So I guess I'm using my comedy as a platform to fight the idea that naked flesh or flirtatious behaviour may be seen as an invitation for shaming, abuse or rape.
At an early work in progress of Sextremist, a male compere warned the audience that they would probably be offended as I was performing topless. 'You can't complain, because you've been warned.' He then made a negative comment about my naked tits as I took the stage. I didn't just die, I went to hell and back. A male audience member approached me aggressively when I returned from crying in the yard.
'Stop talking about your clit, put some clothes on and make me laugh! You know who was a good female role model? Margaret Thatcher!'
One woman was offended, but this was after she'd seen my boobs for about the fifth time, so maybe I pushed the toplessness a bit too far at that particular open mic night. Another woman had suggested instead of getting my tits out for free, I should go and work in a strip club. So its not just men that see breasts mainly for the purpose of titillation. The goal of Free The Nipple is to challenge this perception.
Last year I organised a topless rally on The Royal Mile in support of this campaign. All genders were invited to come (dressed however they wanted). It went well, the national press picked it up resulting in more people joining a very important conversation.
The rally was on the last day of the Fringe and to celebrate I decided to perform my final show topless, despite everyone telling me not too. They thought people would be too consumed with my naked breasts to laugh. Maybe for the first few minutes, but then it just became normal. It was my favourite gig ever! Three women in the audience took their tops off in solidarity and it had that feel of a girls night, like the hen parties. Except this time, men were welcome.
I hope I can recreate that inclusive fun atmosphere this year. Not everyone is going to want to see my show and that's OK, but I know there are people that are just as passionate about these issues as I am. I find sex and sexuality fascinating, add humour and hopefully we have an accessible way to start some serious conversations.
• Samantha Pressdee: Sextremist is at Just The Tonic Mash House at 22:20
Published: 16 Aug 2016
What do you think?