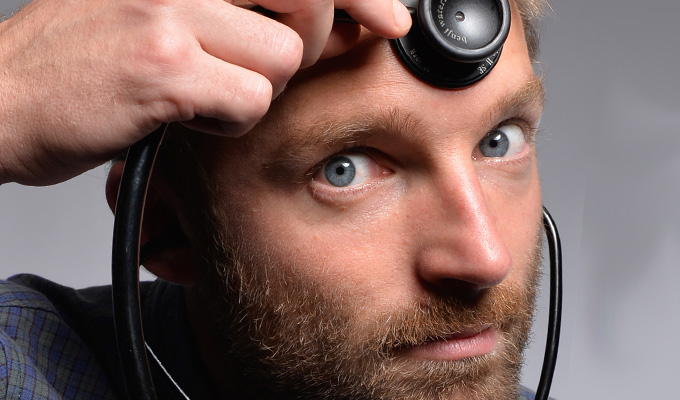 Surviving The Fringe: 1. Think Happy
Researchers recently revealed that comedians tend to die young, a solitary life, boozy comedy clubs, service-station cuisine and the stresses of the job all taking their toll. Now as Edinburgh welcomes a horde of these ticking timebombs, we've assembled three junior doctors who happen to be comedians to offer a guide on how to eat, drink and think healthily this fringe. Today, psychiatrist Benji Waterstones discusses how to keep your head when all about you are having theirs face-painted.
Seinfeld famously joked that people fear public speaking more than death, so at a funeral you're better off in the coffin than doing the eulogy. There's inherently something odd then, about people who masochistically risk humiliation in exchange for stranger validation and a cheap shot of endorphins. Most folk work a safe 9-5 and return home for a TV dinner in their slippers.
Comedians tend to think gloomily, to see the world through grey-tinted spectacles, which is handy since pain is funny. That's why we laugh when someone slips on a banana skin or a piano falls on somebody's head. But warped views of yourself, so-called 'cognitive distortions', can sink you into depression, dependence on substances, or even an early check out. But learn to re-frame things and life can be all milk and honey.
'Catastrophising' is making a mountain out of a molehill. After a bad show you're convinced your agent will drop you, you wife will file for divorce and your house will be repossessed by Tuesday. But it was just one show and by the morning no one will even remember the toilet paper stuck to your shoe, your wardrobe malfunction or making that accidental Nazi salute. What's that, The Guardian was in reviewing that night? Ah.
In contrast 'minimising' is negating your achievements. For example, '394 people retweeted my pun but they weren't the right people' or 'I won the Best Newcomer Award but I think my name was a typo'.
'Overgeneralisation' is where a perceived failure in one domain seeps into others. For example: 'I'm a bad comedian therefore I'm also a bad parent.' No you're not. Go back to your Edinburgh digs, call your kids and if they pick up, tell them you're looking forward to seeing them in a month.
'Selective abstraction' is registering only the bad, and disqualifying the good. There's a cruel myth that 'you're only as good as your last gig', which keeps even Billy Connolly on his toes. Just because the audience weren't on board one time doesn't mean you're not funny. You're failing to recognise all those gigs where you have made people laugh. Remember those? No? Hello?
If all else fails and Edinburgh shatters your dreams, simply employ 'cognitive dissonance' and change your aspirations to something realistic. For example: 'Well, screw this, I never wanted to be a comedian anyway.' And walk off into the sunset to pursue your new calling of putting little stickers on apples.
So comedians join the list of hazardous occupations with premature deaths, such as shark tamers and Kim Jong Un's ministers. On a personal note, psychiatrists are also on that list. So what does that mean for someone who's a shrink by day and a stand-up by night? All my assets are to be shared equally amongst my family.
TOMORROW: Matt Hutchinson on drinking.
• Benji Waterstones: Performance Anxiety is on at Laughing Horse & The Free Sisters at 15:15. He tweets at @its_benjis.
Published: 4 Aug 2016
Recent Opinions
What do you think?