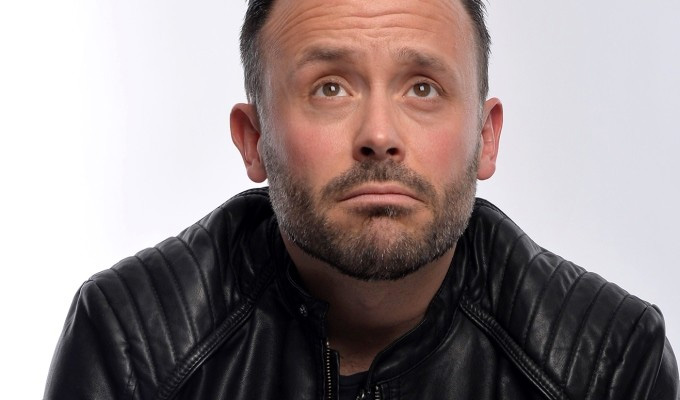 Are pro-Brexit comedians scared to speak out?
For a guy like me, one of the worst things about voting Conservative and advocating Brexit is you find yourself in company you wouldn't usually keep.
Take the head of JCB, who recently threw his weight behind the Leave campaign. He looked like a pasty-faced Tudor monarch who'd jumped into a time machine.
I imagined the moment he concluded his Brexit memo, Graeme Macdonald finished chewing on a giant chicken leg, threw the bone at a tramp and screamed 'Bring forth my fool!'
However, I don't believe guys like Mcdonald are exclusively representative of the Leave campaign. The comedy circuit has taught me there's a big difference between people who believe something unfashionable, and those willing to talk about it in public. 
I'm not saying the comedy world is utterly rife with secret Tories, but ever since I started talking about my own dirty electoral secret in 2013 I've had a steady stream of stand-ups privately confiding. 
Consequently, I've no doubt somewhere out there a cool cultural figure is in favour of Britain leaving the EU, but their agent has told them to keep schtum.
My bet is Ellie Goulding. I've got nothing to back it up whatsoever, just a hunch that if you get a couple of gin and tonics inside her she'll unleash an ill-informed rant on fishing quotas in the Celtic Sea.
But, if Ellie Goulding is harbouring those kinds of thoughts, there's no benefit to her of saying so. 
I'd imagine agents generally apply the 'Phil Collins effect'. They show their artists a standard graph of what happened to Phil's record sales the moment he aired views on politics. In the modern age, they could lose 60 per cent of their Spotify revenue – as much as £14 in cash terms.
A lot of showbusiness is about being in the right gang and, understandably, hardly anyone wants to be in the one which includes Michael Gove. 
Bullying is wrong, but if I'd gone to school with Gove, I know bad stuff would have happened. However, no matter what I might have done to his eyebrows, truly independent thought shouldn't involve worrying about which clique you're in or how it appears to others. 
I'm not saying I don't worry at all about what people in the industry think. Over the last five years writing for comedy on TV has become a big part of what I do. Every time I write an article like this I worry a hard-left producer somewhere is thinking 'Tory prick, ; I'm not having him writing for this show.'
Equally, the dearth of right-wing voices could also mean they think 'Tory prick, let's get him ON this show.' Though, despite the charges that I frequently get from fellow comics that this 'right-wing lark is a gimmick', that hasn't happened yet. 
It's not a completely barren comedy landscape for Brexiteers. If I'm coming at Brexit from a populist angle, Dominic Frisby has done the detailed background reading I haven't. Dom was urging comics to buy gold long before its price surge at the beginning of the decade. He's the Vince Cable of stand-up. I'm much more likely to give weight to his thoroughly thought-through arguments on why we'll be economically OK than Eddie Izzard banging on about the planet 'needing a hug'.
One of the oddest things about the EU campaign is that it's much harder to draw secure lines than standard party political debate. It must also be weird for my leftie stand up pals. I imagine them showering vigorously with a Brillo pad after every debate where they found themselves casually nodding along with David Cameron.
Equally, as a Camfan, it's been strange for me seeing him eagerly pressing flesh with leading figures of the left. He seems to be enjoying it a bit too much for my liking. Whenever Dave shares a platform with a trendy politician like Sadiq Khan he wears the look of a head of sixth form who can't believe he got invited to their drum and bass night.
For an artform which inherently questions the very idea of Establishment, the industry is surprisingly keen to endorse the status quo. To be honest, I'm still wavering a little. I don't want to be poorer, but I don't want this decision to be simply about my own fear of having less money. 
Consequently, favouring democracy over wealth has me lining up alongside Jacob Rees-Mogg. 
These are strange times people, strange times indeed. 
 
• Geoff Norcott's Edinburgh Show Conswervative is on at The Underbelly Med Quad, 3-28 August (not 15) at 7.10pm
Published: 15 Jun 2016
What do you think?