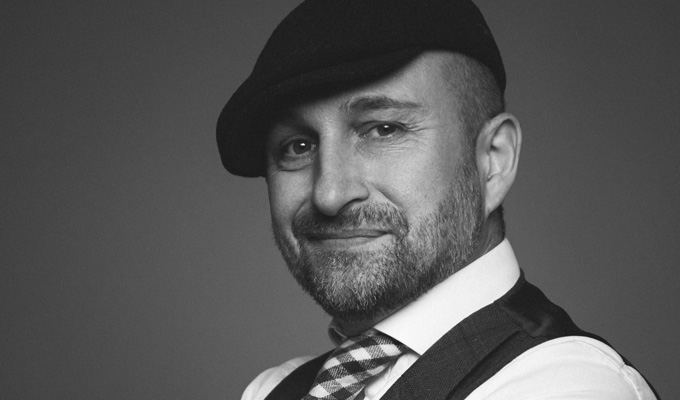 Variety isn't dead. It's on YouTube
This month brought the return of Britain's Got Talent, which, as we all know, is a shiny-floored, over-lit sausage machine that transforms the fame-hungry into the world-weary, at the behest of the botoxed and talentless, and for the amusement of those who should know better, but are too jaded or cynical to remember that they should.
You might think that, as a British variety performer (who, perhaps, on a good day, has talent), that I might have at least considered appearing on said abattoir of hopes and dreams. If not for the chance of fame, fortune, and lots more Twitter trolls, then at least because it is, sadly but truly, the only real variety show on television.
It's odd. Imagine if the only TV representation of your job was a talent show, in which a pick and mix bag of pros, amateurs, weirdos and the attention-seeking funniest bloke in the office competed for the nation's affections. You'd be forgiven for feeling just the slightest bit bitter, right? So, forgive me.
But I'm not here to talk about BGT. I'm not here to praise it, bury it, or even ridicule it. I'm here to ignore it. Because although it is the only variety show on TV, its by no means the only one on screen. And if you're in the market for a killer variety show, then I, my friend, am your hookup.
A couple of years ago I was filming a minuscule appearance on an arts-type magazine show, and the host – someone who's household name I'll keep to myself unless you meet me in the bar after a show – sidled up to me between takes and said, 'TV, Mat. Dead medium, innit? It's all about what you do, live, and what people watch on their phones, right?'
Well, maybe, kinda, perhaps.
So forget TV variety shows. Too many gatekeepers. Life's too short. We need a place where we can see the stars of variety and circus, long dead, but preserved in the white heat of their spotlight, in their prime, dropping jaws for eternity. We need somewhere we can watch the hot young stars of cabaret working to electrified audiences in small cool venues. We need a place where anyone with an idea, a skill, something silly, or wild, or dangerous, or dexterous can show it to us.
Where once there were palaces of variety in every city across the land, now there is a compendium of wonders in your pocket and on your desk. Variety isn't dead. It's on YouTube.
Back in the day, popular opinion among the turns was that only a fool allowed their act to be filmed. You'd be giving it away. Why would people come to see you live, if they'd already seen your turn on screen? I'm not sure I agree with this logic, as someone who has done his trademark trick in some fairly high profile places, the only change I've noticed is a little frisson of chatter that ripples across the audience just before I do it live. 'Ahhh,' they mutter, expectantly 'It's THAT guy,' which I quite like. My angle is that if people see something amazing on screen, they want to see it live all the more – they want to see it done before their very eyes – they want to get as close as they can to make sure that they can trust what they're seeing. That's fantastic.
Most of those old acts succumbed, of course, regardless of their opinions of working to a lens rather than an audience. A decent paycheck as the variety halls started to close was almost impossible to ignore, and as sad a situation as that feels, we should be glad about it, as its given us an archive of acts that – if you know where to look and who to look for – can still entertain as faultlessly as they ever did.
But it's not just about the past. That's the beauty part. If a variety show is a true mixture – something for everyone – then that's where YouTube comes into its own. Alongside the current generation of cabaret, variety and circus performers – people, honestly, like me, who work live, tour internationally, and use the internet in a creative way to show the world what they do, there are those that haven't yet – or perhaps ever – made it to the stage. 
People who, were there still variety halls, might have found themselves apprenticing and starting the journey of honing their raw skills into a strong ten minutes, but these days, have found a place to show what they can do to a world always looking for the next short viral 'whoa!' moment. 
As I used to say when I was a street performer – only an idiot judges a performer by their venue. Make no mistake, these YouTube stars – the extreme sports nutjobs, the bedroom magicians, the free-runners, the character comedians, and all the others – they might not realise it themselves, but they're acts on a bill.
My bill.
Because I made you a variety show.
A half-hour-ish, all killer, no filler, personally curated virtual line up of some of my favourite acts, some of the greats and some of the great unknowns. Circus, comedy, variety, and some crazy stuff.
Go here, whenever you like (Although wouldn't it be great if you did it on Saturday night at 8pm?), get comfy, and enjoy the hell out of it. 
Oh, and one more thing. The first act in my virtual line-up are The Dior Dancers. Once you've watched it, and once your jaw has re-attached itself, you might wonder what it was like being the star of a show like that. Well, you can find out - listen to my interview with Merian Ganjou, the star of that act, right here. Bonus feature!
Published: 4 May 2016
What do you think?