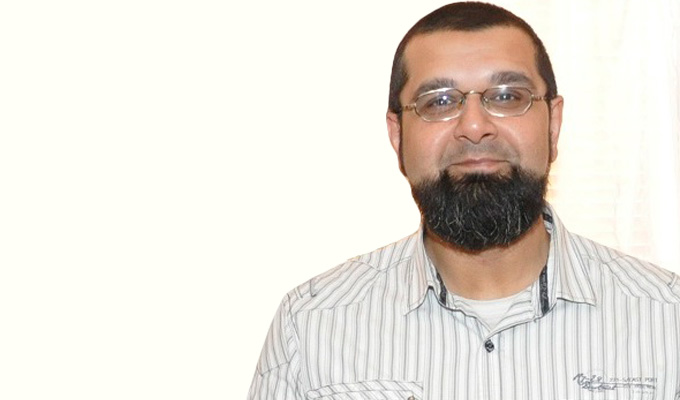 Korma comedians
Racism is a very complex issue indeed. And that is a very heavy opening sentence. While there are many ways to analyse racism, be it academically, culturally, politically, I've discovered a quirkier way of plotting the evolution of racism towards those from sub-continental India, and that is by looking at how the Indian restaurant is viewed in the field of comedy.
The first appearance of curry on a menu in Britain was at the Norris Street Coffee House in Haymarket, London in 1773. However the first establishment fully dedicated to Indian cuisine was the Hindostanee Coffee House at Portman Square, London in 1809, as recorded in The Epicure's Almanack (the first 'good food guide' of its kind). It was opened by a Bengali named Saik Deen Mahomad from Patna, Bihar, India, via Cork in Ireland (no, I'm not sure how that works either). Mahomad appreciated all things Indian and offered a house 'for the Nobility and Gentry where they might enjoy the Hookha with real Chilm tobacco and Indian dishes of the highest perfection.'
While the Hindostanee Coffee House closed a few years later, no British high street is today complete without a decent Indian restaurant: 'Going for an Indian' is now as quintessentially British as 'going for a pint'. Some even consider chicken tikka masala to be the unofficial national dish of Britain.
Indian restaurants are not only on our high streets, they are also in our comedy programmess. Below are links to three comedy sketches, all set in Indian restaurants, that display (rather vaguely, I know) the evolution of racism in Britain.
We start with typically racist fare…
The first sketch is from the Two Ronnies, a classic British comedy institution. This particular sketch is known unofficially as The Pink Rupee Rap and, I am guessing from the décor and certain cultural references, is from the early 1980s.
Despite the clever wordplay (which you always expect from the Two Ronnies) I consider this to be rather racist and insensitive as both Ronnie Barker and Ronnie Corbett have 'browned' themselves up, one of them is called Ram-Jam, their accents leave plenty to be desired, and they have such silly expressions on their faces throughout.
I'm sure the intention is not to offend (it never is, as the offenders always counter) but a sketch like this would never see the light of day in our more politically correct times.
There is apparently a longer version than the one shown above which I could not source, a version that has the lyric in it of Nana Mouskouri loves my tandoori. Unfortunately lost for ever in the archives!
The second sketch is a few years on from the Pink Rupee Rap, and features a solo effort from Rowan Atkinson as an endlessly patient waiter in an Indian restaurant, serving an imagined group of nine drunk English football fans. Known officially as Guys After The Game, on the internet it is better known as Indian Waiter.
While Rowan Atkinson's performance is hilarious, as you would expect from such a seasoned comedy veteran, he does thankfully keep his natural skin colour, but he does support a dodgy accent similar to the one adopted by the Two Ronnies.
This sketch, however, is not as offensive as the previous one because the only really clever person is the waiter himself and it is the clientele who are the butt of the overall joke. Also there are several clever lines in there, such as the floor being described as 'deceptively flat' after one of the drunks trips over.
We end on the ultimate Indian restaurant sketch…
So far we've gone from silly stereotypically type-casted Indian waiters, to an Indian waiter making subtle fun of stereotypically white drunks. The final sketch picks up the comedy gauntlet and runs to the finish line, by turning these two sketches on their satirical heads.
Alexei Sayle's Stuff in the early 1990s included a brief monologue where the residents of New Delhi got drunk and ate steak and kidney pies on a Friday night. The comedy sketch show Goodness Gracious Me went further than Alexei Sayle. In the late 1990s they came up with their most famous sketch, Going For An English.
This sketch is still a classic yet modern parody of cultures and behaviours nearly 20 years on. It begins with a satirical 1970s style cinema advert for the restaurant Mountbatten's English Cuisine, complete with badly filmed and heavily scratched images, and then launches into the actual sketch itself.
Its cleverness rests in a total scene reversal. The ethnic minority becomes the dominant culture. The cultural and comical inversion says something about British society that perhaps was not really seen previously. The sketch asks the viewer to consider how patronising and embarrassing things can be when viewed from another angle.
By using some cleverly worded interplay between clientele and staff, the sketch sends up the typical behaviour of many English people in Indian restaurants, all from an Indian perspective. Because stereotypes are subverted, the dominant become the dominated, and white viewers come to realise what it feels like to be treated in the way that white people commonly treat Indian restaurant staff.
The sketch was voted the sixth greatest comedy sketch on Channel 4's 50 Greatest Comedy Sketches (a sketch from Little Britain was number one, in case you're wondering).
Below is the version from the 2001 Amnesty International We Know Where You Live, Live concert in Wembley.
As an added bonus, I found this really bizarre sketch of Michael Palin playing an Indian waiter. Not sure what to make of it!
• This article first appeared on Imran A. Khan's blog.
Published: 13 Oct 2015
What do you think?