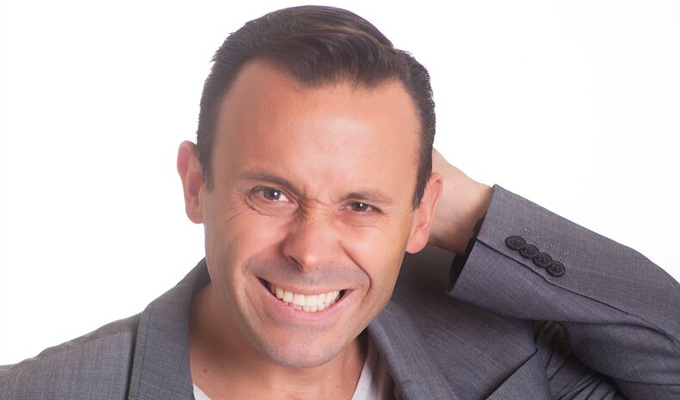 Why I won't be making jokes about Pig-gate
As a stand-up and comedy writer, I've maintained a dignified silence over Pig-gate. Not because I vote Conservative and tolerate David Cameron in the same way I endure posh blokes on stag dos, it's just that from the moment the story broke I didn't know what to do with it. It wasn't a set-up to a joke, it was a once in a lifetime grand-slam home-run of a punchline.
This is an occasional problem when topical TV shows pick a particularly wacky story. If 'Queen seen break-dancing' broke, there's nothing you could write that would eclipse the mental image of the reigning Monarch body-popping. I guess you could rustle up a snide comment about her 'helicopter' being funded by the taxpayer, but Cameron's historic food liaison is in a different league.
You're left googling 'Swine Glossary' desperately trying to find a hitherto unseen combination of pig nouns and political life that will help you pun your way to the promised land of 9 RTs and 17 favourites.
So I'm backing out altogether; I'd only be attempting to make a sow's ear out of an already silk purse.
The lack of motivation also comes from the story's inevitable long-term irrelevance. There's no doubt it gave lefties a much-needed and glorious day in the sun. It must have seemed like bacon payback for the fuss following Ed Miliband eating like a 12-year-old sandwich virgin.
Ed's supporters got the wrong end of the stick about that sorry episode. They seemed to think the right-wing media used it as a tool to change the minds of floating voters. But it was merely a visual symbol of a character flaw we already suspected - like a woman in a boring 14-year-long marriage who files for divorce when her husband comes home with a pair of crocs. It's not how ridiculous his feet look in them, or even the dumb look of petty triumph on his face as he repeatedly tells her how 'surprisingly comfortable' they are: she knew deep down he was a Crocs guy all along, now she has proof.
It's the same with Cameron. To his enemies, he already looked like a fully paid up pig-fucker, so an outrageous non-attributed rumour is like throwing a match at the sun. Some are probably a bit disappointed he didn't have his cock in something more obviously symbolic - like a dead trade unionist.
The initial calls for him to resign have died down. I'm not surprised. If Bill Clinton kept his finger on the button having been caught lying about inserting a cigar into a young intern's vagina, I'm certain Cameron can escape time-travel justice. However, if he does it again while Prime Minister - that might be a different story. Unless he was only doing it for a laugh – like Ricky Gervais reprising the David Brent dance in the name of nostalgia. He could appear at charity fund-raisers filling time between Sam Smith and McBusted, parading around the O2 with a giant synthetic pig head on his groin like he didn't know it was there.
It's not just that he'll survive, he may benefit. Having been such a tall poppy - in a tabloid sense - Cameron needed this. For an automaton whose biggest tabloid cluster-fucks to date have involved football teams and childcare, this is exactly the sort of visceral re-branding needed to kick off a lively second term. It's like a Turing Test where you prove your humanity via an act so gross a computer would automatically erase it from the hard drive as a systems error. It's very hard to make yourself seem flesh and bones once Britain has seen your sinister immaculately rolled up sleeves. You need a hook.
I once worked in an administrative department of a national broadcaster. A young fully-fledged pecker-head called 'Glen' joined us. He didn't speak much. He didn't drink with us. He just got on with his job, exhibiting the sort of quiet dedication that makes colleagues want you dead.
One Christmas do he got drunk and demonstrated his oral sex technique on a sandwich, ending up with Branston all over his mush. He became affectionately known as 'pickle'. Still just as much of a prick, but - now we'd found him a new name - we adopted his failings full-time.
What Cameron has effectively done is turn up for work more than a quarter of a century late, monumentally hung-over and had to ask 'Guys, what did I DO?' People like having that power over an individual. They often respond by cutting them some slack. Don't be surprised if the opinion polls aren't responding with the same thirst for a pun-based impeachment as social media. This piggy tale may have a twist in it yet.
• Geoff Norcott's The Look of Moron is at Leicester Square Theatre on October 14 and 21 at 7pm. Details.
Published: 24 Sep 2015
Recent Opinions
What do you think?